Double blind, randomised, placebo – controlled trial of daily 1000U IM/day B12 for 14 days found significant benefit for people with chronic Low Back Pain. Cochrane review thought it was not high quality but sounded good to me; and for a non-drug company sponsored study, there is probably no money to do a better one. This was written in 2000 and no one has probably heard about it. Eur Rev Med Pharmacol Sci. 2000 May-Jun;4(3):53-8.
Vitamin B12 in low back pain: a randomised, double-blind, placebo-controlled study.
Mauro GL, Martorana U, Cataldo P, Brancato G, Letizia G.
http://www.europeanreview.org/wp/wp-content/uploads/200.pdf
lumbago or sciatic neuritis of mechanical origin
back pain lasting 6 month – 5 years and pain greater than 6/10
ages 18-65 (mean 50) – 60 cases
serum B12 levels were normal
Results:
Painkiller paracetamol comsumption was 1/3 of that in the placebo group after
Disability scores were almost 1/3 as well
A recent study of nonspecific back pain found benefit as well:
Singapore Med J. 2011 Dec;52(12):868-73.
The efficacy and safety of intramuscular injections of methylcobalamin in patients with chronic nonspecific low back pain: a randomised controlled trial.
Chiu CK, Low TH, Tey YS, Singh VA, Shong HK. free article here
6o cases
double-blinded, randomised clinical trial
nonspecific low back pain lasting over 6 months
500 μg B12 given every other day for 2 weeks
Results: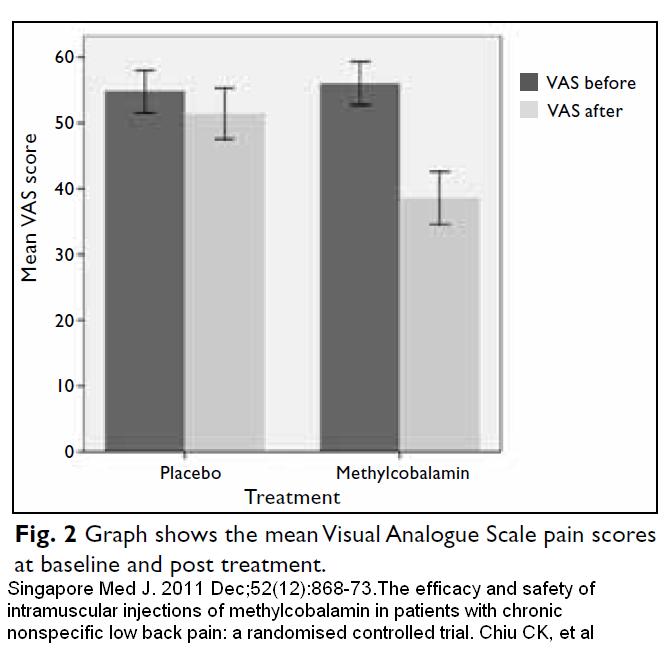 This shows the B12 pain group is 1/3 better and the placebo not much at all – this is considerably less than the initial study which might be related to lower doseand not daily, lower placebo effect, or less neurogenic related cases. Nonetheless, this improvement is about as good as you may get from painkillers…
Earlier studies suggested it might be helpful in back pain:
For painful spinal diseases:
Z Rheumatol. 1988 Sep-Oct;47(5):351-62.
Shortening diclofenac therapy by B vitamins. Results of a randomized double-blind study, diclofenac 50 mg versus diclofenac 50 mg plus B vitamins, in painful spinal diseases with degenerative changes.
Vetter G, Brüggemann G, Lettko M, Schwieger G, Asbach H, Biermann W, Bläsius K,
Brinkmann R, Bruns H, Dorn E, et al. abstract here
diclofenac (50 mg) and vitamins B1 50 mg, B6 50 mg, B12 0.25 mg,3 X 1 capsule daily for 2 weeks versus just diclofenac
"After 3 days of treatment, a statistically significant higher proportion of subjects in
Group DB (n = 87; 46.5%) than in Group D (n = 55; 29%) terminated the study due
to treatment success (chi(2): 12.06; p = 0.0005). Furthermore, the combination
therapy yielded superior results in pain reduction, improvement of mobility and
functionality. "
For acute back pain:
Klin Wochenschr. 1990 Jan 19;68(2):116-20.
Results of a double-blind study of diclofenac + vitamin B1, B6, B12 versus
diclofenac in patients with acute pain of the lumbar vertebrae. A multicenter
study.
Brüggemann G, Koehler CO, Koch EM. abstract here
results seemed to be statistically better with those in severe pain initially
More recently, this style of study was repeated in a randomised, double blind controlled clinical study in parallel:
Curr Med Res Opin. 2009 Nov;25(11):2589-99.
Diclofenac plus B vitamins versus diclofenac monotherapy in lumbago: the DOLOR
study.
Mibielli MA, Geller M, Cohen JC, Goldberg SG, Cohen MT, Nunes CP, Oliveira LB, da
Fonseca AS. abstract here
used diclofenac 50 mg twice daily or 50 mg diclofenac plus 50 mg thiamine,
50 mg pyridoxine and 1 mg cyanocobalamin twice daily
Results:
It should be noted that the anti- allodynic effects of of B vitamins was not improved by Diclofenac alone in the animal model:
Proc West Pharmacol Soc. 2004;47:92-4.
Effect of diclofenac on the antiallodynic activity of vitamin B12 in a neuropathic pain model in the rat.
Granados-Soto V, Sánchez-Ramirez G, la Torre MR, Caram-Salas NL, Medina-Santillán
R, Reyes-García G. abstract here
Another European study found benefit of B vitamins for sciatica:
Zh Nevrol Psikhiatr Im S S Korsakova. 2009;109(10):30-5.
Vitamin B complex (milgamma) in the treatment of vertebrogenic lumbosacral radiculopathy.
Levin OS, Moseĭkin IA. abstract here

Complex would include B1, B6, and B12
24 days – moderate or substantial improvement 66% patients on Vitamins and Diclofenac (Voltaren) versus 34% on Diclofenac alone.
At the 3rd months, – "pain was absent or minimal in 63% patients of the main group and 34% of the control one."
Comment – trust Cochrane to bury this – will have to try it and see for myself. Subcut injections would be easier for patient to give; can't see it would make any difference vs IM.
B12/B vitamins helps diabetic Neuropathy
Not the first time super-high B12 levels have been beneficial:
Effects of methylcobalamin on diabetic neuropathy
Clinical Neurology and Neurosurgery Volume 94, Issue 2, Pages 93-189 (July 1992) 105-108,109-111
Basim A. Yaqub, Abdulaziz Siddique, Riad Sulimani abstract here somatic neuropathy symptoms:
– Dull pain tightness
– Numbness
– Cramps
– Fatigue
– Weakness
Autonomic neuropathy symptoms:
– Recurrent diarrhea with or without nocturnal attacks
– Episodic vomiting
– Gastric severity
– Urinary retention and incontinence
– Diminished sexual potency
B12 group(500 mg three times a day by mouth for 4 months) diminshed in severity over 4 months:
Both somatic and autonomic symptoms diminished to near 1/2. Unfortunately, article does not specify which symptoms improved most…
There are some studies that confirm this – review here:
Effectiveness of Vitamin B12 on Diabetic Neuropathy: Systematic Review of Clinical Controlled Trials
Yu Sun1,2, Mei-Shu Lai2, and Chien-Jung Lu
Acta Neurol Taiwan 2005;14:48-54 free article here
A more recent study on Diabetic neuropathy found vitamin B 2000 u im twice weekly better than Nortriptyline 10 mg hs. – a suboptimal dose of Nortriptyline – so a poor study designed to show B12 better but still…
Vitamin B12 may be more effective than nortriptyline in improving painful diabetic neuropathy
International Journal of Food Sciences and Nutrition, September 2009; 60(S5): 7176
AFSANEH TALAEI, MANSOUR SIAVASH, HAMID MAJIDI & ALI CHEHRE
pain VAS decreased by 3.66/5 in B12 group and 0.84/5 in nortriptyline group
Another study found B12 worked well for Diabetic Neuropathy here:
Int J Diabetes Dev Ctries. 2009 Jan-Mar; 29(1): 28–34.
Efficacy, safety, and tolerability of Epalrestat compared to Methylcobalamine in patients with diabetic neuropathy
Manish Maladkar, Girish Rajadhyaksha,1 N. Venkataswamy,2 R. S. Hariharan,3 and Sathis R. Lohat free article here
– They used B12 50,000 mcg three times daily for 12 weeks.
– Results: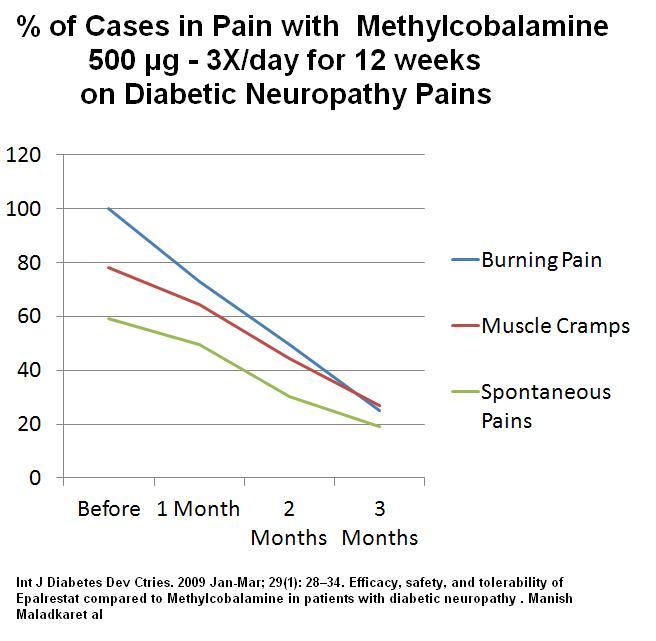 No control group as this was a the control group for an aldolase inhibitor
B Vitamins may help improve analgesia of other pain reducing agents:
Oral administered B1,B6, and B12 work synergistically with gabapentin to reduce spinal nerve root damage pain in rats:
Proc West Pharmacol Soc. 2004;47:76-9.
Oral administration of B vitamins increases the antiallodynic effect of
gabapentin in the rat.
Reyes-García G, Caram-Salas NL, Medina-Santillán R, Granados-Soto V.
abstract here
Oral B vitamins improves pain relieving effects of Diclofenac in osteoarthritis:
Drug Res (Stuttg). 2013 Mar 22. [Epub ahead of print]
B-vitamin Mixture Improves the Analgesic Effect of Diclofenac in Patients with Osteoarthritis: A Double Blind Study.
Magaña-Villa MC, Rocha-González HI, Fernández Del Valle-Laisequilla C, Granados-Soto V, Rodríguez-Silverio J, Flores-Murrieta FJ, Carrasco-Portugal MC,
Reyes-García JG.  abstract here– "Forty eight patients programmed to total knee arthroplasty with a pain level ≥7 in a 1-10 cm visual analogue scale were allocated to receive a single intramuscular injection of sodium diclofenac (75 mg) alone or combined with thiamine (100 mg), pyridoxine (100 mg) and cyanocobalamin (5 mg), and the pain level was evaluated during 12 h post-injection"
– superior analgesia in diclofenac – B vitamin group
B vitamins helped animal study infraorbital nerve constriction
Eur J Pharmacol. 2015 Jun 3;762:326-332. doi: 10.1016/j.ejphar.2015.05.063. [Epub ahead of print]
Vitamin B complex attenuated heat hyperalgesia following infraorbital nerve
constriction in rats and reduced capsaicin in vivo and in vitro effects.
Kopruszinski CM(1), Reis RC(1), Bressan E(2), Reeh PW(2), Chichorro JG(3).
http://www.ncbi.nlm.nih.gov/pubmed/26048309
B 12 seem to help control and  prevent nerve damage
B12 promoted recover from acrylamide induced peripheral neuopathy in rats
Watanabe T, Kaji R, Oka N, Bara W, Kimura J.
Ultra-high dose methylcobalamin promotes nerve regeneration in experimental
acrylamide neuropathy.
J Neurol Sci. 1994 Apr;122(2):140-3.   http://w.numedicaonline.net/literature/Watanabe%201994.pdf
B12 promotes cerebellar neurite outgrowth:
Okada K, Tanaka H, Temporin K, Okamoto M, Kuroda Y, Moritomo H, Murase T, Yoshikawa H.
Akt/mammalian target of rapamycin signaling pathway regulates neurite outgrowth in cerebellar granule neurons stimulated by methylcobalamin.
Neurosci Lett. 2011 May 20;495(3):201-4. doi: 10.1016/j.neulet.2011.03.065. Epub
2011 Mar 30.  http://www.ncbi.nlm.nih.gov/pubmed/21458538
B12 promotes recovery of peripheral nerves :
Methylcobalamin (methyl-B12) promotes regeneration of motor nerve terminals degenerating in anterior gracile muscle of gracile axonal dystrophy (GAD) mutant mouse
Kazuto Yamazaki, a, c, Kenichiro Odab, Chiyoko Endob, Tateki Kikuchic, Tsuneo Wakabayashia
Neuroscience Letters Volume 170, Issue 1, 28 March 1994, Pages 195–197  abstract hereand
Neuroscience 171 (2010) 934–949
METHYLCOBALAMIN, BUT NOT METHYLPREDNISOLONE OR PLEIOTROPHIN, ACCELERATES THE RECOVERY OF RAT BICEPS AFTER ULNAR TO MUSCULOCUTANEOUS NERVE TRANSFER
W.-C. LIAO,J.-R. CHEN, Y.-J. WANG AND G.-F. TSENG free article here

High B12 could reduce visual field defect damage in glaucoma:
Mecobalamin in treating glaucoma visual field damage
GUO Wen-Yi, SUN Xing-Huai, SONG Yue-Lian, LIU Chun-Shi, MAO Feng-Ying
abstract here
Recovery was better after arm nerve surgery with B12 – 500 mg three times daily – over a 2 year followup:
Effects of Methylcobalamin in Neurotisation after Brachial Plexus Injury: A Controlled Study
Authors: Waikakul S.1; Hirunyachote P.
Clinical Drug Investigation, Volume 17, Number 3, 1 March 1999 , pp. 179-184(6)
abstract here
B12 supraphysiological doses may protect ear nerve function:
Int J Audiol. 2004 Mar;43(3):162-5.
The effects of 'supra-physiological' vitamin B12 administration on temporary threshold shift.
Quaranta A, Scaringi A, Bartoli R, Margarito MA, Quaranta N. abstract here
free article here
B12 helps nerve regeneration in the animal model of sciatica
Methylcobalamin increases Erk1/2 and Akt activities through the methylation cycle and promotes nerve regeneration in a rat sciatic nerve injury model ☆
Kiyoshi Okadaa, Hiroyuki Tanakaa, b, , , Ko Temporina, Michio Okamotoa, Yusuke Kurodaa, Hisao Moritomoa, Tsuyoshi Murasea, Hideki Yoshikawaa
Experimental Neurology Volume 222, Issue 2, April 2010, Pages 191–203 abstract here

Ulta-high B12 doses seemed to help Amyotrophic Lateral Sclerosis (ALS) "averaged compound muscle action potential amplitudes (CMAPs)" in a double-blind trial.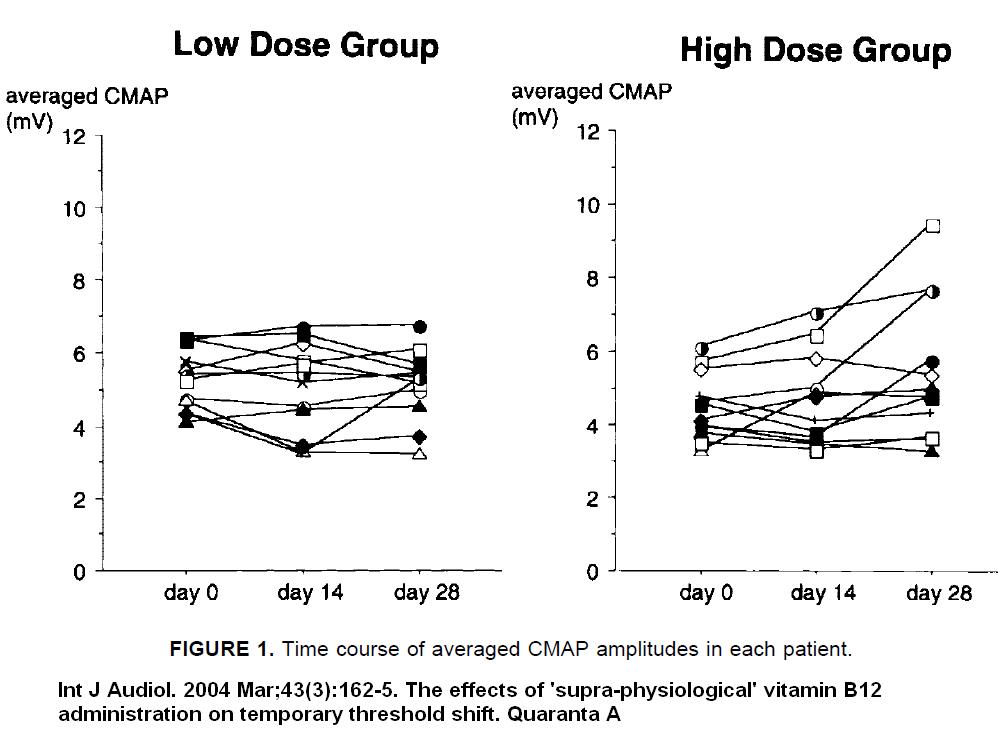 However, as you can see, it appears 3 outliers determined these results. They thought people with slower and longer-lasting disease could have been more responsive.
One study using huge doses in ALS ( 50 mg IM twice daily) found survival time until needing respirator was longer on B12:
Brain Nerve. 2007 Oct;59(10):1141-7.
Clinical trials of ultra-high-dose methylcobalamin in ALS.
Izumi Y, Kaji R. abstract here
B12 supplementation can help with symptoms of those with spinal cord injury even in cases where b12 levels were low normal (<300 pg/ml). Outright deficiency was not uncommon. B12 replacement helped pain, memory,gait strength, and reduced numbness in selected cases:
J Spinal Cord Med. 2003 Summer;26(2):116-21.
Vitamin B12 deficiency in spinal cord injury: a retrospective study.
Petchkrua W, Little JW, Burns SP, Stiens SA, James JJ. abstract here
Instead of high B12 levels being harmful, they seem to have beneficial effects:
Ultra – high doses were also found to help cases with sleep-wake disorder in adolescence:
Sleep. 1991 Oct;14(5):414-8.
Treatment of persistent sleep-wake schedule disorders in adolescents with methylcobalamin (vitamin B12).
Ohta T, Ando K, Iwata T, Ozaki N, Kayukawa Y, Terashima M, Okada T, Kasahara Y.
abstract here
they conjectured about how it could have altered the circadian cycle but effects were fast…
Case study found it help reversal of osteoporosis with co-treatment with etidronate:
Reversal of Severe Osteoporosis With Vitamin B 12 and Etidronate Therapy in a Patient With Pernicious Anemia
Mary E. Melton and Michael L. Kochman
Metabolism, Vol43, No 4 (April), 1994: pp 468-469 free article here
and helped prevent hip fractures:
Sato Y, Honda Y, Iwamoto J, Kanoko T, Satoh K.
Effect of folate and mecobalamin on hip fractures in patients with stroke – a randomized control trial.
JAMA 2005;239: 1082–8. free article here
Anyone had any experience with B12 use? It has been found useful in depression and in some cases of fatigue. (needs filling in sometime)
Has been found useful in canker sore treatment:
http://painmuse.org/?p=73
Comments – with the confirmed new study, looks like capable of reducing pain by 1/5 or more. I have tried with varying success from a great deal to not much. I suspect it worked better with neurogenic based pains particularly since it augments gabapentin effects – this means cases with sciatica could get benefit… It can help neck pain as well. It also makes tissues easier to work with in some cases.
addendum – one recent article suggested vitamins do no help mechanical nerves – more thermal – a rat study so grain of salt
Wang, Zheng-Bei, et al. "Thiamine, pyridoxine, cyanocobalamin and their combination inhibit thermal, but not mechanical hyperalgesia in rats with primary sensory neuron injury." Pain 114.1-2 (2005): 266-277
https://www.sciencedirect.com/science/article/abs/pii/S0304395904006141