Article in press reviews literature and treatment measures for osteitis pubis

Treatment of Osteitis Pubis and Osteomyelitis of the Pubic Symphysis in Athletes: A Systematic Review
Haemi Choi, Michael McCartneyThomas M Best
Br J Sports Med in press abstract here
Type of groin pain in midline lowest abdomen – either groin or pelvic pain
Factors involved:

Athletics involving sprinting, kicking, twisting, and cutting – this means soccer, football, ice hockey, running and rugby – apparently without much history of trauma
Urinary tract infections – had one case with a UTI that remitted some once the infection was treated
Associated with orchiaglia – painful testicles – had a case that required injection of ilioinguinal and genitofemoral nerves, and pubic joint to remit his pain;
Associated with pregnancy when those joints become very unstable anyway
Rheumatic diseases – Rheumatoid arthritis, and more interestingly, Ankylosing spondylitis.
In:
Resnick, D; Dwosh, I L; Goergen, T G; Shapiro, R F; Utsinger, P D; Wiesner, K B; Bryan, B L.
Clinical and radiographic abnormalities in ankylosing spondylitis: a comparison of men and women.
Radiology. 119(2):293-7, 1976 May.
found 61% of women with Ankylosing spondylitis had this – often the were HLA B27 positive.
Variety of lower abdominal, urologic and gynecologic surgeries – prostatectomy, cystectomy, transrectal prostate needle biopsy, abdominoperineal resection and inguinal hernia repairs.
pregnancy: came across a link that discusses this: here

Question is whether this is a localized form of Complex regional pain though there is suggestion of blood flow abnormalites to area as well.
Symptoms:
Symptoms may occur 1 to 8 weeks after the triggering event. The primary symptom of pain varies in severity and duration.
pain in the pelvic region with extension to the inner thighs – may bve abrupt onset .
aggravating factors could include coughing, sneezing, micturition, defecation, walking, sitting, getting up to standing, and stairs.
May "waddle" from pain and a sensation of tightness in adductors.
Signs:
Local tenderness would be the big one.
palpable or audible click over area
adductor spasm leading to reduced hip abduction (swinging out)
Differential Diagnosis:
Sacroiliac (SI) disease – with SI instability you can find one pubic ramus higher than the other. A simple exercise can help distinguish: With knees separated try pushing them together with either you wrist to elbow or a beach ball separating them. Then hold your knees together and try separating them. Repeat three times and then check to see if pubic pain has resolved. This sort of instability might require an SI belt or prolotherapy, recently been found helpful in a British study of SI disease.
Osteomyelitis of the pubic symphysis – more sudden onset, fever, and more sick.
Treatment:
Special compression shorts: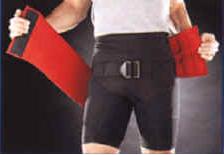 From: http://bracesupport.com/compress/pelvic-shorts.htm
though I am sure there are plenty of other sites
McKim K, Taunton J. The Effectiveness of Compression Shorts in the Treatment of Athletes with Osteitis pubis. NZJSM 29:70-73
"VAS scores for pelvic and groin pain were significantly reduced while wearing compression shorts during exercise, however no improvement in athletic performance was noted."
Antiinflammatories – Ibuprofen 800 three times daily, and indomethacin 25 mg were two mentioned specifically
cryomassage (fill a styrofoam cup with water, freeze, peel down the rim and massage like deodorant stick over area)
massage, trigger therapy – The pyramidalis muscle can be sore and has been shown to contibute to pelvic pain: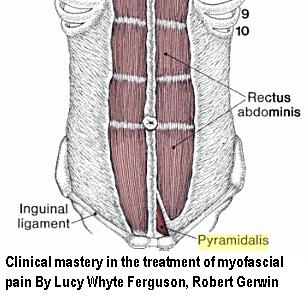 In:
Myofascial Dysfunction and Pelvic Pain
John Jarrell, MD, MSc, FRCSC; and Magali Robert, MD, FRCSC
The Canadian Journal of CME / February 2003, 107 – 116 free article here
They injected a pyramidalis associated with pelvic pain: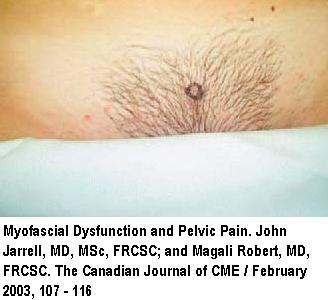 Hip adductor muscles will also need work
physio – laser, ultrasound
Steroid Injections – I think this should be the first choice unless the joint is obviously unstable. in one metanalysis, 58.6% of athletes were able to return to sports following use after an average of 8 weeks. 20.7% were complete non-responders.In another study:
Symphyseal Cleft Injection in the Diagnosis and Treatment of Osteitis Pubis in Athletes
Martin J. O'Connell, Tom Powell, Noel M. McCaffrey, Denis O'Connell, Stephen J. Eustace
AJR:179, October 2002, 955-959 free article here
"Fourteen (87.5%) of the 16 patients experienced immediate relief of some of the symptoms
and were able to resume sporting activities 48 hr after the procedure." There was some relapse however, later.I use 40 mg Kenalog plus local. The cleft will only hold 1 – 1.5 mls fluid so no point on using large volume.One steroid injection protocol Here Osteitis Pubis Treatment & Management
– Inject in middle of the pubic symphysis in an AP (front-back) direction.
– Insert in "approximately 1 inch until a pop is felt as the needle enters the joint."
– "The author's suggested preference is to use a 1.5-inch 20-gauge needle with a 3-mL syringe that is filled with 1 mL each of betamethasone injectable suspension (6 mg/mL), 2% lidocaine, and 0.5% bupivacaine. )". Agian, I use a 25 guage 1 inch and use  kenalog 40 (I let the steroid settle out, discard the supernatant, suck up the steroid precipitate and mix with 1 ml local)
– "Postinjection, the patient remains out of activity for 1 week."
– "Occasionally, a second or third (rare) injection is required at intervals of 2-3 weeks."
Prolotherapy:
As per:
Topol G. et al.
Efficacy of dextrose prolotherapy in elite male kicking-sport athletes with chronic groin pain. Arch Phys Med Rehab 2005; 86:697-702 abstract here

24 male athletes – average symptoms duration 15.5 months
monthly injection average 2.8 injection (2-6)
mixing 8mL of 1% preservative- and epinephrine-free lidocaine with 8mL of 25% dextrose solution in a 20mL syringe
pubic symphysis – 23-gauge needle at a depth of 2 to 4cm – 2 mls
points 2-4 along pubic rim 1 cm apart – 1 cc each – covering the pectineus origin and pyramidalis insertion and external oblique insertions. "the needle was directed off the edge to confirm location at the top of the rim, and then the needle was redirected back onto bone for the injection."
ischiopubic ramus (points 5–8), covering attachments of the adductors – this hits adductor magnus, gracilis, adductor brevis, adductor longus origins, and the insertion for the rectus abdominis on the pubic tubercle. -have patient extend opposite leg. Hold injected leg flexed and externally rotated with the foot against the opposite leg – 1 ml each
It gets complicated:
– "For injection into the ischiopubic ramus, the needle entry was in a caudocephalad direction to ensure a better sense of distance from the midline. – The line of needle insertion points was vertical rather than angled to ensure that bone contact occurred rather than the needle falling off bone medially at first insertion.
– The depth of injection was similar for each ischiopubic ramus injection site and the typical distance off midline for entry in ischiopubic ramus injections was about 4cm. Due
to tissue depth, it was sometimes necessary to use 2 fingers, 1 on each side of the needle, to indent the soft tissue to allow needle contact with bone. However, this was done without skin traction to avoid altering mediolateral orientation."
Picture of lower injections points done: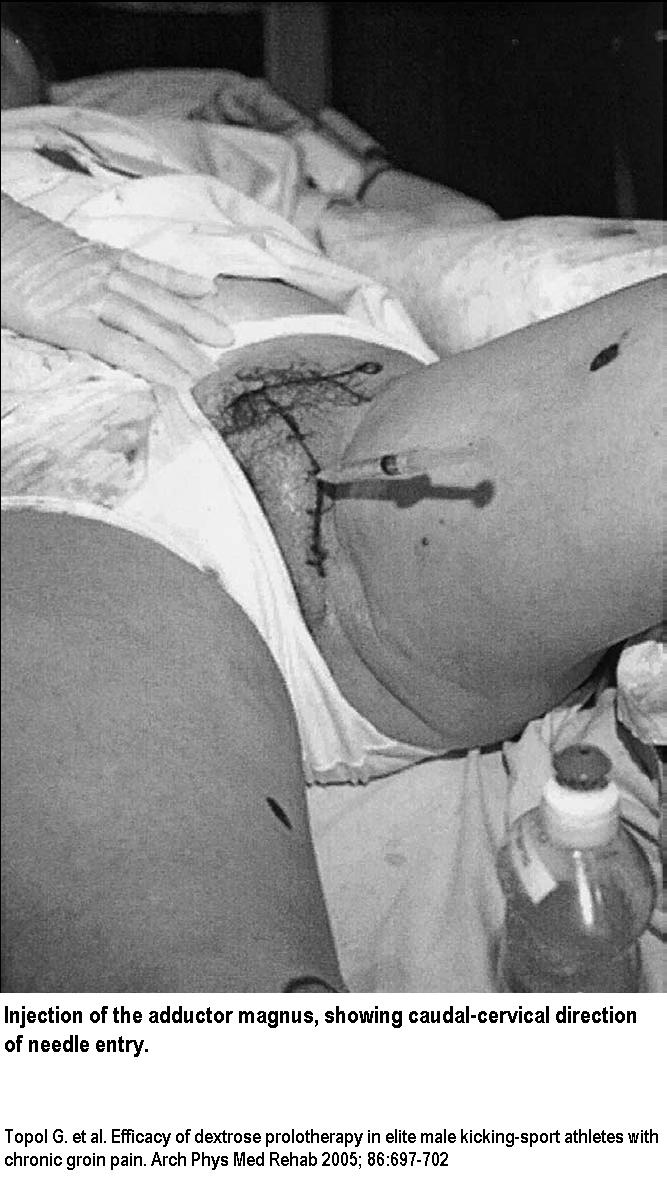 Surgery Includes:
curettage of the pubic symphysis – 72% success
polypropylene mesh placement into preperitoneal retropubic space – 92% success and fastest return to sports (7.2 wks)
pubic symphysis stabilization – 100% results minus one drop out
Scrotal bruising and intermittent swelling only side effect.
Comment – I have never had to go beyond steroid injection. The prolotherapy seems intensive but if you are desperate, it works.
Addendum –
EFFECTIVENESS OF METHYLPREDNISOLONE INJECTION TO PUBIS SYMPHYSIS IN POST PARTUM PUBIS SYMPHYSIS DYSFUNCTION:FOUR CASE REPORTS
C. Fernando
IASP poster DM 397. Montreal 2010
4 women with severe post-partum pubic symphysis dysfunction
Depo-medrol 40 mg and 1 ml of 0.5% Bupivacaine injected resulted in rapid relief
Addendum – steroid injections
Br J Sports Med. 2010 Nov 3. [Epub ahead of print]
Treatment of osteitis pubis and osteomyelitis of the pubic symphysis in athletes: a systematic review.
Choi H, McCartney M, Best TM  abstract here
"It is thought that osteitis pubis is caused by repetitive twisting/cutting manoeuvres with stress at the pubic symphysis from restrictive hip movement."
"Imbalances between the hip adductor and abdominal muscles have been thought to contribute
in the development of osteitis pubis.":
(ref – Fricker PA, Taunton JE, Ammann W. Osteitis pubis in athletes. Infection, inflammation or injury? Sports Med 1991;12:266–79.)
"an active rehabilitation programme assisting "the coordination and strength of muscles that act on the pelvis" helps in chronic groin pain
(ref – Wollin M, Lovell G. Osteitis pubis in four young football players: a case series
demonstrating successful rehabilitation. Phys Ther Sport 2006;7:153–60.)
Review of cortisone shots found people had average of 1.24 shots – range 1-3 – no consisent mix
Addendum – neagtive steroid case where instability may have been more an issue
Pain Med. 2011 Nov 14.  [Epub ahead of print]
A Retrospective Study on the Efficacy of Pubic Symphysis Corticosteroid Injections in the Treatment of Pubic Symphysis Pain.
Fitzgerald CM, Plastaras C, Mallinson T.  abstract here
In cases to this tertiary center, and where 7/10 were post pregnancy cases, Injections of steroid did not work
Comment – Instability would be a big issue (and more severe to make it to a tertiary center)and prolotherapy with or without platelet rich plasma might be a better place to go
As a matter of fact, in the non-athlete, conservative measures by themselves work in most cases:
Open Orthop J. 2011;5:331-4. Epub 2011 Sep 12.
Treatment of osteitis pubis in non-athlete female patients.
Kavroudakis E, Karampinas PK, Evangelopoulos DS, Vlamis J.  free article here
Addendum – platelet rich plasma success
PLATELET RICH PLASMA AND MSK TREATMENTS
Dr. Erik Ouellette in Vancouver 2011 CAOM
Case of 17 year old with pubic tenderness for 6 months – could not play hockey
Tenderness to Symphysis pubis ,  right Iliolumbar ligament and right Posterior sacro iliac ligaments.
Rx – Manipulation, stretch adductors
Platelet rich plasma to Symphisis pubis, Ilio lumbar and posterior sacro iliac ligaments
3 treatments at 4 weeks intervals
Results – Could participate to off ice training after 1st;  Could participate 85% activities after 2nd;  Back to play without pain after 3rd
A 2014 study confirmed that IV pamidronate (a bone building IV med that works on the bone edema that is often presents) can work well if given at least 3 times in my opinion:
Treatment of Resistant Osteitis pubis with Pamidronate
http://painmuse.org/?p=3857
Addendum:
A severe post pregnancy case was treated with a spinal stimulator:
J Pak Med Assoc. 2012 Jan;62(1):71-3.
Management of chronic symphysis pubis pain following child birth with spinal cord stimulator.
Idrees A. Department of Anaesthesia & Pain, Our Lady of Lourdes Hospital, Drogheda, Ireland.  abstract here
"Incidence of  [actual] diastasis (defined as abnormal wide gap greater than 10mm between the two pubic bones) of pubic symphysis following child birth is very low and varies from 1 in 600 to 1 in 3400 deliveries" (Normal disatnce in pregnancy 4-5 mm)
39 year old with a 21 mm gap
Pains 7/10 despite multiple meds – neuropathic in nature
Lidocaine infusion gave relief for a few days  – confirming more likely neuropathic
Peripheral nerve stimulation procedures SENS (Subcutaneous Electrical Nerve Stimulation) – did not work
"spinal cord stimulator with dual octrode leads were put in at T10 level" – gave complete relief
pubic symphysis innervated by genitofemoral (L1-2) and pudendal nerves (S2-4)
states "Conservative management include pain medications (e.g. NSAIDs and Opioids), strict bed rest, use of pelvic binders or braces, later on physiotherapy and pelvic exercise" . No mention of what exercises though.
Does look like a spinal stimulator could be considered in neuropathic cases – ie good response to lidocaine infusion temporarily.
Any other treatments or comments?