For year I felt the main expression of chronic pain was through activation of myofascial knots – now it looks like tenderized skin nerves is a front runner. Merely injecting D5W overtop tenderized nerve tracts an average of 6 weekly times can settle down even recalcitrant back pains.
Lyftogt, John.
Prolotherapy for recalcitrant lumbago.
Aust Musculoskeletal Med 13.1 (2008): 18-20.
http://www.prpseminar.com/ext/wp/wp-content/uploads/2011/11/Prolotherapy-for-recalcitrant-lumbago-John-Lyftogt-AMM-May-2008-pp-18-20.pdf
Cutaneous skin nerves come out the back at every level: (from Wikipedia)

If you feel for these nerves – they can be palpated and if tender become targets for injection
study took 41 cases recalcitrant lumbago with or without leg pains
Injected Dextrose – eventually settled on 5% overtop (not in) tender nerves every 2 cm (1 ml each spot)
3 areas settled on included:
Superior Cluneal Nerves (Red 1)
Intermediate Cluneal Nerves – near PSIS and SI joint (Red 2)
Thoracic Cutaneous nerves (Red 3) – notice – can come out bit of way from spine
Injected Dexrose blebs on top of tender (only injected tender) 1 ml every 2 cm or so until entire nerve tract numb – helps to pinch up skin and inject superficially
Check after to see if numb and inject areas that missed
first time relief is a few days or so, then longer
People needed average 6.3 weekly treatments though  ranged from 2-16
Results: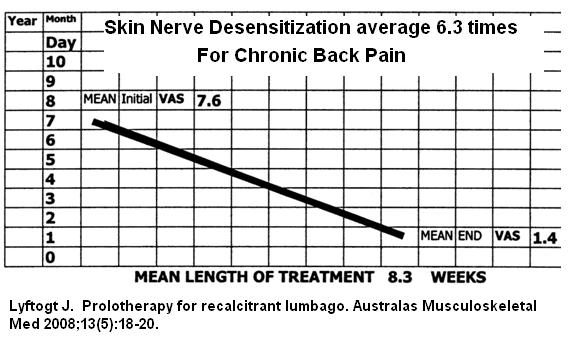 "Ninety percent of patients improved more than 50%, and 10% less than 50%. Twenty-nine percent of patients reported no pain at the last consultation."
Comment – Adding 3% glycerin (by volume) to D5W or using mannitol apparently makes it work better.  I have had cases that I have worked on for some time now walk out better (and perplexed that they had to wait so long for me to do it). It works as well on leg and neck pains. I will have to talk more on this but just got back from a workshop 6 weeks ago..   John Lyftogt is big on using 1000 u/ml vitamin D cream to settle the voltage-gated calcium channels that he believes are part of the problem… Recently I had a case of knee pains that did not settle with steroid injection.  She had sharp intermittent pains not weight-bearingly increased. She was very tender over the infrapaetllar nerves inferior to joint, and 3% glycerin in D5W injections overtop these areas gave immediate relief… I am now getting recalcitrant cases better!