I have an MS patient who was in bad shape when I started to see her – was using a walker. With various measures, she was much better. What worked? Vit D2 50,000 u weekly, B12 injections 1000 mcg subcut injection every day or two, ketamine injections 2-3 times a week, Pramipexole and Sinemet – bedtime dopa  for restless legs, and local injection treatments have helped. Spironolactone may have helped as well.
The usual drugs in Chronic MS pain are well recorded elsewhere and have limited effectiveness. For example, Cymbalta effects are minor though there might be a subgroup responding.
Pain Pract. 2014 Nov;14(8):732-44. doi: 10.1111/papr.12127. Epub 2013 Oct 24.
A randomized, double-blind, placebo-controlled trial of duloxetine for the
treatment of pain in patients with multiple sclerosis.
Vollmer TL et al
https://www.ncbi.nlm.nih.gov/pubmed/24152240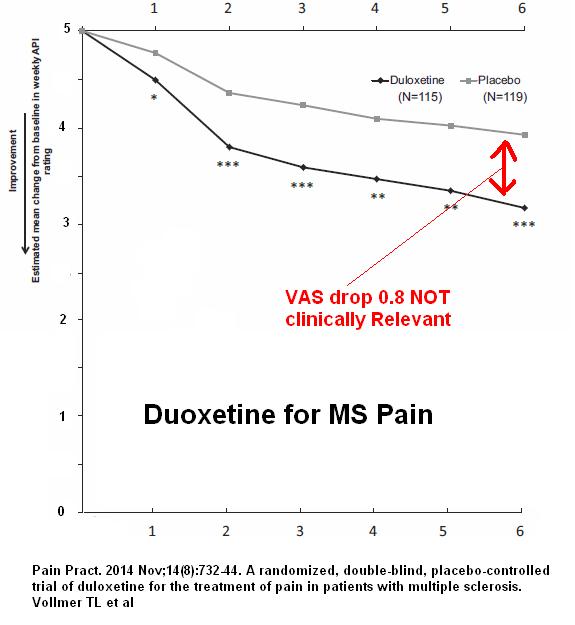 Only about 1/4 of patients with neuropathic pain feel much better with usual opioids and other measures.
Severe Neuropathic Pain – Only 1/4 Respond to Standard Drug Protocols – What Else Is There?
http://painmuse.org/?p=2640
lyrica/gabapentin
antidepressants
anticonvulsants
antispasm drugs like blacofen
So what are some other options?
1) High does Vitamin D – found to help chronic pain:

Vitamin D – Could High Doses Help Pains?
http://painmuse.org/?p=4168
Use in MS has been found helpful at high dose 10,000/day – I've been using 50,000/week
Vitamin D – Could High Doses Help Pains?
http://painmuse.org/?p=4168
It has been found to help MS:
Sotirchos, Elias S., et al. "Safety and immunologic effects of high-vs low-dose cholecalciferol in multiple sclerosis." Neurology 86.4 (2016): 382-390.
https://www.researchgate.net/profile/Keith_Van_Haren/publication/288836819_Safety_and_immunologic_effects_of_high-_vs_low-dose_cholecalciferol_in_multiple_sclerosis/links/56cc8b4c08ae1106370d9996.pdf
2) Frequent B12 injections sustains high enough blood/CSF levels to improve pains:

Chronic Back Pain Help – Forgotten B12 Injections and What Else Good For…
http://painmuse.org/?p=1543
From those observations, my daughter, Janice Montbriand, and I did a study of 2 weeks daily 1000 mcg vit B12/day followed by as needed.  We found over 1/2 got at least a 20% reduction in pain lasting 2-3 days – requiring frequent subcut injection like an insulin shot.   Presented as a poster at the Canadian Pain society in Toronto. Poster here:
Found helpful as well in MS:
Treatment of multiple sclerosis with lofepramine, l-phenylalanine and vitamin B12: mechanism of action and clinical importance: roles of the locus coeruleus and central noradrenergic systems
C Lode
Medical Hypotheses  Voume 59, Issue 5, November 2002, Pages 594–602
http://www.sciencedirect.com/science/article/pii/S030698770200261X
B12 shots have to be given every 1-3 days to maintain high  enough blood levels to help with pain – I have them give it subcutaneously like an insulin shot. Recently male smokers were found to have increased lung cancer rates on b12 so I have now limited my use to women.
Extra B12 – Lung Cancer Link for Men
3) Ketamine which grow synaptic nodules so should in theory help prevent deterioration. Strong pain killing and anti-depressant effects:
Simulating Ketamine Infusions with Repeated Deloid Muscle Injections
http://painmuse.org/?p=4993
Depression is a Form of Pain and Ketamine May be a Cure if One Can Make It Last
http://painmuse.org/?p=1420
It stimulates growth of synaptic buds and nerve growth is the opposite of nerve degeneration.
4) Pramipexole – Newest is the finding that a Parkinson drug (trade name miripex) stops the mouse version of MS:
MS Help – prevents mouse model of MS by dampening brain inflammation:

Mol Neurobiol. 2017 Mar;54(2):1033-1045. doi: 10.1007/s12035-016-9717-5. Epub 2016 Jan 22.
Pramipexole, a Dopamine D2/D3 Receptor-Preferring Agonist, Prevents Experimental Autoimmune Encephalomyelitis Development in Mice.
Lieberknecht et al
http://s3.amazonaws.com/academia.edu.documents/44205510/Pramipexole__a_Dopamine_D2D3_Receptor-Preferring_Agonist_.pdf?AWSAccessKeyId=AKIAIWOWYYGZ2Y53UL3A&Expires=1491144312&Signature=6SXlGmnGR9MBJIUfLcbNb9Nstd4%3D&response-content-disposition=inline%3B%20filename%3DPramipexole_a_Dopamine_D2_D3_Receptor-Pr.pdf
———–
Chronic Pain Help – Pramipexole also helps pain in Fibromyalgia
Holman, Andrew J., and Robin R. Myers.
A randomized, double‐blind, placebo‐controlled trial of pramipexole, a dopamine agonist, in patients with fibromyalgia receiving concomitant medications.
Arthritis & Rheumatism 52.8 (2005): 2495-2505.
http://onlinelibrary.wiley.com/doi/10.1002/art.21191/full
It also was found to reduce FM pain by " –2.48 ± 0.38 cm[/10](36%) in the pramipexole group and –0.71 ± 0.54 cm (9.4%) in the placebo group."
———–
Chronic Depression Help  – Astounding, is its potential benefit in chronic depression by bunting brain inflammation
Neuropsychopharmacology (2017) 42, 363; doi:10.1038/npp.2016.217
Pramipexole in Treatment Resistant-Depression, Possible Role of Inflammatory Cytokines
Rodrigo Escalona et al
https://www.ncbi.nlm.nih.gov/pubmed/27909317
———–
Restless Leg syndrome – what was the tie breaker for use is that it is one of the prime drugs used in restless leg sydrome. Its usual use of pramipexole is for restless leg syndrome, and she  has this condition so it is a shoe-in for her.
Montplaisir, Jacques, et al.
Restless legs syndrome improved by pramipexole A double-blind randomized trial. Neurology 52.5 (1999): 938-938.
http://www.neurology.org/content/52/5/938.short
Other Treatment considerations:
5) Testosterone – One of the things I haven't started yet is testosterone which is always low in both male and female patients – in latter unmeasurably low.
One patent study found it useful in chronic pain:
Transdermal gel compositions containing testosterone and their use for the treatment of fibromyalgia, chronic fatigue syndrome, muscle pain or decreased libido
Robert Gyurik, Hillary White
European patent publication number EP2000143 A3
http://www.google.co.ug/patents/EP2000143A3?cl=en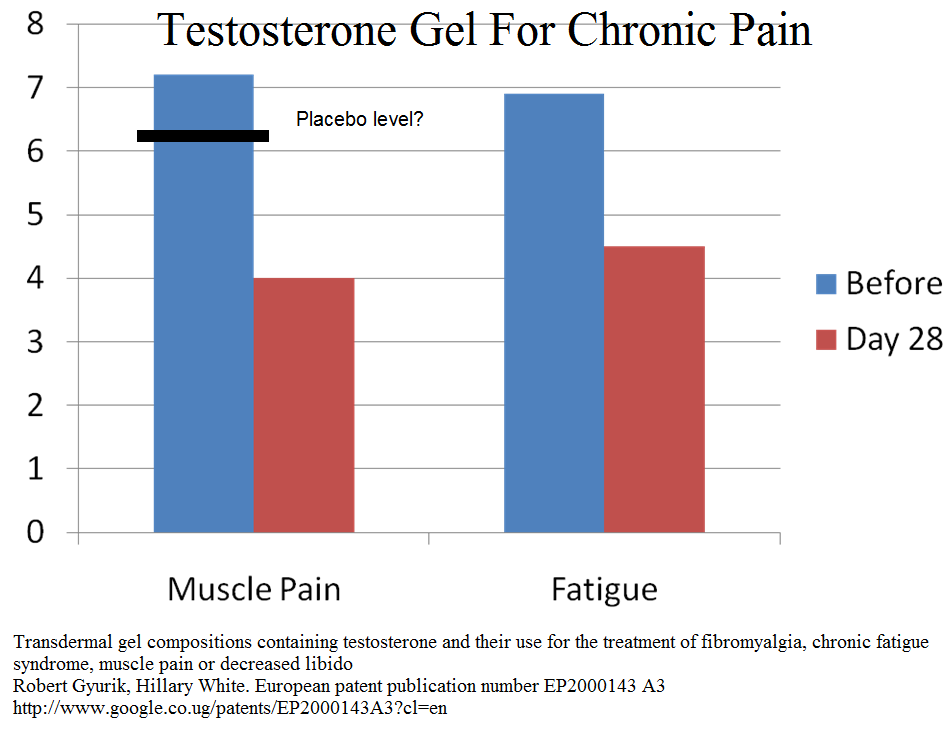 Also suggested helpful in MS:
Mol Neurobiol. 2016 Dec 13. [Epub ahead of print]
The Level of Testosterone, Vitamin D, and Irregular Menstruation More Important than Omega-3 in Non-Symptomatic Women Will Define the Fate of Multiple Scleroses in Future.
Tavakol S1,2, Shakibapour S3, Bidgoli SA4,5.
https://www.ncbi.nlm.nih.gov/pubmed/27966076
In subjects with Apo- E4 disease ( seen about 4 times more commonly in post-traumatic fibromyaglia), testosterone prevents cognitive deficits in the animal model:
Raber, Jacob, et al.
Androgens protect against apolipoprotein E4-induced cognitive deficits.
Journal of Neuroscience 22.12 (2002): 5204-5209.
http://www.jneurosci.org/content/jneuro/22/12/5204.full.pdf
I use a gel like testin – in women I use 0.2 mls (measure with syringe first time and use same size thereafter)
6) Marijuana
Has been found some useful in chronic pain though drops VAS pain by only 1-1.5/10 points according to one talk I attended.
May helps pain in MS:
Rog, David J., et al.
Randomized, controlled trial of cannabis-based medicine in central pain in multiple sclerosis.
Neurology 65.6 (2005): 812-819.
https://www.researchgate.net/profile/Tim_Friede/publication/7576991_Rog_DJ_Nurmikko_TJ_Friede_T_Young_CA_Randomized_controlled_trial_of_cannabis-based_medicine_in_central_pain_in_multiple_sclerosis_Neurology_65_812-819/links/00b7d5354f4c96fdf8000000.pdf
dropped pain by 2.5/10 versus 1.7 in placebo – which is only 0.8/10 – so not great
Zajicek, John, et al. "Cannabinoids for treatment of spasticity and other symptoms related to multiple sclerosis (CAMS study): multicentre randomised placebo-controlled trial." The lancet 362.9395 (2003): 1517-1526.
https://www.researchgate.net/profile/Andrew_Nunn2/publication/9011336_Cannabinoids_for_treatment_of_spasticity_and_other_symptoms_related_to_multiple_sclerosis_CAMS_study_multicentre_randomised_placebo-controlled_trial/links/00463524ab96b1f11e000000/Cannabinoids-for-treatment-of-spasticity-and-other-symptoms-related-to-multiple-sclerosis-CAMS-study-multicentre-randomised-placebo-controlled-trial.pdf
46-50% got  reduction of pain versus 30% in placebo
7) Swank diet – low fat diet – Canadian study – diet spanning decades on a low fat diet found those in early stage MS rarely progressed to a wheel chair vs commonly if not. It was ignored much to my amazement presumably because it was thought those who were not doing well, would automatically stop the diet. "Voltaire's Bastards" (book on idiocy of  validation techniques) at work and I hate it.  After 34 years, the MS related death rate was 61% in the high fat group and only 20% in the low fat group. Significance was p =  0.00001.  You will never see a study like this again – a recent one followed people for 1 year only and of course did not find much. Am I the only one who thinks this is stupid?  the best article was a 1970 article you can no longer get on line.
?Gluten – one site suggested gluten an issue. Came across a study suggesting it may be an issue in 10% cases. Would be looking for irritable bowel as risk factor.
8) Peripheral treatments
Botulinum – lady had pain and spasticity of left leg and had botulinum into affected muscle – posterior tibialis; flexior digitorum longus
TRPVI receptors – these receptors are not only found in brain but also are the prime skin receptors linked to peripheral sensitized pain. Peripherally sensitized skin is seen in neuropathic pain and mixed pain syndromes. Perineural injections of D5W (I add 3% glycerin) are becoming popular for reducing pain.
Remarkable New Treatment – Injecting Over Tenderized Skin Nerves With Plain 5% Dextrose
http://painmuse.org/?p=3579
Recently, abnormal TRPVI receptor genes have been found in some MS cases:
J Neuroimmunol. 2017 Apr 15;305:172-174. doi: 10.1016/j.jneuroim.2017.02.007.
TRPV1 polymorphisms and risk of interferon β-induced flu-like syndrome in
patients with relapsing-remitting multiple sclerosis.
Buttari F
Nerve tract injections might help peripheral sensitized kin areas in MS
9) Major Mood Disorder – commonly find it gets in way of any improvement and find it needs addressing.
10) tDCS – daily 20 min direct current with 2.0 milliamp stimuation with anode over motor strip (C3 or C4)  opposite side to worst pain or left and other opposite forehead supraorbital. This is given for 5 days.
Mori, Francesco, et al.
Effects of anodal transcranial direct current stimulation on chronic neuropathic pain in patients with multiple sclerosis.
The journal of pain 11.5 (2010): 436-442.
http://www.jpain.org/article/S1526-5900(09)00715-9/abstract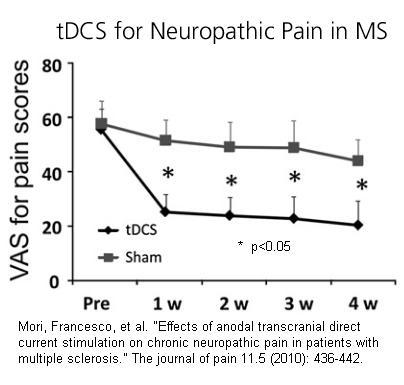 a recent abstract poster confirmed its benefits – enclosed it all here: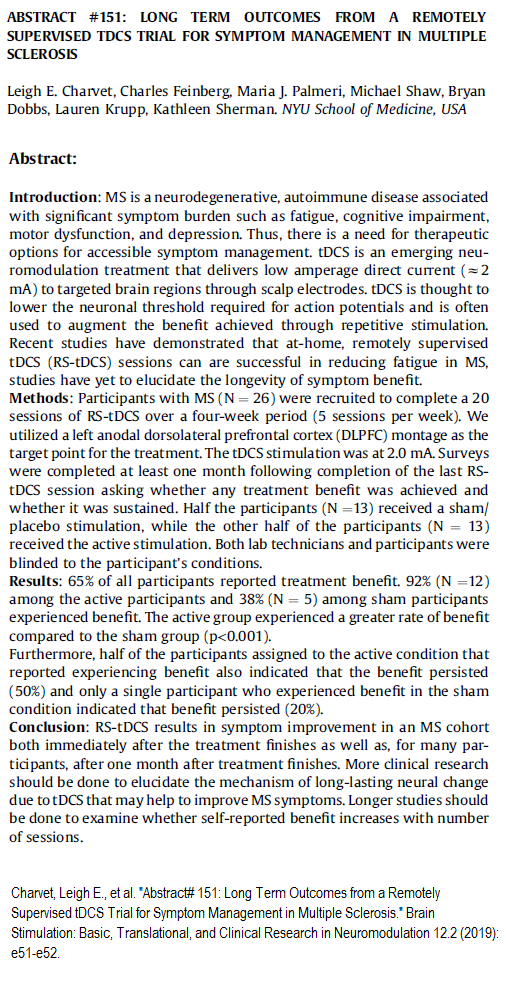 11) Spironolactone – this lady had pain and edema in her leg and spironolactone was added as a water pill. However, it can have spectacular effects on Fibromyalgia pain sometimes  and patient believes it is helping her pain as well:
Breathtaking Option for Treatment Resistant Fibromyalgia
http://painmuse.org/?p=4054
12) Minocycline – a tetracycline known to effect glial cells, has recently been shown to prevent relapse after 6 months from 61% without to 33% with
http://www.cbc.ca/news/canada/calgary/minocycline-ms-multiple-sclerosis-calgary-research-1.4139877
addendum:
Neurol Clin. 2018 Feb;36(1):197-218. doi: 10.1016/j.ncl.2017.08.015.
Advanced Symptom Management in Multiple Sclerosis.
Crabtree-Hartman E
https://www.ncbi.nlm.nih.gov/pubmed/29157400
treating potentially silent Urinary Tract Infections can obviate "pseudoexaccerbations"
Checking for thyroid, diabetes, low vit D and B12, low testosterone,  anemia important
low back and hip pains common with partial myelitis and worth treating
planning day with rest periods
drinking sufficient fluids
air conditioner in summer
low impact or pool therapy
L carnitine 1 gm twice daily for fatigue: – I have heard of amantidine as well
Minfulness has been found helpful here:
Chronic Illn. 2017 Jan 1:1742395317715504. doi: 10.1177/1742395317715504. [Epub ahead of print]
Optimising mindfulness-based stress reduction for people with multiple sclerosis.
Simpson R1, Byrne S1, Wood K1, Mair FS1, Mercer SW1.
https://www.ncbi.nlm.nih.gov/pubmed/28661195
I took training with Dr. Jackie Gardner-Nix on mindfulness for chronic pain and have some suggestions:
Take a group program course as part of the benefits is mingling with other with problems and the resultant bonding, sense of self-worth, and understanding you are not alone.
Along with regular practice, take "snap-shots" of mindfulness ( of surroundings etc) 1-3 minutes a few times a day
Subsequent Group meditation is superior to alone.
The mindfulness program does not have a goal striving feature which is important in dealing with depression.  Goals need to be set (can be as simple as walking around the block daily). Exercise needs to be a goal but tempered with reality.
Antivirals
Addendum: there has always been evidence of MS being caused by Ebstein-Barr mononucleosis virus but it is becoming  clearer now:
Moreno, Monica A., et al. "Molecular signature of Epstein-Barr virus infection in MS brain lesions." Neurology-Neuroimmunology Neuroinflammation 5.4 (2018): e466.
https://nn.neurology.org/content/nnn/5/4/e466.full.pdf
"85% of MS brains revealed frequent EBER [EBV-encoded RNA-1] positive cells , whereas non-MS brains seldom contained EBER-positive cells. EBV infection was detectable, by immunohistochemistry and by in situ hybridization, in both MS and non-MS brains, although latent virus was more prevalent in MS brains, while lytic virus was restricted to chronic MS lesions."
so what about treatment? Interestingly a case study has demonstrated MS responding to antivirals in one case:
Drosu, Natalia C., Elazer R. Edelman, and David E. Housman. "Could antiretrovirals be treating EBV in MS? A case report." Multiple sclerosis and related disorders 22 (2018): 19-21.
https://reader.elsevier.com/reader/sd/pii/S2211034818300828?token=CD671DF38C004DB3E3965F63405E0A2C26911AC2A26984701831B0D02DF37A3EF1B2E88B037BFCAAF641F39FAB17E434
"We present the case of an HIV-negative patient clinically diagnosed with relapsing-remitting MS who achieved significant disease improvement on Combivir (zidovudine/lamivudine). Within months of treatment, the patient reported complete resolution of previously unremitting fatigue and paresthesiae, with simultaneous improve-ments in lesion burden detected by MRI. All improvements have been sustained for more than three years. This response may be related to the action of zidovudine as a known inhibitor of EBV lytic DNA replication, suggesting future directions for clinical investigation"
Please comment on treatments that worked/did not work in MS