Autosomal dominant polycystic kidney disease (ADPKD) can end up with such severe pain that they wish nephrectomy. I'm hoping this protocol reaches kidney societies that can lobby for aggressive pain treatment to keep things under control.
Kidney Int. 2017 Apr;91(4):972-981. doi: 10.1016/j.kint.2016.12.007.
Novel treatment protocol for ameliorating refractory, chronic pain in patients
with autosomal dominant polycystic kidney disease.
Casteleijn NF
https://www.ncbi.nlm.nih.gov/pubmed/28159317
4.4/10,000
60% debilitating chronic pain
Proposed treatment protocol Involves celiac block or renal arterial catheter denervation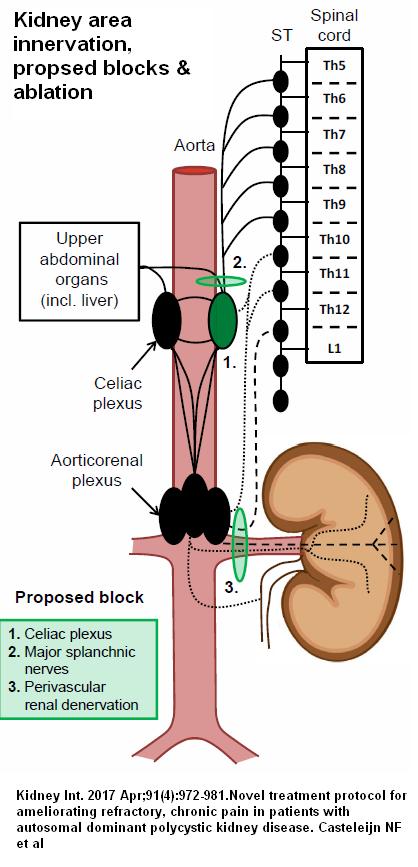 Ipsilateral celiac plexus block with 10 ml of bupivacaine 0.5% – 81.8% substantial pain relief. In 1/3 of those pain did not recur and that was it. 2 got faint and one got diarrhea.

Of those t hat recurred, most were better after 1-2 more blocks
celiac block though usually done posteriorly, has been done anteriorly in cancer patients
Those not benefiting from celiac blocks – 5/8 underwent renal denervation with relief in 4/5 cases (with one case needing it twice). This block was painful – renal artery catherized.
most – substantial relief in pain was achieved.
Comment – there seems to be a great reluctance to do this block so some group is going to have to get together and demand its use… michael kors sac michael kors sac