Study from McMaster University Ontario found oral antibiotic treatment in mice resulted in changes in bacterial flora that increased anxiety-like behaviour. Gut Bacterial Overgrowth found in 50% of people on Proton Pump Inhibitor Ulcer Pills. Are these pills driving us crazy?

(image from:http://www.novamind.com/connect/nm_documents/
show_branch/Power/3DDB0D16-D6F9-4EB8-B3C9-EF5050564DD1/2039310965)
It has been suggested we are what we eat, but now it can be we are what pills we take…
Dig Dis. 2009;27 Suppl 1:85-9. Epub 2010 Mar 4.
The role of pathogenic microbes and commensal bacteria in irritable bowel syndrome.
Collins S, Verdu E, Denou E, Bercik P. abstract here
There is a strong link between irritable bowel and bacterial overgrowth
Article states "psychiatric comorbidity that occurs in up to 60% of irritable bowel syndrome patients"
They say "Antibiotic therapy produced substantial changes in the microbiota, a small increment in inflammatory activity and an increase in substance P or pain perception. Oral, but not systemic antibiotic treatment, produced changes in brain chemistry and an increase in anxiety-like behavior."
Clin Gastroenterol Hepatol. 2010 Jan 6. [Epub ahead of print]
Increased Incidence of Small Intestinal Bacterial Overgrowth During Proton Pump Inhibitor Therapy.[PPI's]
Lombardo L, Foti M, Ruggia O, Chiecchio A. abstract here
Bacterial overgrowth seen in:
50% of patients using PPIs, (P<0.001)
24.5% of patients with Irritable bowel syndrome
6% of healthy control subjects
Risk of bacterial overgrowth occurred after 1 year of PPI's.
Bloating and weight loss could be symptoms
PPI's include Omeprazole (Losec), Lansoprazole (Prevacid), Pantaprazole (Pantaloc, Tecta), and Nexium.
Comment – the lactulose breath test was used for diagnosis. My understanding is that it is not available free here but might be arranged through Pasqua hospital. In the USA, Rifaximin, a non-absorbed antibiotic, is quite usful:
Curr Opin Gastroenterol. 2010 Jan;26(1):17-25.
Rifaximin: a unique gastrointestinal-selective antibiotic for enteric diseases.
Koo HL, DuPont HL. abstract here
Discussion of its use in irritable bowel here:
Review article: the role of antibiotics vs. conventional pharmacotherapy in treating symptoms of irritable bowel syndrome
C. L. FRISSORA* & B. D. CASH
Aliment Pharmacol Ther 25, 1271–1281, (2007) free article here

In Canada, all we have is Neomycin powder 500 mg twice daily for ten days – which comes out to be about 1/2 an OO gelatin capsule full worth of powder twice daily.
No one has done research on how Treatment with Rifaximin improves quality of life. that needs testing. I have all these people with "functional dyspepsia" on PPI's that I will now have to get back to them.- Oh man… I wonder how much probiotics could help. They are getting "mixed" reviews however…
There is a connection of Bacterial overgrowth and Fibromyalgia.
Fibromyalgia: The Gastrointestinal Link
Daniel J. Wallace, MD and David S. Hallegua, MD
Current Pain and Headache Reports 2004, 8:364–368 abstract here
Bacterial overgrowth eradication had these Stomach benefits: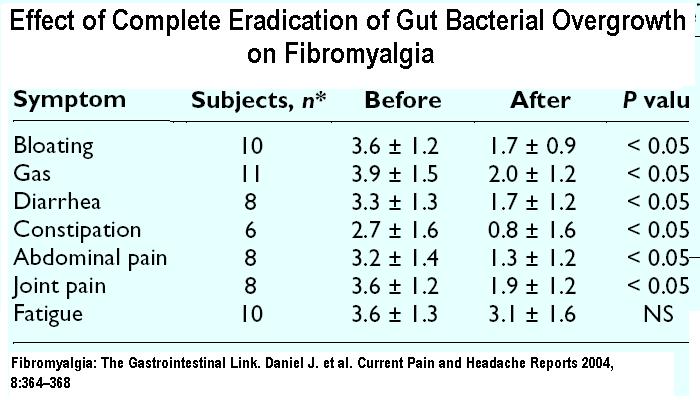 Note – there is a question whether this relief lasts or not…
I once wrote that I thought all cases of Fibromyalgia had bad stomachs and should be on a PPI. How many are on PPI's and worse for it?
One issue I missed was the yeast connection – yeast overgrowth. Our lab used to comment on yeast overgrowth in stool samples seen, but now that they have dumbed down their Ova & parasite analysis that is another thing no longer seen…
Any comments?