Recently had a cause of severe ankle pain in a pain prone patient. Complex  Regional Pain Syndrome  (CRPS) – aka. Reflex Sympathetic Dystrophy might be a possibility and it now appears oral risedronate 2.5mg per day, or alendronate at 35mg per week can reverse the damage. Exaggerated response to impingement might intervene.
Improvement of pain and regional osteoporotic changes in the foot and ankle by low-dose bisphosphonate therapy for complex regional pain syndrome type I: a case series
Journal of Medical Case Reports 2011, 5:349 doi:10.1186/1752-1947-5-349
Yasuhisa Abe et al   free article here
Injury or spontaneous
Severe pain
Unresponsive to meds and physio
Severe tenderness to touch and ankle motion; problems weight-bearing; ankle swelling
My cases was told by WCB that there was no physical findings which was a joke because there was poor capsular ROM pattern with an empty tolerable end range feel.
disabling
Bone scan might show increased uptake depending on stage
late- bone loss on xray – osteopenia
oral 

risedronate 2.5mg per day, or alendronate at 35mg per week resulted in marked reduction of pain – but took a month to be manifest
Comment – My cases started with an injury and posterior tibialis tendonitis besides the CRPS features. Later Retrocalcaleal pains (?bursitis) and joint line/sinus tarsis pains manifest. Steroids, oral or injectable, could have been a quick fix but subject refused steroids.  Another possibility would have been anterolateral ankle synovial impingement. :
discomfort in the anterolateral aspect of the ankle
limited dorsiflexion
no ligamentous instability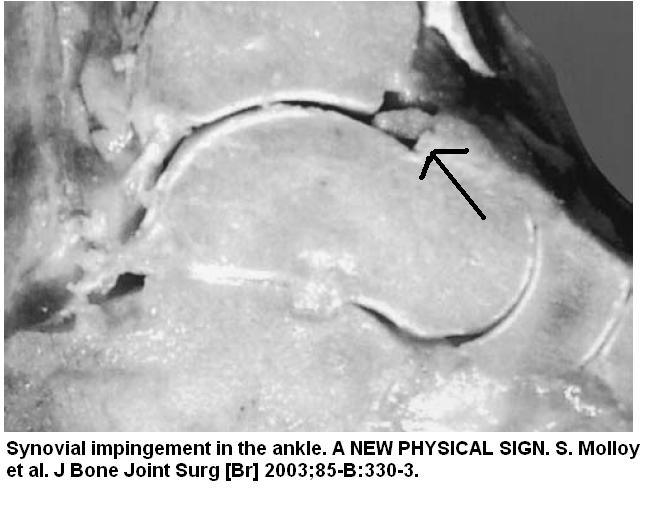 Test for this disorder involves pressing along the joint line until you find a good spot, try to push the fold into the joint and see if it catches more with up and down bending the ankle
Example of how imping: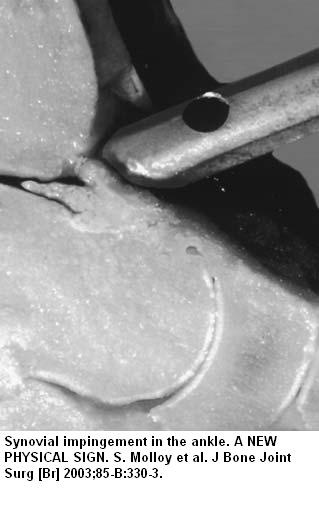 Actual test: – showing pressure on spot, movement ankle and lastly the combination:
push thumb on anterior ankle joint various spots and try up and down movement of ankle and see re pain: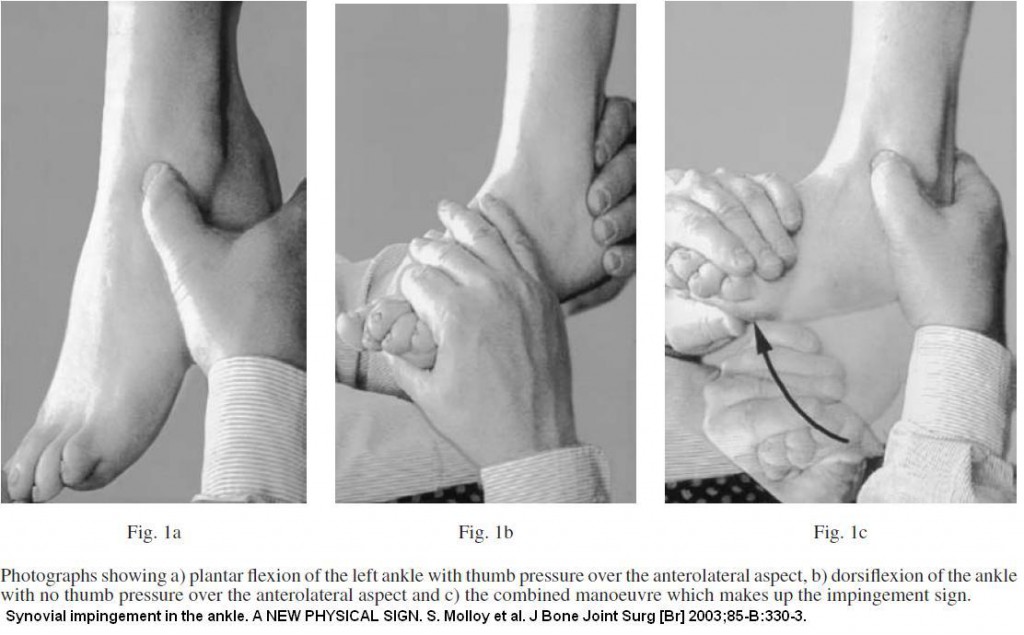 This Molloy-Bendall impingement test is considered  94.8% sensitive and   88% specific:
J Bone Joint Surg Br. 2003 Apr;85(3):330-3.
Synovial impingement in the ankle. A new physical sign.
Molloy S, Solan MC, Bendall SP.    free article here
If a site is found, this is followed by injection into spot to see if that helped: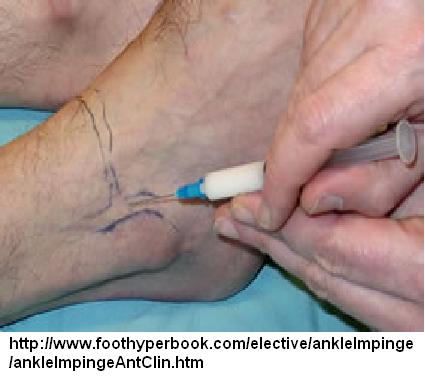 there are other impingements and they are talked about here:
Most cases are treated "conservatively" and if they don't respond, go on to debriding area.
Arthroscopy Volume 21, Issue 3, March 2005, Pages 317-322
Arthroscopic treatment of anterolateral soft tissue impingement of the ankle: Evaluation of factors affecting outcome
Mustafa Ürgüden M.D.a, , , Yetkin Söyüncü M.D.a, Hakan Özdemir M.D.a, Hazım Sekban M.D.a, F. Feyyaz Akyıldız M.D.a, Ahmet Turan Aydın M.D
abstract here pulsera pandora pulsera pandora