Post herpetic neuralgia is a terrible disease that can be mitigated by certain measures. There are some old and some new treatments that might be missed:
1) IV magnesium – I mentioned that here:
6% magnesium sulphate – 5 mls, IV 5 min bolus followed by 5 mls over 1 hour  – given weekly 3- 11 times. Dropped VAS by 3 points half the time.
2) Botox injections – described  here:
Botulinum / Botox for Neuralgia/Neuropathic Pain
give subcut or intradermal -concentrate on spots that will induce pain – inject about 1 cm apart – withdraw syringe plunger before  withdrawing from skin or will lose a drop of botox each time. I would use 100 units facial areas and perhaps 200 units larger areas though much less has been documented for use.
3) Semi-neurolytic local – described here:
Trigeminal Neuralgia
(2/5 of way down)
I found my best Botox results were if I combined it with semineurolytic local injected into one or in case of thorax, several rib levels. Use a 30 guage needle if possible, as less likely to cause lung puncture.
There are two semi-neurolytics:
Spinal lidocaine – that's 5% lidocaine with 7.5% dextrose (glucose) . – Can use 1.5 – 2.5 mls without much systemic effects (the dextrose appears to delay absorption). Ideally you would like to hit a nerve so it zings across somewhere but that only happens 1/2 the time. Put 0.5 ml in each spot. Do not inject near the spine and near the cervical spine it can kill.  I autoclave own lidocaine and add glucose from 50% glucose injectable.
Pontocaine – one of latest articles is here:
Clin J Pain. 2001 Dec;17(4):323-6.
High-concentration tetracaine for the management of trigeminal neuralgia: quantitative assessment of sensory function after peripheral nerve block.
Radwan IA, Saito S, Goto F.  abstract here
The Pontocaine comes in 20 mg dry powder vials. I put 0.5 mls spinal lidocaine in it and dissolve the powder, making it 4% tetracaine. This leaves you enough for injecting one site but will leave a long-lasting numbness in area. I have a patient with widespread metastases, including a lower left anterior rib. I injected 4% tetracaine in spinal lidocaine to site and he has had no need for painkillers since – the area is numb.
Post herpetic neuralgia often involves 3 spinal levels (cross talk) so you are stuck with spinal lidocaine. I warn the patient it might take several sessions to get a good take – where all areas are done , and the might need redoing in several weeks after. However, it diminishes with time. I was at a course on use of ultrasound for injections and on doppler one can easily see neurovascular nerve bundles one is after – for peripheral skin sensory nerves – just a thought.
4) Intramuscular stimulation –  Deal with paraspinous contribution and local triggers –

Korean J Anesthesiol. 2010 Mar;58(3):311-7. Epub 2010 Mar 29.
The effect of Gunn's intramuscular stimulation for postherpetic neuralgia -A report of 4 cases-.
Jung W, Lee BJ, Kim SS, Lee YJ   free article here
Dr. C. Gunn's paraspinous and trigger injections has been discussed before:
Does Pain "Grow" at Tendon injury sites? -and Treatment tennis elbow
Post Hernia Surgery Helped by TENS and Should Surgeons be Doing Hernia Repairs if They do Not Know How to Deal with the Persistent Pain Afterwards?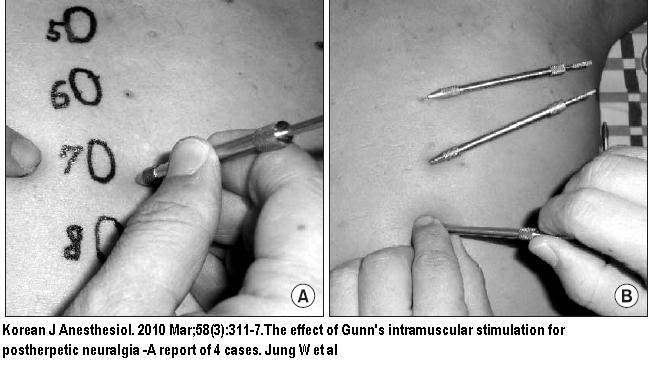 Above you can see the paraspinous multifidi placement. I needle and electrically stimulate them and then stroke up and down over them until I feel a relaxation and patient senses relief. Do all tender levels – then do muscle knots around the side and massage them out.
In the four cases done in above study, they got pain from 7-8/10 to 2-3/10 but could have hand picked the ones that did best…
you can look for a local IMS practitioner here
5) Local injections: as per:
Epstein E.
Treatment of herpes zoster and postzoster neuralgia by subcutaneous injection of triamcinolone.
Int J Dermatol 1981;20:65–68.
The upshot of Dr. Epstein's studies makes me angry:
he got excellent results though it was unethical for him to not treat some patients and use them as a control group – he didn't need to – there was plenty of stats on persistent Post herpetic neuralgia rates available.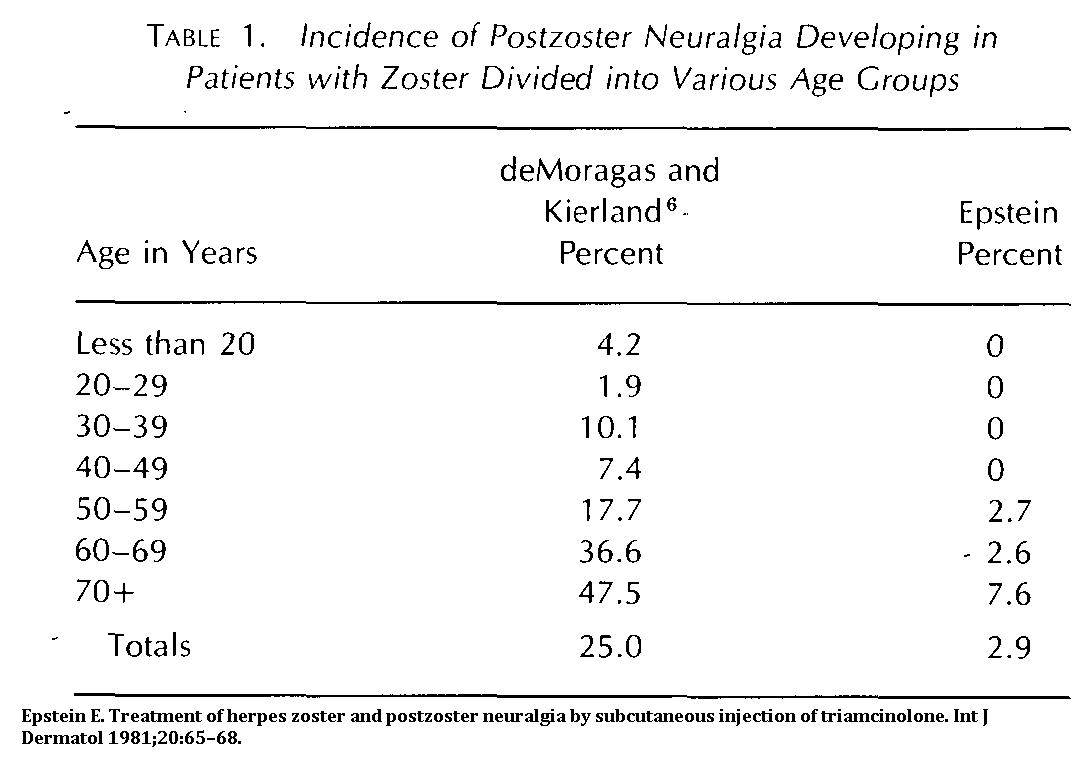 His results are mouth watering yet only briefly mentioned in review articles that demand placebo controlled studies:
as per
Practice Parameter: Treatment of postherpetic neuralgia: An evidence-based
report of the Quality Standards Subcommittee of the American Academy of Neurology
R. M. Dubinsky, H. Kabbani, Z. El-Chami, C. Boutwell and H. Ali
Neurology 2004;63;959-965  free article here

However, because there was no further studies on the subject,  except one where they swelled up the tissues so badly with dilute local to make it like liposuction tense in:
Tumescent Infiltration of Corticosteroids, Lidocaine, and Epinephrine Into Dermatomes of Acute Herpetic Pain or Postherpetic Neuralgia
Stephen E. Chiarello
ARCH DERMATOL/VOL 134, MAR 1998. 279 – 281 free article here
No standardized treatment of steroid to local tissues has developed. I know our local pain anesthetist, Dr. Lang, thinks highly of local injections.
In the article itself, Dr. Epstein
128 post-herpetic neuralgia cases
He took a 5 ml vial triamcinolone 40 mg/ml. and diluted it up to 100 mls with normal saline to make a 2 mg/ml injection.
"injected subcutaneously (with a 25-gauge 5/8-inch needle)… under sites of pain, burning, or itching. A pressure syringe is required on the scalp or in areas of advanced scarring.
The usual dose is 60 mg (30 ml) daily. This dose has not been exceeded.
The injections have been administered in most parts of the body without producing undue
pain or complications.
The injections are repeated daily until the desired results are obtained. However, little additional benefit can be anticipated after the initial 12 to 14 treatments.
It requires two to three daily injections to infiltrate an extensive area even once. Therefore, the figures regarding the number of injections are misleading.
Actually, each portion of skin is treated only a half to a third as often as the stated number of injections."
Comment – Ok, that's an awful lot of steroid though in those days we were giving 200 mg triamcinolone epidural injections. I would suggest:
There is rampant peripheral neurogenic inflammation going on and at least using 0.25% lidocaine or more would be indicated.
I think Dr. Epstein was seeing some of the very worst cases and am hoping such a large area like he was describing isn't as common in a general practice location – maybe put 20 mg triamcinolone in 10 mls lidocaine and inject subcut to worst areas ( or double that if extensive). I pick up the skin and pinch it – areas that are sore are hence injected after skin roll assessment.
I cannot see the advantage of daily injections until you can see the results of prior so would give injects q5-7 days + at least.
6) Cryotherapy of local tender areas – I have not needed to do this for many years now but found it effective particularly for the sharp pains.
Suzuki H, Ogawa S, Nakagawa H, et al. Cryocautery of sensitized skin areas for the relief of pain due to post-herpetic neuralgia.
Pain 1980;9:355–362   abstract here
Results looked promising:
R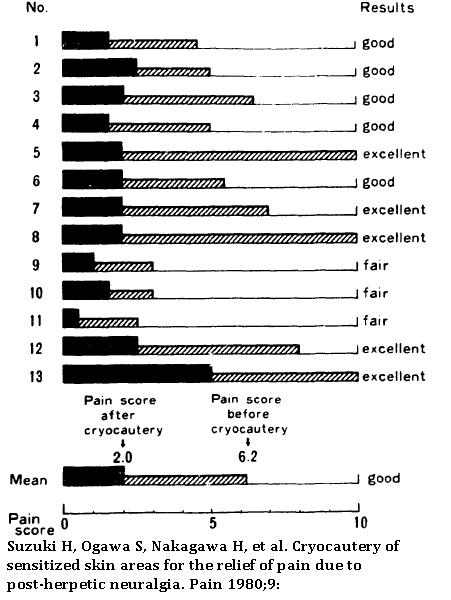 "Follow-up evaluation revealed that 5 of 14 subjects maintained excellent pain relief and another 5 subjects showed good relief."
They took a 1 cm diameter dry ice stick and held it on tender site for 1 minute- maybe doing 2-3 sites at a time.  I would consider giving local to area first. At time, I used liquid nitrogen with a sigmoidoscope swab and held until good and cold – you want to create a 2nd – 3rd degree burn that blisters up and heals over with loss of pigment.  – when frozen, the area would be a hard white indented crater. There were sites just on the edge of previously treated that needed attention and on average, 8.1 treatments, done at 2-3 week intervals (when old ones healed), were done. Nowadays, one could use an agent like a can of Freeze-off with repeated applications to achieve a very cold indented area about 1 cm in size.
Here is a very poor picture example of a scalp area being done with dry ice: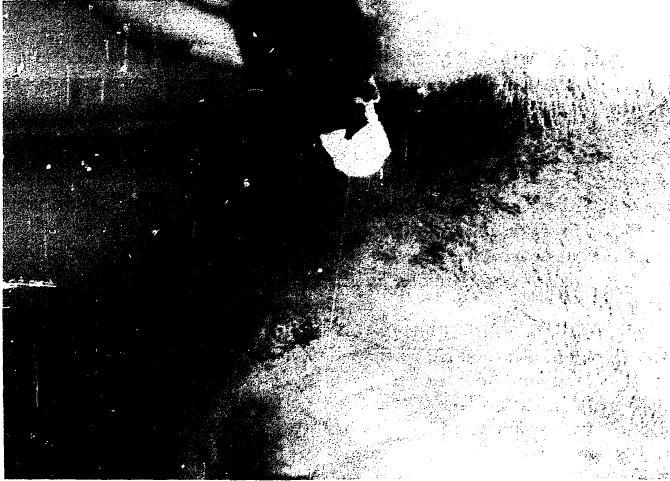 Again, this technique got very little press – it was from Japan and did not have a control group. I was at a pain congress at the time and mentioned my results. Someone said it could be placebo effect and I answered that I didn't think the resolution of sharp jabbing pains could be subject to placebo and got a murmur of agreement from the audience. It was only mentioned in passing in the neurologist review article mentioned above. – Trust neurologists to pass this by – they probably never tried it.
7) Peripheral Nerve Stimulation – this is one of the latest treatments:
Am J Hosp Palliat Care. 2010 Feb;27(1):59-62. Epub 2009 Aug 21.
Successful treatment of an intractable postherpetic neuralgia (PHN) using peripheral nerve field stimulation (PNFS).
Surjya Prasad Upadhyay, Shiv Pratap Rana, Mishra S, Bhatnagar S. abstract here
a case of supra-orbital PHN – after successful trial
"In severe cases of PHN, when all attempted therapeutic approaches have failed, SCS has
been successfully used to reduce pain in the trunk or the extremities" [and now the face]
Pain Pract. 2009 May-Jun;9(3):225-9. Epub 2009 Feb 15.
Peripheral subcutaneous stimulation for the treatment of intractable postherpetic neuralgia: two case reports and literature review.
Kouroukli I, Neofytos D, Panaretou V, Zompolas V, Papastergiou D, Sanidas G, Papavassilopoulou T, Georgiou L.   abstract here
lateral thoracic region or abdominal
the trial in this case was "underwent an uneventful PNS trial with subcutaneous placement of two 8-electrode leads along the affected area. Both leads were placed parallel to the corresponding intercostal nerves around the painful area. The stimulation parameters used during the trial were: amplitude 1.9 V, pulse width 180 msec, and frequency 60 Hz. "
8) high Concentration Red Pepper topical
Discussed here:
Concentrated Red Pepper Patch For Post Herpetic Neuralgia – 60 Min Use -Some Better For a 1-3 Months
I actually obtained Capsaicin powder from ebay but have been too chicken to make it up – all one would need to do is mix it in thickened geletin as per:
Diclofenac Patch for Neck Pain – Could One Make Their Own Patches?
and pour on tinfoil for use.
One would need to numb the area prior to user either injectably or by topical emla patch.
9) I have not discussed the common oral and topical treatments because they are often well known.
for example here:
Practice Parameter: Treatment of postherpetic neuralgia: An evidence-based report of the Quality Standards Subcommittee of the American Academy of Neurology
R. M. Dubinsky, H. Kabbani, Z. El-Chami, C. Boutwell and H. Ali
Neurology 2004;63;959-965  free article here
Any comments or suggestions?