Pregabalin helps 1 in 4.93 while lidocaine patch helped 1 in 2.. Still, reliance on meds only helped 1/2 then…- there are plenty of alternatives though
Clinicoecon Outcomes Res. 2013 Nov 25;5:597-609.
Health economic evidence of 5% lidocaine medicated plaster in post-herpetic
neuralgia.
Liedgens H, Obradovic M, Nuijten M.
http://www.ncbi.nlm.nih.gov/pubmed/24348056
34% of shingles victims get PHN = pain lasting over 3 months
pregabalin gave 33% very much/much improved"  while lidocaine patch gave  53%  that much improvement
Lidocaine patches are not available in Canada but you can make your own:
Making Your Own Lidocaine Patches    http://painmuse.org/?p=349
pour it onto some cloth material and let it get tacky over a couple days
ask yout doctor to prescrive 100 gm lidocaine HYDROCHLORIDE powder (not the base which is insoluble)
As well, uremol lotion is a good lotion to mix  Lidocaine HCL in – in a 250 ml uremol bottle put just a little over 1 tablespoon lidocaine powder in.
—————————–
There was a death later last year in this province form someone who was told there was nothing else that could be done for his shingles pains. There are many other options:
 Inject tender areas with  </= 10 mg/ml kenalog repeatedly every 2 weeks.  Results are excellent. What dose is needed is unclear – original study used large doses
"Alternate Approaches to Post-Herpetic Neuralgia (PHN)" – http://painmuse.org/?p=346
another injection study:
J Coll Physicians Surg Pak. 2005 Nov;15(11):683-5.The efficacy of local infiltration of triamcinolone acetonide with lignocaine compared with lignocaine alone in the treatment of postherpetic neuralgia.
Amjad M, Mashhood AA.
http://www.ncbi.nlm.nih.gov/pubmed/16300701
as it is so important I have obtained it for download here:  steroid localinject
His approach:  "a mixture of 1 ml of 40 mg/ml of injection triamcinolone acetonide with 5 ml of 2% lignocaine in 44ml of distilled water (a total of 0.8 mg/ml of triamcinolone acetonide) for local infiltration in postherpetic scars."
Three injection sessions every 2 weeks –  83.3% versus 16.7% just injecing diluted local satisfactory results

I would stick to  kenalog 40mg diluted to </=10 mg /ml in  diluted local and repeat it every 2 weeks. Looks like you will need to dilute it to up to 20 mls for smaller areas and 40+ mls for larger areas- inject all around tender area with a long 25 gauge needle – helps to bend needle so don't inject to deep as the irritated tissue is all pretty superficial
Used following acupoints (click on to see bigger):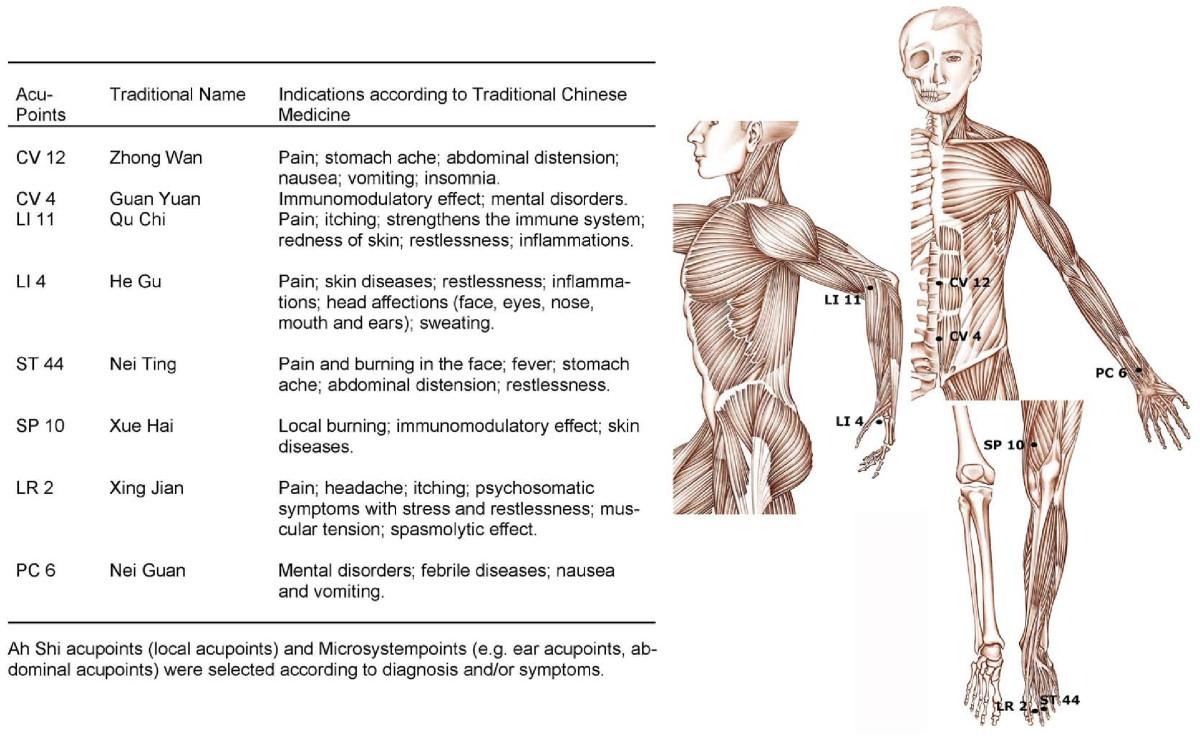 over 80% response rate with a mean drop of VAS of 4.1 (no control group though)
2 mg preservative free midazolam spinally (intrathecal) injected at near level (study was lumbar PHN and they put it in L2) – cut pain by self  in over 1/2 for 6 weeks – none were unconscious but would still need monitoring and oximetry if did. (non- preservative free needs to dilute it to 6-15 mls.)- depo-medrol 80 mg epidurally near effected level  – same results -cut pain by over 1/2 for 6 weeks- combo on intrathecal and epidural injection – still at 1/2 after 12 weeks
http://painmuse.org/?p=351
.
Topical Capsaicin 0.075% (Zostrix) – red pepper
Clin Ther. 1993 May-Jun;15(3):510-26.
A randomized vehicle-controlled trial of topical capsaicin in the treatment of postherpetic neuralgia.
Watson CP, Tyler KL, Bickers DR, Millikan LE, Smith S, Coleman E
http://www.ncbi.nlm.nih.gov/pubmed/8364943
and
Bernstein JE, Korman NJ, Bickers Dr, Dahl MV, Millikan LE.
Topical capsaicin treatment of chronic postherpetic neuralgia.
J Am Acad Dermatol 1989;21:265-70.
http://www.sciencedirect.com/science/article/pii/S0190962289701717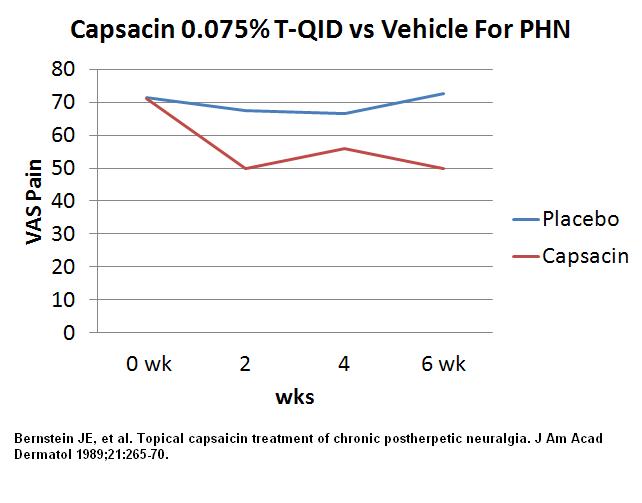 Usually this means putting cream on 3-4 times a day and anticipating it will take 2 weeks for a good difference. Gloves need to be used or one can pepper spray one's eyes. Only side effect was initial burning. Study felt cream was "safe and effective treatment" –
Controversial is 60 mg methylprednisolone acetate (depo-medrol) and 3 mls of 3% lidocaine spinally though an L2 puncture puncture and then immediately tilting patient so that it can flow to right level [best try to remove preservative by letting depomedrol settle out and get rid of supernatant to avoid adhesive arachnoiditis] this is a classic NEJM study and 82/89 were much better even 2 years later.
http://painmuse.org/?p=351
group got a lot of flack over this study re possible arachnoiditis but they didn't see any at 2 years. They tried to repeat it doing only epidural depo-medrol but found in comparison not as effective:
Comparative therapeutic evaluation of intrathecal versus epidural methylprednisolone for long-term analgesia in patients with intractable postherpetic neuralgia
Atsuhiro Kikuchi, Naoki Kotani, Tetsumi Sato, Kaori Takamura, Ichiro Sakai, Akitomo Matsuki
Regional Anesthesia and Pain Medicine
Volume 24, Issue 4, July–August 1999, 287–293
http://www.sciencedirect.com/science/article/pii/S1098733999901013There
However, was also a study that found NO evidence it helped:
No beneficial effect of intrathecal methylprednisolone acetate in postherpetic neuralgia patients
M. Rijsdijk, A.J.M. van Wijck, P.C.W. Meulenhoff, A. Kavelaars, I. van der Tweel, C.J. Kalkman
European Journal of Pain Volume 17, Issue 5, pages 714–723, May 2013
http://onlinelibrary.wiley.com/doi/10.1002/j.1532-2149.2012.00233.x/abstract?deniedAccessCustomisedMessage=&userIsAuthenticated=false
It has been felt it is the preservative cause the inflammation seen in the latter study (prior study had funny way of making up formulation).  There is a way to totally remove preservative (though you can remove half by letting powder settle and removing supernatant) – to remove all,  there is a sterile millipore apparatus that fits on to a syringe: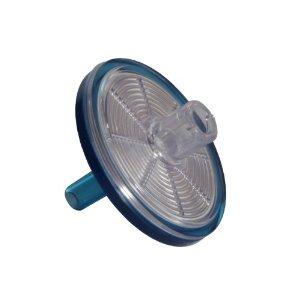 1) put one end onto empty 10 cc syringe and other side a 20 gauge needle. Insert needle in bottle of Kenalog (5 cc better).
2) Back suck the kenalog onto outside of millipore filter – detach filter carefully and discard liquid in syringe. Re-attach and put needle into sterile saline bottle – back suck several mls saline to wash the white powder on the out surface of membrane – detach syringe and discard the liquid
3) Put in equivalent volume saline or D5W that was in initial kenalog ( I start with 5 ml bottle so put 5 ml into syringe. – Then front push liquid and now dislodged white powder back into original bottle – now without preservative.
I have had to do it for a couple patients allergic to the preservatives in local and had no reactions! Given there is no preservative now – might want to keep in fridge or better yet,  use immediately.
In my mind, sounds better to use epidural steroid and intrathecal midazolam but the latter is difficult to find preservative free- so you have to dilute out the midazolam – 2 mg midazolam, 5 mls D5W, 1 ml 8.4% sodium bicarbonate to neutralize – I discuss the safety of this mix here:
http://painmuse.org/?p=2527
what makes this issue even harder to sort out is the finding that intrathecal betamethasome helped reduce vertebral metastatic pain from 6.7/10 to 3.3/10:
Intrathecal betamethasone pain relief in cancer patients with vertebral metastasis: a pilot study
T. Inada*, A. Kushida, S. Sakamoto, H. Taguchi, K. Shingu
Acta Anaesthesiologica Scandinavica 51(4), 490–494, April 2007
http://onlinelibrary.wiley.com/doi/10.1111/j.1399-6576.2007.01272.x/abstract?deniedAccessCustomisedMessage=&userIsAuthenticated=false
.
Intramuscular stimulation needling to posterior dermatomes (near spinous processes for some) and other areas- done 8 times over 6 weeks – dropped pain from 7-8/10 to 2-3/10 but only had 4 cases:
Korean J Anesthesiol. 2010 Mar;58(3):311-7. Epub 2010 Mar 29.
The effect of Gunn's intramuscular stimulation for postherpetic neuralgia -A report of 4 cases-
Jung W, Lee BJ, Kim SS, Lee
http://www.ncbi.nlm.nih.gov/pmc/articles/PMC2872843/pdf/kjae-58-311.pdfi discussed it here:
Alternate Approaches to Post-Herpetic Neuralgia (PHN)
http://painmuse.org/?p=346
.

Cryo areas with either Liquid nitrogen on a sigmoidoscopy swab of a CO2 stick – will form a blister that eventually heals hypoesthetic though paler in colour. Areas on edge of blisters will be tender and need treatment once others have healed.  4/14 were much better in one study – I have not used it for years but found it helped the sharp pains most. Discussed here:  Alternate Approaches to Post-Herpetic Neuralgia (PHN)
http://painmuse.org/?p=346
Other Topical treatments include:
topical 8% capsaicin patch –  30% improvement for ?months
discussed here:
http://painmuse.org/?p=297
.
4% amitriptyline and 2% ketamine topical lipoderm– 46% more than 30% relief – discussed here: (ketamine is expensive) – by the way PLO gel seemed too irritating in one case i tried…
"Topical Ketamine For Post-herpetic Neuralgia"
http://painmuse.org/?p=1004
Methods requiring special treatment would include:
spinal stimulator
.
pulse radiofrequency to nerve or dorsal root ganglion
Effect of pulsed radiofrequency for postherpetic neuralgia
Y. H. Kim, C. J. Lee, S. C. Lee, J. Huh, F. S. Nahm, H. Z. Kim, M. K. Lee
Acta Anaesthesiologica Scandinavica Volume 52, Issue 8, pages 1140–1143, September 2008
http://onlinelibrary.wiley.com/doi/10.1111/j.1399-6576.2008.01752.x/abstract?deniedAccessCustomisedMessage=&userIsAuthenticated=false
.
repetitive paravertebral blocks (anesthetists here tell me it's not going to happen here…Repetitive paravertebral nerve block using a catheter technique for pain relief in post-herpetic neuralgia
Z. M. Naja1, H. Maaliki, M. A. Al-Tannir, M. El-Rajab, F. Ziade and A. Zeidan
Br. J. Anaesth. (March 2006) 96 (3): 381-383.
http://bja.oxfordjournals.org/content/96/3/381.full.pdf
.
Peripheral Field stimulation (peripherally implanted electrodes)Successful Treatment of an Intractable Postherpetic Neuralgia (PHN) Using Peripheral Nerve Field Stimulation (PNFS)
Surjya Prasad Upadhyay et al
AM J HOSP PALLIAT CARE February 2010 vol. 27 no. 1 59-62
http://ajh.sagepub.com/content/27/1/59.short
.
stellate (for facial), thoracic, and lumbar sympathetic blocks
Treating the Neuralgia Pain:
Opioids – old people might tolerate Butrans patch, Tridural, or Hydromorph Contin (for latter I have them break open capsule and take a pinch at bedtime and gradually work up to one  3 mg cap hs. For severe cases, consider methadone; – A palliative care doctor would handle that (Dr. Carmen Johnson in Regina)
.
I have accumulated a list of potential options nicely written here:
Reaching "Critical Mass" to Achieving Pain Control – Procedure Pearls
http://painmuse.org/?p=3421
.
If pain is >/= 7/10 I would use ketamine 10 mg x2 sc twice weekly – It would bring pain down 2 points and nicely control the depression
.
A combination of duloxetine and pregabalin could be useful
.
IV magnesium weekly 3-11 times can drop pain by 3 points half the time
discuss here:
http://painmuse.org/?p=125
Stay tuned – I suspect D5W with 3% glycerin subcut nerve tract injections will come up next as well as other treatments.
One of the suicide cases had a doctor who said nothing could be done for post shingles pains – don't believe that…
Comment – I would start with:
opioid
pregabalin
regional nerve blocks (especially intercostal) with 5% lidocaine and 3% glycerin weekly
Injecting 40 mg kenalog in 20-40 mls D5W/0.25% lidocaine into tender subcut areas until numb
5 – 10% lidocaine hydrochloride (not base) in Uremol lotion as needed
Zostrix 0.075% (not cheap though) –  four times daily
rest depends on availability and ability to pay
– IMS or acupuncture and/or acupotomy
– 4% amitriptyline 2% ketamine in lipoderm cream prn
– spinal blocks
In elderly I would start daily B12 shots and testim 0.2 mls (for women) daily as side effects are minimal and they feel better. B12 is an anesthetic at high blood levels and works best on people on pregabalin or gabapentin.
Addendum:
Local trigger injections of knots created by PHN can help. An example was a chest wall case helped by injections into the intercostal muscles x 3:
Archives of Physical Medicine and Rehabilitation Volume 79, Issue 3, March 1998, Pages 336–338Myofascial trigger points in intercostal muscles secondary to herpes zoster infection of the intercostal nerve
Shu-Min Chen et al
http://www.sciencedirect.com/science/article/pii/S0003999398900168