I had a recent question on treatments for PHN…I felt I needed to add more info on Botox for PHN. (Using equivalents) Putting equivalent of 6 units Botox INTRADERMAL per 3.56 cm diameter (1.4 of an inch) diameter area, could result in 35% drop in pain (like 8 to 5.2/10 VAS). The benefits are apparent by 2nd day and lasting 7.4 weeks. I would consider it an adjunct to other treatments but 35% is as good or better as one would get from painkillers.
Liu, Hsu‐Tang, et al.
Botulinum Toxin A Relieved Neuropathic Pain in a Case of Post‐Herpetic Neuralgia.
Pain Medicine 7.1 (2006): 89-91.
http://www.ncbi.nlm.nih.gov/pmc/articles/PMC3371972/pdf/ircmj-13-323.pdf
mean age 60
Pain duration average of 6.4 months (note – they would take cases after 1 month shingles which is not considered post yet).
took vial of Dysport (I presume the 500 units) and dissolved it in 4 mls 2% lidocaine) – that would be like Botox 100 unit bottle dissolved in 2 mls
Injected 15 units Dysport (6 units Botox) into 10 cm squared area = 3.16 cm by 3.16 cm – or easier to remember –  a 3.56 cm diameter (1.4 of an inch) diameter area. That would be 1.2 mls per this area. (or 4.3 units Botox per inch diameter = 0.86 mls per inch diameter area of 5 u/ml Botox – or 1.7 unit Botox in 1 cm diameter area = 0.3 mls intradermal
Given that it was intradermal – skin should blanch white while injecting.
Results – they graphed by % change – I changed it to VAS pain, presuming it started at 8/10. Pain was better by day two "Pain on the second day (p=0.007)"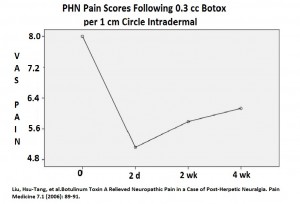 Comments – Had a very old lady that got terrible pain from shingles and was just over the acute phase – just seen for first time.  Dr. Lang, an anesthetist, kindly  put in a steroid epidural at level, and I gave botox – more subcut to multiple areas.  She lived fine.  It would seem that one would need 200 units Botox for bigger chest areas. It is a myth Botox last 12 weeks  –  they got 7.4 weeks only – going to need repeats at 7+ weeks so better mark the calender – otherwise they will come back at 9 weeks screaming in pain – never a good idea. Pain given intradermal is unlikely to cause muscle paralysis and could be hence useful on face.