I had a recent personal experience of back pain that showed me conditions that would multiply pain several times or more.  I have patients on opioids that have complained their meds no longer "cuts it" – and I have been able to see that these back pain multipliers are at work – and responsive to treatment. This is a work in progress but so important I thought I better publilsh what I had time to write down.
I think it might be best if I eaplained my case and put it all together as I go along.
1. Iliohypogastric Nerve Damage
Being frugal, I wore a heavy laden fany pack while flying to visit my daughter. I also wore a belt and of course had the seat belt on in the airplane. By the next day my bilateral low back was in spasm and I couldn't straighten up properly. I spend a great deal of time manually working out quadratus lumborum muscles in my office – and went to work on mine and found my right iliac crest was sore as well – more anteriorly than posteriorly. It appeared all those belts had damaged some anterior iliac crest cluneal nerves -especially iliohypogastric (T12, L1)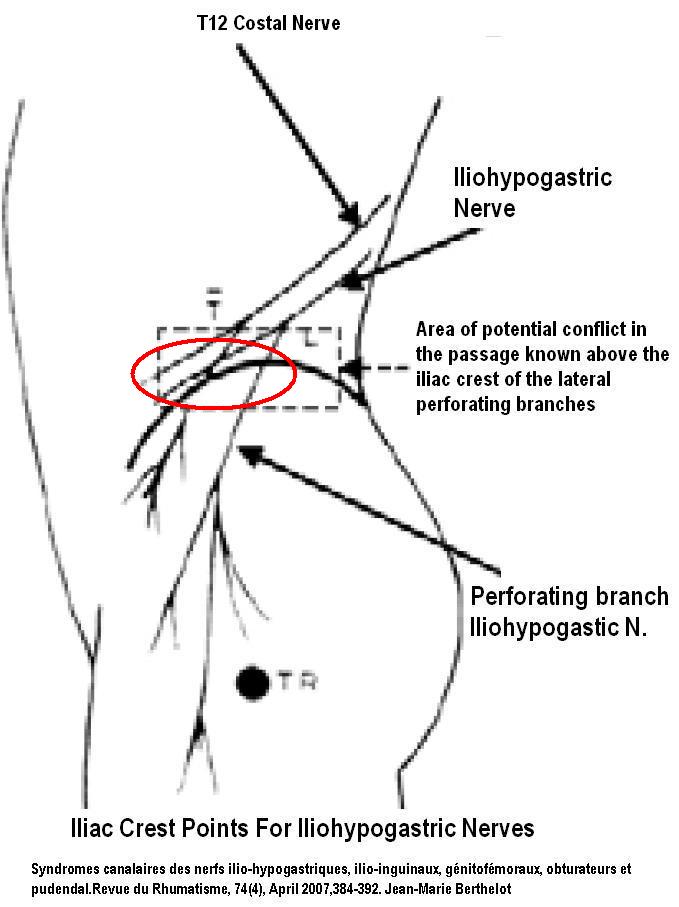 2.  Iliopsoas and 3. Facet Multipliers
Given the iliopsoas is innervated by L1,2 as well, I guess it was in spasm because the same nerve root level had been irratated elsewhere. The psoas spasm was intense – McKenzie style stretches were not effective and put strain on my L5/S1 facet joint which I could feel hard packing and starting to give a deep catching pain.  I was motivated to get working on this as I know how bad facet joint issues can be – and how they reflexively tighten up the lower paraspinous and deep multifidi to keep things hard packed – fueling more pain
With disc disease, the area tightens up and facet joint have been shown involved – particularly in large disc issues.  Tighening of the psoas, paraspinous and deep lower quadratus lumborum help keep it that way.
4. Quadratus Lumborm Spasms on Spastic Psoas and 5.Third Lumbar Transverse Process Syndrome
As well as the Iliopsoas, it's partner muscle, the Quadratus lumborum (QL) tightens up – and I found particularly the inner 2 inches + 5 cm area becomes very spastic (my hands are quite strong from the manual therapy I do and I could feel the innermost quadratus lumborum close to the spine being very tight. – I pinch the flank – thumb in front and work my fingers in.   A spot off the side of L2-3 transverse process I feel if the cornerstone/ linchpin for problems. I believe that the lumbosacral plexus that traverses between the spastic QL and psoas –  becomes irritated and is a multiplier of pain:
The Quadratus lumborum is innervated by T12 and L1-4 s0 not surprizingly, anything that irritates iliopsoas will irritate it as well.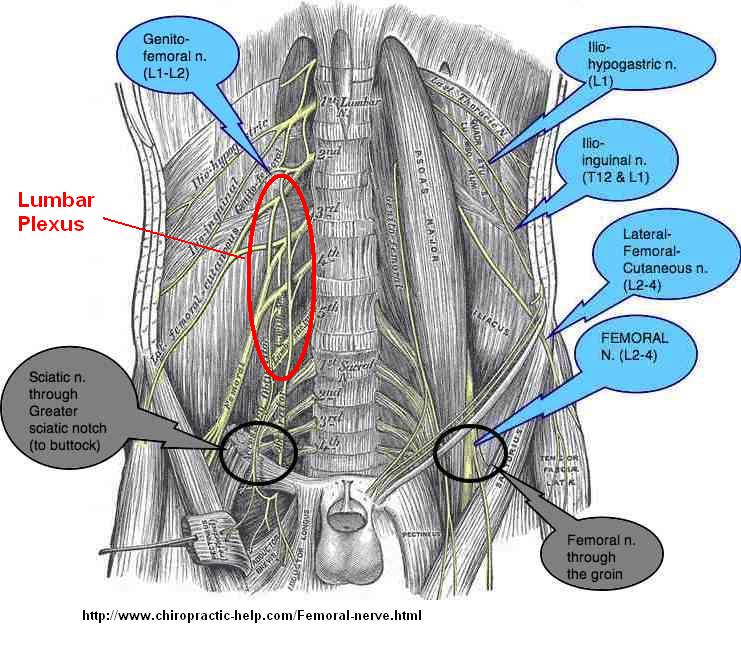 The side with the psaos muscle intact – you can see it is underneath it and on the QL (Looking on side with psoas removed).
I will pinch between that area front and back and with freee hand then  press in with a thumb saver on my index finger just on the edge side of where I am pressing.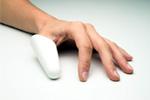 I, for example, will press just  – near the tip of my thumb – pressing in near L2/3 transverse process edge. At the same time I will shake the tissues perhap 200 times in the hope the tissues will loosen up. Then, I will press near the ends of my fingers in the abdominal flank near l2/3 and shale it 200 times as well – both these measures are very painful and you will probably be convinced there is no chance it would let go – but it sometimes does. For those where it does not give, I inject with small doses of 5% lidocaine (0.5 ml+) into trigger area to knock out nerves locally and retry maneuvers.
The L2 level has had special importance in several studies:
J Pain. 2009 Aug;10(8):870-5.
L2 spinal nerve-block effects on acute low back pain from osteoporotic vertebral  fracture.
Ohtori S, Yamashita M, Inoue G, Yamauchi K, Suzuki M, Orita S, Eguchi Y, Ochiai N, Kishida S, Takaso M, Takahashi K.
http://www.ncbi.nlm.nih.gov/pubmed/19638331
Acute vertebral facture L3or4
Thought vertebral body pain could be referred to sympathetic nervous system through L2
Did L2 nerve root blocks by oblique insertion under fluoro and injecting L2 nerve root on predominantly painful side with 1.5 ml of 1% lidocaoine.
Got a 40% reduction in pain over control group that waned to no difference over 1 month.
Radiofrequency Lesioning of the L2 Ramus Communicans in Managing Discogenic Low Back Pain
Thomas T. Simopoulos, MD, Atif B. Malik, MD, Khuram A. Sial, MD, Mohamed Elkersh, MD, and Zahid H. Bajwa, MD
Pain Physician. 2005;8:61-65
http://www.aptcmd.com/uploads/rf_lesioning_of_l2_rami_communicans_pain_physician_bajwa_copy.pdf
From studies on rat model it was found most of the interconnection of lumbar spine to parasympathetic gasnglions is through L2.
Prior blocking of L2 in discogenic pain suggested relief was possible dealing with this level
Radiofrequency denaturing the L2/3 ramus communicans as is courses by side of vertebral body was done
Results : All fi ve patients had consistent pain relief after a minimum of 2 radiofrequency lesioning treatments approximately 4 months apart. Four of the fi ve patients had a reduction in pain medication, and all reported
improvement in sitting tolerance and functioning.
There were no side effects or complications
L2 works almost as well as lumbar plexus block:
Clin Orthop Relat Res. 2014 Jan 4. [Epub ahead of print]
Is L2 Paravertebral Block Comparable to Lumbar Plexus Block for Postoperative Analgesia After Total Hip Arthroplasty?
Wardhan R, Auroux AS, Ben-David B, Chelly JE.
http://http://www.ncbi.nlm.nih.gov/pubmed/24390828
——————–
The area by L3 has been popular in past:
In 2000, a study was done injecting either methylprednisone 80 ml   or botulinum  100 unit ( either with 2 ml 0.5% bupivacaine and 2 mls saline = 4 ml) into L3 psoas for chronic back pain(unfortunately did scalene injection in neck and blended results)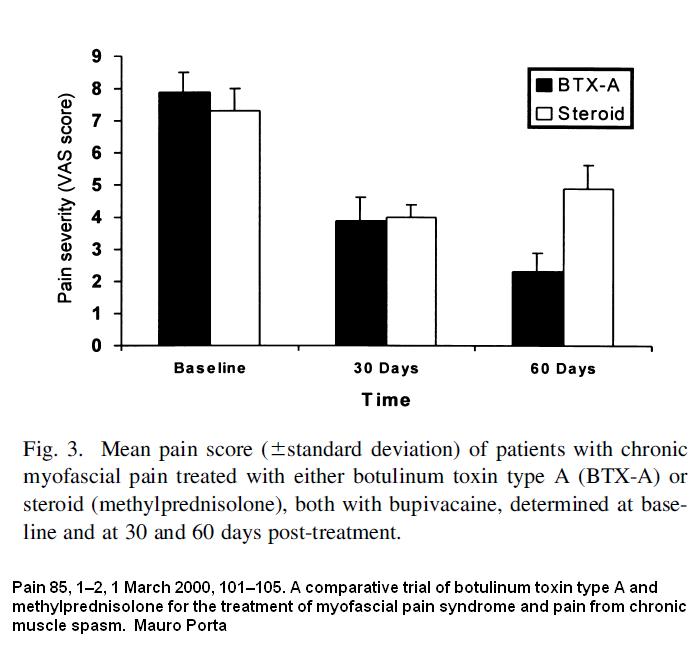 Pain 85, 1–2, 1 March 2000, 101–105
A comparative trial of botulinum toxin type A and methylprednisolone for the treatment of myofascial pain syndrome and pain from chronic muscle spasm
Mauro Porta
http://www.sciencedirect.com/science/article/pii/S030439599900264X
a href="http://painmuse.org/wp-content/uploads/psoas_inject.jpg">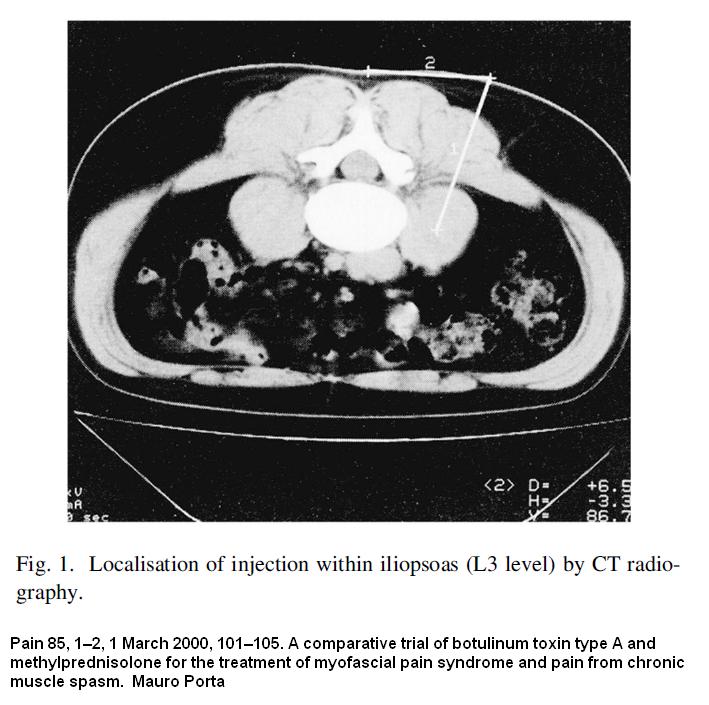 Finally, there was a study of L2 nerve block in chronic back pains:
J Orthop Sci. 2010 Nov;15(6):731-6. doi: 10.1007/s00776-010-1538-1.
Effectiveness of L2 spinal nerve infiltration for selective discogenic low back pain patients.
Ohtori S, Nakamura S, Koshi T, Yamashita M, Yamauchi K, Inoue G, Orita S, Eguchi Y, Suzuki M, Ochiai N, Kishida S, Takaso M, Aoki Y, Kuniyoshi K, Nakamura J, Ishikawa T, Arai G, Miyagi M, Kamoda H, Suzuki M, Takahashi Y, Toyone T, Yamagata
M, Takahashi K.
http://www.ncbi.nlm.nih.gov/pubmed/21116889
waws reduced from 6.5/10 to 2/10 2 hours post injection L2 nerve root in thought discogenic cases
In 40 non-discogenic cases, pain dropped 6.8 to 4.1/10 for >2 hours – a 40% reduction
 The Chinese are very interested in L3 and call it the Third Lumbar Transverse Process Syndrome:
Knife treatment of third lumbar transverse process syndrome report of 83 cases
http://eng.hi138.com/medicine-papers/clinical-medicine-papers/201104/300334_knife-treatment-of-third-lumbar-transverse-process-syndrome-report-of-83-cases.asp
Used acupotomy – acupuncture needling with scalpel on end of it – have discussed before and given source for it back pain, pain
often sedentary,
long standing (average 9 months)
in am worse; worse beeing upright for long time
patient often  support the waist with hands while standing
can not bend, and lifting bent very difficult
the pain varies, and some very intense pain, while others persistent dull pain.
symptoms of severe radiation  sometimes with pain to thigh down  to the knee anteriorly;  sometimes lateral leg pain
not worsened by increased abdominal pressure (such as coughing, sneezing)
the tip of L3 transverse process obvious tender point with maybe thickening or nodules.
inject local and knife area ?several times move.
Follow with vigorous flexion and extension exercise
repeat procedure for 3 sessions
felt is was safe, easy and reliably good results
Another acupuncture study to area:
Effect of Electroacupuncture on the Third Lumbar Transverse Process Syndrome: A Randomized Controlled Trial
Edwin Yong Miao and Miranda Yimo Miao.
Medical Acupuncture. December 2010, 22(4): 249-255
http://online.liebertpub.com/doi/abs/10.1089/acu.2010.0764
Called it Third Lumbar Transverse Process Syndrome (TLTP)
Eliminated sciatica by lack of SLR pains
Contended "there were hundreds of articles published in these Chinese databases in relation to TLTP syndrome." – probably more in relation to acupuncture point Ah Shi point which is near L3 transverse process.
Suggested this L3 transverse process has many attachments which are subject to "stress, pulling, clashing and scraping between transverse process structure and its surrounding soft tissues."  suggested a longer transverse process might do more damage.
Findings include abnormal tenderness to L3 transverse process and a "firm soft tissue knot in this pressure point region"
Acupuncture included the near the L3 tip transverse process (Al Shi point), as well as  2 cm lateral, medial and inferior to it. – 50 hertz square wave
Control group included Al shi and remote areas.
overall improvement in 81% of L3 needling versus 41% traditional acupuncture  – felt by only needling one spot might have made it worse,
A chinese study was done using botox to area with good results:
Zhongguo Zhen Jiu. 2008 May;28(5):337-9.
Botulinum toxin A (BTX-A) point injection for treatment of the third lumbar transverse process syndrome.
Liu Z.
http://www.ncbi.nlm.nih.gov/pubmed/18652324
They felt they got a 50% "cure" rate with Botox starting after 4 days and lasting longer than acupuncture.  I have used botox on one case and found it helpful – though working muscles was still necessary.
Finally, stimulating L2-3 dorsal nerve root ganglion helps with low back pain:
Stimulation of the L2–L3 Dorsal Root Ganglia Induces Effective Pain Relief in the Low Back
Huygen, f et al
Pain practice 2018 in press
http://onlinelibrary.wiley.com/doi/10.1111/papr.12591/full
———————-
6. Iliac Crest Impingment:
With spasm of quadratus lumborum, the ribs very quickly descended below the level of iliac crest (prior 2-3 fingers space). This would irritate the cluneal nerve that come across iliac crest (worst spot 1/2 way out). Lower ribs would get sore from rubbing as well . The very superficial muscles also tightened up and just running a finger deeply along iliac crest midline back out to flank- to strip the muscles would loosen things up surprisingly. Again it is the QL close to spine that is one bad area.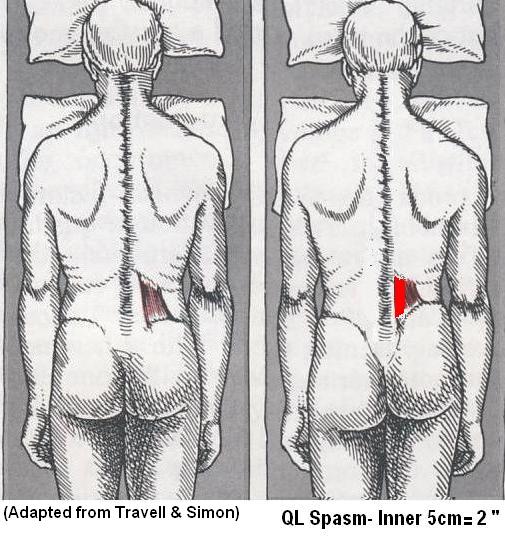 Almost anything can flare it up – the arms on my chair rubbed on them. The sinking of your pelvis while on your side will cause the upright side to rub when side sleeping. Sleeping on the back is recommended. One of my difficult patients slept in a recliner chair for several weeks and got the iliac crest irritability down that way.
Pains are neuralgically sharp ar times and a definite pain multiplier. One patient found with his arm propped in the window driving, he was sidebent enough to get into trouble. Sitting on a low chair is trouble and needs to be avoided. Bending down to reach for things would be a problem and being on the toilet hard to even wipe.
Sidebending stretches are a no-no. If you lie on back – put your hand spread over iliac crests with thumbs in front – then push sides down to toes – can induce great comfort.
Wearing a belt hurt too much.  Tried a rib belt but just caused heartburn.  Suspenders bothered my shoulders.  I settled for either stretch pants (hence no belt) or a small towel put in pants to pad where iliac crest was.
Initially, you may not be able to get fingers in between ribs and iliac crest – pinch flank and shake it back and forth until release  – helps to use thumb saver technique discussed above.
7. Abdominal oblique muscles
The second area that is very tight is seen when body is twisted as per pic stretch. This is a QL stretch but must involve oblique abdominal muscles as well. Patients find this almost too much to do but when it releases, there is profound relief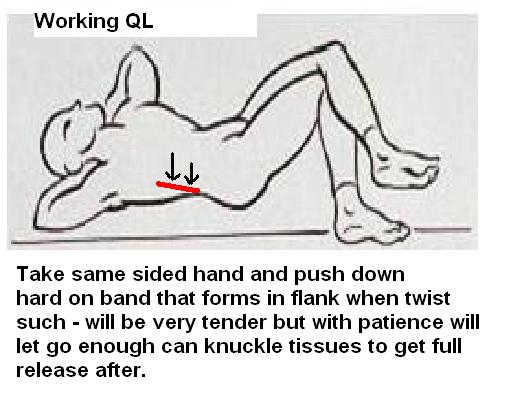 Once there is space, some improvement will occur but often tender areas need injection with local and small amounts of steroid – I did.
—————————
8. Rib Touch Pains
Multiple muscles in my back tightened up – posterior inferior serratus  iliocostalis, and paraspinous muscles were worst. .  Had to work them alot….Started by putting hand below serratus posterior inferior and push up – can feel fibers give way as do that. After, take hand and rub knuckles back and forth over area until lets go. Paraspinous I injected lateral edge with 5% lidocaine and massaged out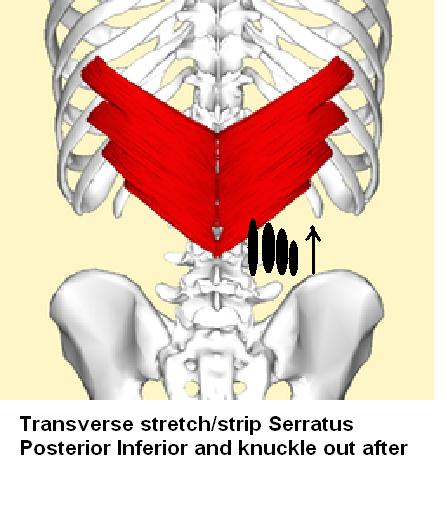 This problem caused ribs to catch in a minor fashion – not your typical catching rib – it is higher up and not positive on rib lift test.  You will find multiple tender rib spots  – I injected with small amounts 5% lidocaine with 30 gauge needle (minimize pneumothorax) and it is surprising how much better they will be in few days. Rib catching is more annoying then anything – zings enough to stop you from being active. – Is not as bad as the iliac crest impingement though. Patients won't even tell you about them as they just zing momentarily…you have to ask if their rib levels will zing pains with certain trick movements.
Thoracolumbar Syndrome
T11 area was particularly bad and pressing firmly with thumb will make patient jump. Working paraspinous as mentioned above and using activator on facet joint helped.
Buttock pains
Mid gluteal spasms ? gluteal nerve irritation
Piriformis
Sacroiliac joints