When pain becomes severe, constant, and unremitting –  chances are high the pain has imprinted on the brain and centralized. This is a tragic disease with poor treatment options. In those that persisted with treatment (failures may have dropped out?) all had permanent reduction in pain with HCG use making it the only agent to actually remit chronic centralized pain.
Long-Term Safety and Efficacy of Human Chorionic Gonadotrophin (HCG) For Centralized Intractable Pain
Forest Tennent
Pain week Poster Las Vegas 2013 plus associated presentation
26 cases of those that persisted on taking the med
centralized intractable patients with unremitting pains
dose – HCG 250-750 units sublingually or 1000 units injections 2-3 times/wk.
all had some pain free hours, permanent reduction in pain, and 30-100% reduction in opioid use.
all noted increased energy or endurance
side effects – 2/26 got some headaches and one noticed hair loss
Poster: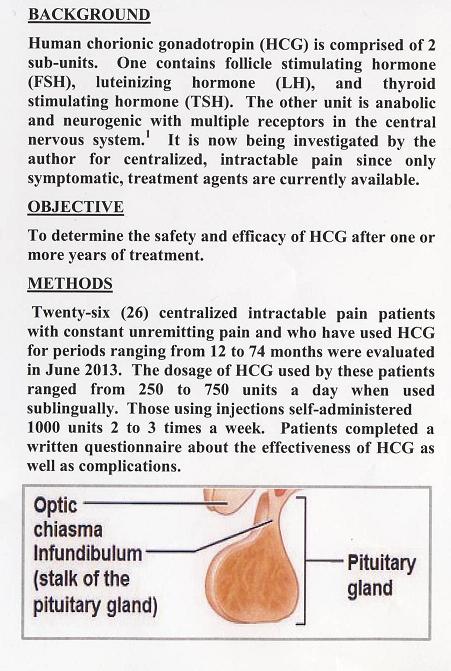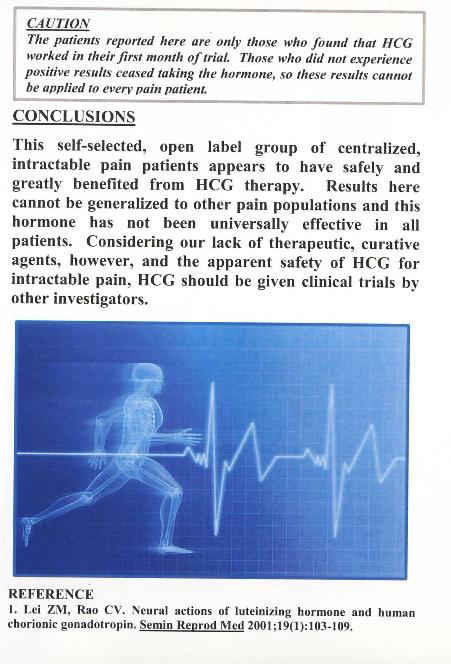 Comment  – HCG has been used to induce weight loss in women.  Men take it to build muscle. It appears equivalent to Luteinizing Hormone (LH) (with little FSH effect) and stimulates male hormone synthesis in men and progesterone synthesis in women.
Merck makes version Pregnyl (cheapest version)- it can be given subcutaneously and 10,000 units could cost $100.00. Here is their product monogram:
Usually given IM but study found subcutaneous just as effective:
Hum Reprod. 1998 Jun;13(6):1461-4.
A randomized three-way cross-over study in healthy pituitary-suppressed women to compare the bioavailability of human chorionic gonadotrophin (Pregnyl) after intramuscular and subcutaneous administration.
Mannaerts BM, Geurts TB, Odink J.
http://www.ncbi.nlm.nih.gov/pubmed/9688371
that would be a months worth of shots cost $100
I have already targeted my worst cases for it. Question is though, would it work on someone with polycystic ovaries that already has high androgen levels…
I can across an earlier study poster- couple got acne and menstrual irregularities. Here is their poster:
poster247
Dr. Tennant has several websites dedicated to this issue:
Websites: no longer open but discusses it here:
The Use of Hormones for Chronic Pain
https://journalofprolotherapy.com/the-use-of-hormones-for-chronic-pain/
HUMAN CHORIONIC GONDOTROPIN AND PREGENOLONE
https://static1.squarespace.com/static/5bb264d4b2cf796cd373ab70/t/5c47d970cd836610282a234e/1548212596823/Bulletin4_August2013_Human_Chorionic_Gonadotropin_and_Pregnenolone.pdf