Sometimes chronic perineal pain comes out of the blue and one could certainly use a secret weapon. Botox to ganglion impar reduced one case of perianal and genital pain from 8/10 to 2-4/10 for months. 
Korean J Pain Vol. 23, No. 1, 2010
Ganglion Impar Block With Botulinum Toxin Type A
for Chronic Perineal Pain
Su Jin Lim, MD, Hue Jung Park, MD, Sang Hoon Lee, MD, and Dong Eon Moon, MD
https://www.ncbi.nlm.nih.gov/pmc/articles/PMC2884216/
40 year old man
8/10 pain – perianal, perineal, and genital. – couldn't sit > 5 min
Investigations negative
medical treatments, epidural blocks – no help though analgesic impar blocks helped temporarily
Block technique: "

A subcutaneous infiltration was performed in the superior area of the anococcygeal ligament. This area was chosen as a puncture point. Using a C-shaped image intensifier, a 22 G, 10 cm block needle in which the terminal part was bent at an angle of 30 degrees was advanced to a distance of 6 cm. Thus, attempts were made at the sacrococcygeal junction to reach the anterior surface."

Repeated blocks of 80-100 units Botox were used every 2-3 months

Pain was brought to 2-4/10 with treatments.
Comments: Hitting the ganglion impar is confusing because its location is. One article suggests injecting through the sacrococcygeal joint but that assumes the ganglion is at that level. An autopsy study found the following locations:
Anesthesiology:July 2004 101[1]249-250
Clinical Implications of Topographic Anatomy on the Ganglion Impar;
Oh,Chang-Seok et al free article here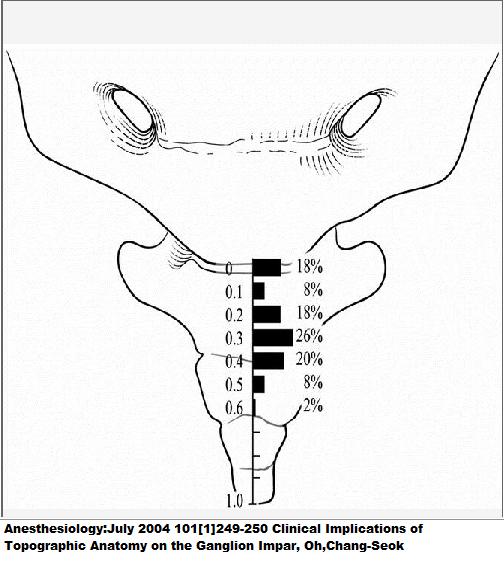 As you can see, the ganglion is more likely to be lower down. They used 0.5% bupivacaine 1 ml with the Botox which I am not sure is too good an idea as it cuts down nerve activity and botox absorption. It is a welcome addition to treatments.