I have seen 2 cases of severe intermittent lower abdominal pain (both more left sided) with a background of lesser pains seen by various doctors with out relief and pain relieved in 1 minute – by pushing their inguinal hernia back into abdomen.
Both cases has some things in common:
1) Emotional distress is universal and I suspect makes doctors suspect irritable bowel.
2) Pain generalizes to lower abdomen and is NOT over the inguinal canal area. One does not get a history of relief lying down.
3) Presents as a semi-acute abdomen. One lady had been to two medi-clinics and the hospital prior to seeing me with pain beyond her ability to cope. The other I thought initially to have acute diverticulitis and started on antibiotics.
4) Diagnosis was not possible on initial visit. Given the pain seemed no where near the inguinal canal, and there seemed to be significant abdominal wall triggers associated, I did not make diagnosis in either case on first visit. One lady had had attacks for years and had seen various doctors and specialists.
Tip off- each seemed distressed I tried a simple myofascial technique in attempt to relieve some of the surface pain – Put hand gently on lower  abdomen and push up – hold until you find a direction that seems to give a little and follow that direction to get a release. Paradoxically, though I seemed to be getting some response to the muscles, the patient found the pain worsened – and perhaps (maybe in my mind) more localized now to the left inguinal area.  In each case, I was left with a sense of confusion why this would make things worse – but also with a sense that there had to be more going on then it seemed. When I stood each of the subjects up and had them cough, I could feel a tender impulse. I could feel it in the mons pubis: – but higher than I thought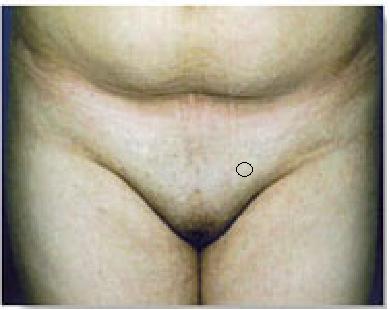 I could feel an impulse on coughing and when I lay patient down and pushed (and rub/vibrated) area – eventually all the pains remitted – even much higher up. One patient finds she has  to lie down,  put her fingers over the tender area hand hit fingers with other hand in order to get it to go in.
I cut a piece of Styrofoam in attempt to hold hernia in. There are hernia garments for women.
I found this was available from amazon:      here
Each case was a major surprise and a major relief for the patient. Now I am left to wonder how many poor souls are their out there having intermittent incarcerations of their inguinal hernia on top of baseline irritable bowel and having it missed.
Important point – one case had hypermobility syndrome – these cases have chronic widespread pain and a Fibromyalgia picture – but their collagen problems predispose to hernia development.
Would like to know if this helps anyone… pagina oficial de pandora pagina oficial de pandora