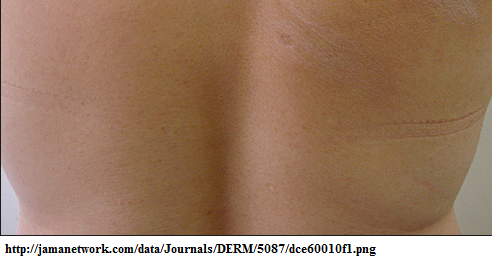 Noctalgia paresthetica is considered nerve damage in between shoulder blades leading to itching in areas. Treatments have not been that satisfactory to date
Treatments have included:
Oxcarbazepine, an anti-epiletic, reduces symptoms

paravertebral nerve blocks, with bupivacaine and methylprednisolone acetate injected into the T3-T4 and T5-T6 can help but can only be done in a hospital setting here

topical capsaicin is red pepper cream – applied four times daily will give relief as long as used – it however burns.
One case used intradermal botox with longlasting relief:
Successful Treatment of Notalgia Paresthetica With Botulinum Toxin Type A
Pamela Kirschner Weinfeld, MD
Arch Dermatol. 2007;143(8):980-982  free article here
20 year history of itch 5/10 on "pain" scale

 24 U dissolved in saline and injected intradermally in spots 2 cm apart

scratching much inproved and 48 units injected 18 months later with resolution up to point of publication (1 month)
Comment – steroid creams and steroid injections do nothing for this conditions – nice to find something
Addendum:
Spinal  manipulation and work on ribs ("one 20-minute session of osteopathic manipulative treatment that focused primarily on thoracic spine and rib somatic dysfunctions") in a case study resulted in significant decrease in symptoms.:
J Am Osteopath Assoc. 2009 Nov;109(11):605-8.
Osteopathic manipulative treatment in the management of notalgia paresthetica.
Richardson BS, Way BV, Speece AJ 3rd  abstract here
anyone had experience with this?