Injury to the Intercostobrachial nerve following breast cancer surgery helps trigger the persistent neuropathic pains after. Why don't we hear much about it? Here is some info on it.
Following breast cancer surgery, pain is very common. One article divided the causes into:
Intercostobrachial neuralgia 33%
Scar neuroma 39%
Post amputation Phantom pains 22%
as mentioned in
Effet de la kétamine dans la prévention des douleurs chroniques post-mastectomies. Étude pilote
M. Crousier, V. Cognet, M. Khaled, P.-Y. Gueugniaud, V. Piriou
Annales françaises d'anesthésie et de réanimation  27(12) 987-993 – December 2008  abstract here
It has been written that between 80-100% of time the intercostobrachial nerve is damaged by breast cancer surgery – and those who had a lumpectomy – let us not forget the axillary node dissection. (as written in:
Anesthesiology Clinics of North America 15(2), 1 June 1997, 353–370.
POSTMASTECTOMY AND POSTTHORACOTOMY PAIN
Anne M. Wallace, Mark S. Wallace  brief writeup here )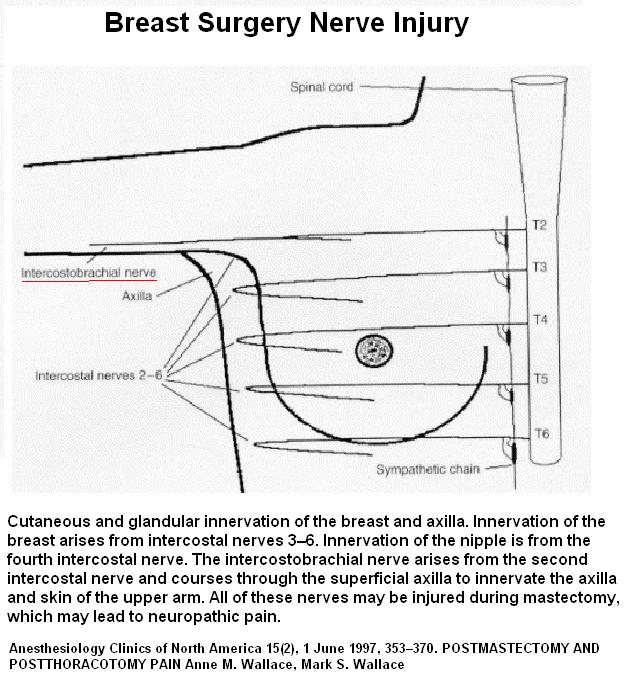 Along with this it has been written that "Post-mastectomy pain syndrome (PMPS) is experienced by 20–65% of patients who undergo breast surgery for cancer."
Pain Volume 108, Issue 3, April 2004, Pages 294–296
Some cases of severe post-mastectomy pain syndrome may be caused by an axillary haematoma
Cornelia Blunta, Angelika Schmiedel   abstract here: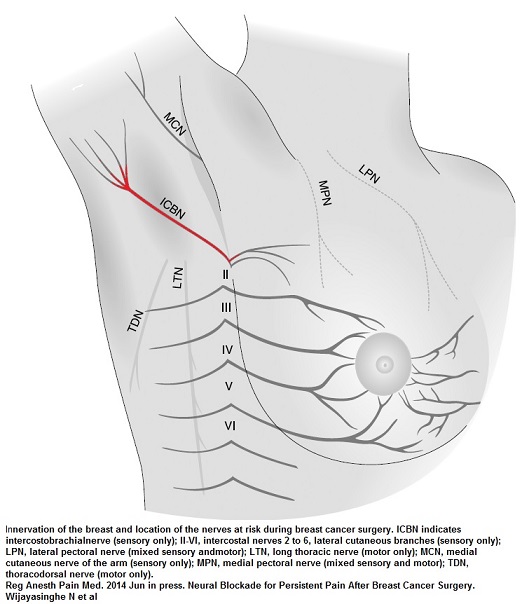 A 2009 article stated "Chronic neuropathic pain affects between 20% and 50% of women after their breast cancer treatment."
Chronic Neuropathic Pain in Women After Breast Cancer Treatment
Fozia Bokhari, Jo-Ann V. Sawatzky
Pain Management Nursing Volume 10, Issue 4, December 2009, Pages 197–205
http://www.sciencedirect.com/science/article/pii/S152490420800088X
Anatomy of Intercostobrachial Nerve.
It comes out at T2 intercostal space in anterior axillary lline – look for tenderness there:
It comes out the 2nd rib intercostal space at anterior axillary line: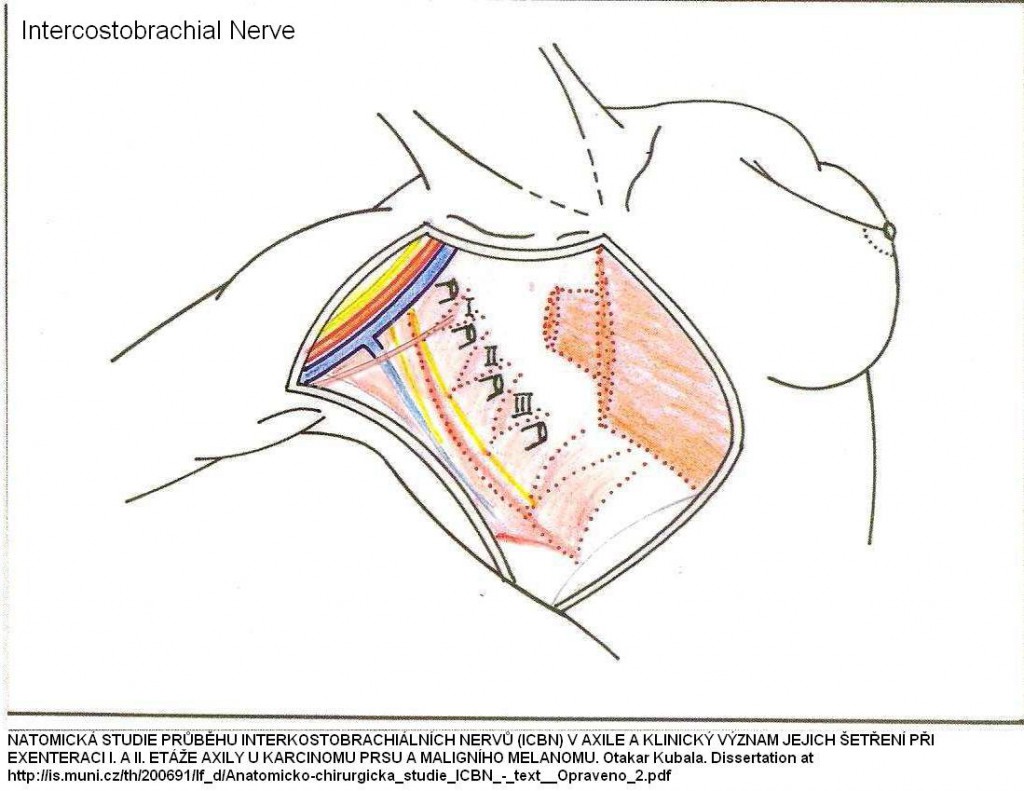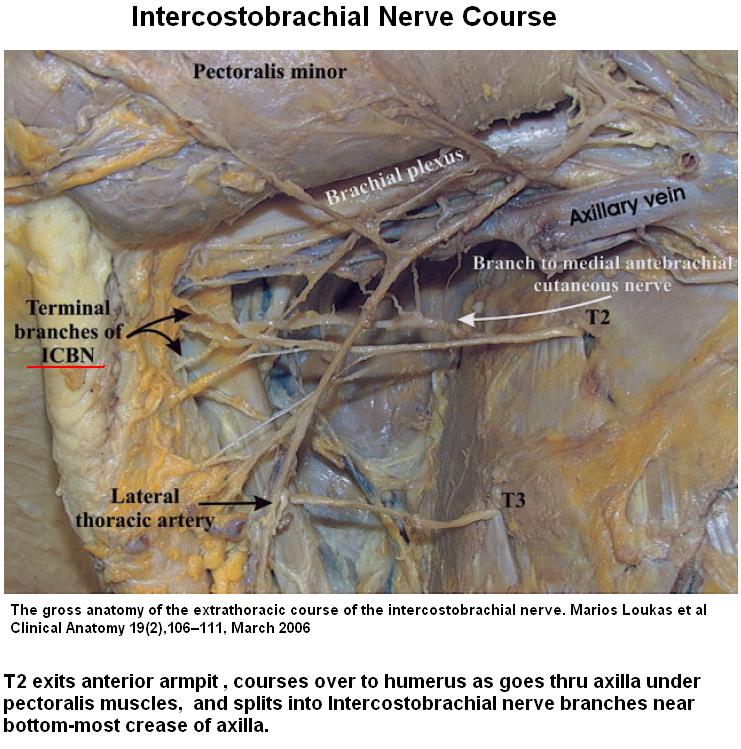 A branch course down inner aspect upper arm innervating this strip: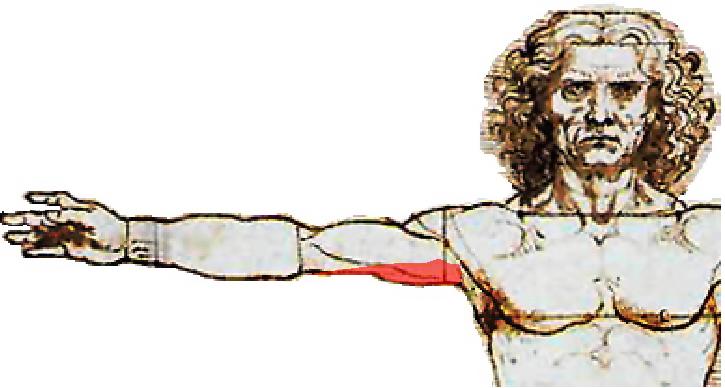 As seen here: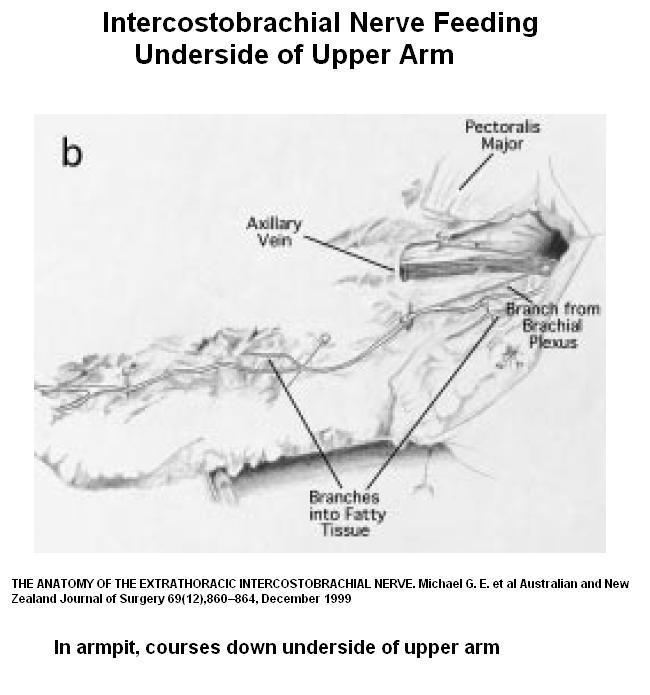 Blocking Nerve 
Not a discrete block as multiple branches – instead injecting a subcutaneous strip front to back at bottom-most axilla: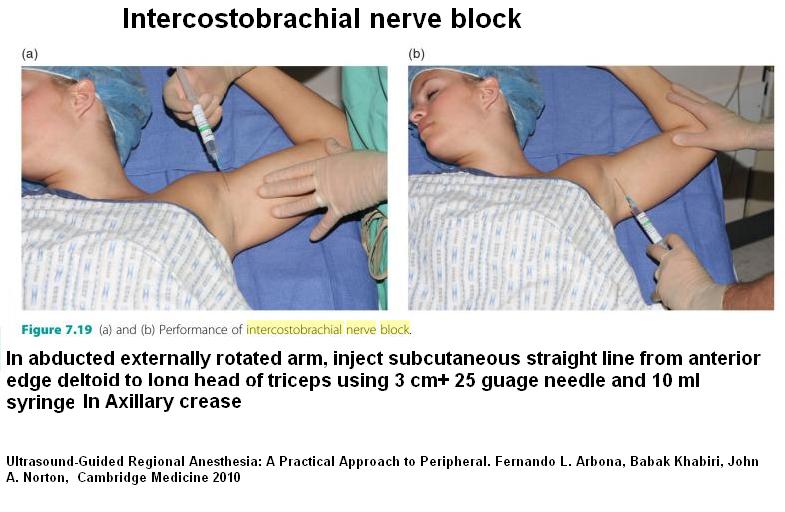 Evidence it has been sectioned can be confirmed by the paresthesia (funny feelings) and numbness in the proximal half posterointernal face of the upper arm.
Studies have demonstrated that preserving this nerve during surgery might help prevent problems but authors are quick to add even in thier own cases this is not necessarily possible.
Bruise formation in armpit "hematoma" can contribute to development post-mastectomy pains:
Pain Volume 108, Issue 3, April 2004, Pages 294–296
Some cases of severe post-mastectomy pain syndrome may be caused by an axillary haematoma
Cornelia Blunta, Angelika Schmiedel   abstract here:
There seems little doubt that nerve damage "neuropathic pain" is involved in post breast cancer surgery pains:
Sensory function and pain in a population of patients treated for breast cancer
O. J. VILHOLM, S. COLDActa Anaesthesiologica Scandinavica Volume 53, Issue 6, pages 800–806, July 2009   abstract here
Syndrome of ICBN entrapment has been described:
Severe pain involving in arm, shoulder, and chest
"aching, or burning with intermittent flashes of bright, stabbing pain"
Constant and more severe with arm movement
pain radiates to the medial and posterior arm.
excessive tenderness 2nd interspace anterior axillary line
as described by
Atypical Chest Pain: Evidence of Intercostobrachial Nerve Sensitization in Complex Regional Pain Syndrome
Pain Physician 2009; 12:E329-E334 • ISSN 2150-1149
Jennifer W. Rasmussen, John R. Grothusen, Andrea L. Rosso, Robert J. Schwartzman free article here
Damage to this nerve has widely different expressions and it has been considererd that "Pain cannot be explained only by injury of the intercostobrachial nerve . An anatomical study of the extra-thoracic path of the intercostal nerve by Loukas et al.  detected that the ICBN receives different contributions from the 1st, 2nd, 3rd, and 4th intercostal nerves. Based on those variations, the authors identified eight types of participation of those nerves in the formation of the intercostobrachial nerve . Perhaps those variations might explain the different complaints of pain by patients."
as described in:
Post-Mastectomy Pain Syndrome. The Magnitude of the Problem
Tania Cursino de Menezes Couceiro, Telma Cursino de Menezes, Marcelo Moraes Valênça
Rev Bras Anestesiol 2009; 59: 3: 358-365  free article here
Neuromas:
Neuromas are ascertained by
– very painful spot in scar
-tinel shooting numbness/pain when spot pressed on
– response to diagnostic injection
Neuromas are thought to be surgically treatable by surgical resection:
Annals of Plastic Surgery: May 2001 – Volume 46 – Issue 5 – pp 481-484
Intercostal Neuromas: A Treatable Cause of Postoperative Breast Surgery Pain
Wong, Lesley MD  abstract here
At intercostal level, neuroma can be removed, nerves can be teased out of rib and planted in latissimus dorsi muscle:
Neurectomy for treatment of intercostal neuralgia.
Williams EH, et al
The Annals of Thoracic Surgery [2008, 85(5):1766-1770]  abstract here
brought pain from 7-9/10 to 3.4/10
Various injections are used on neuromas as well
For the intercostobrachial nerve damage cases various measures have been documented:
Comparing the Effect of Stellate Ganglion Block and Gabapentin on the Post Mastectomy Pain Syndrome.
Hoseinzade H, Mahmoodpoor A, Agamohammadi D, Sanaie S
Shiraz E-Medical Journal Vol. 9, No.2, April 2008 free article here
They mention:
1 Medications –  antidepressants(18), NSAIDS (19), antiepileptics (20), opioids (21), NMDA receptor antagonists (22-23), lidocaine(24), magnesium (25), adenosine (26), ….)
Amitriptyline has been used for post mastectomy pains:
Kalso E, Tasmuth T, Neuvonen PJ.
Amitriptyline effectively relieves neuropathic pain following treatment of breast cancer.
Pain 1996;64:293–302
Gabapentin at 300 mg tid was found helpful in this article:
Comparing the Effect of Stellate Ganglion Block and Gabapentin on the Post Mastectomy Pain Syndrome.
Hoseinzade H, Mahmoodpoor A, Agamohammadi D, Sanaie S
Shiraz E-Medical Journal Vol. 9, No.2, April 2008  free article here
Results: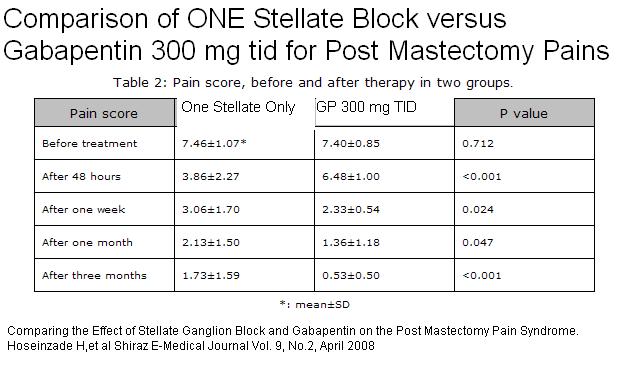 Gabapentin has been combined with Mexilitine for post mastectomy pains:
Fassoulaki A, Patrisk, Sarantopoulos C, Hogan Q.
The analgesic effect of gabapantine and mexiletine after breast surgery for cancer .
Anesth Analg 2002;95:985-91
2- Nerve blocks (28-30) –
stellate was used in this article:
Fluoroscopic Stellate Ganglion Block for Postmastectomy Pain: A Comparison of the Classic Anterior Approach and the Oblique Approach
Nabil Abbas, Dina MD; Abd el Ghafar, Ekramy M. MD; Ibrahim, Wael A. MD; Omran, Azza F. MD
Clinical Journal of Pain: March/April 2011 – Volume 27 – Issue 3 – p 207–213  abstract here
They did FOUR block and got good results
Recently an Ultrasound guided block of ICB nerve got some benefits though like other pains issues, repeated blocks are required to get much permanent results.
Pain Physician. 2016 Feb;19(2):E309-18.
Ultrasound Guided Intercostobrachial Nerve Blockade in Patients with Persistent
Pain after Breast Cancer Surgery: A Pilot Study.
Wijayasinghe N et al
http://www.painphysicianjournal.com/current/pdf?article=MjUyMg%3D%3D&journal=94
used Ten mL 0.5% bupivacaine given with 22 gauge block needle
persistent results were not well demonstrated "One week after the block was administered 2 patients demonstrated an improvement in their functional impairment scores (-17 and -29). However, 3 patients experienced a slight increase (13, 4, and 6) and one patient had no change."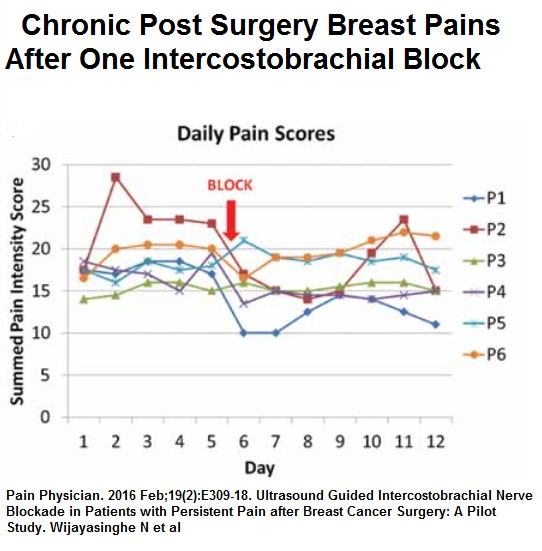 I use 5% lidocaine which has semi-neurolytic (mild nerve killing) properties – I gave a lady recently 0.5 mils into 2nd intercostal interspace laterally, 0.5 mls into point maximal tenderness, and rest into areas unaffected. She was much better week later and needed injection into posterior deltoid areas only.
Point maximal tenderness is: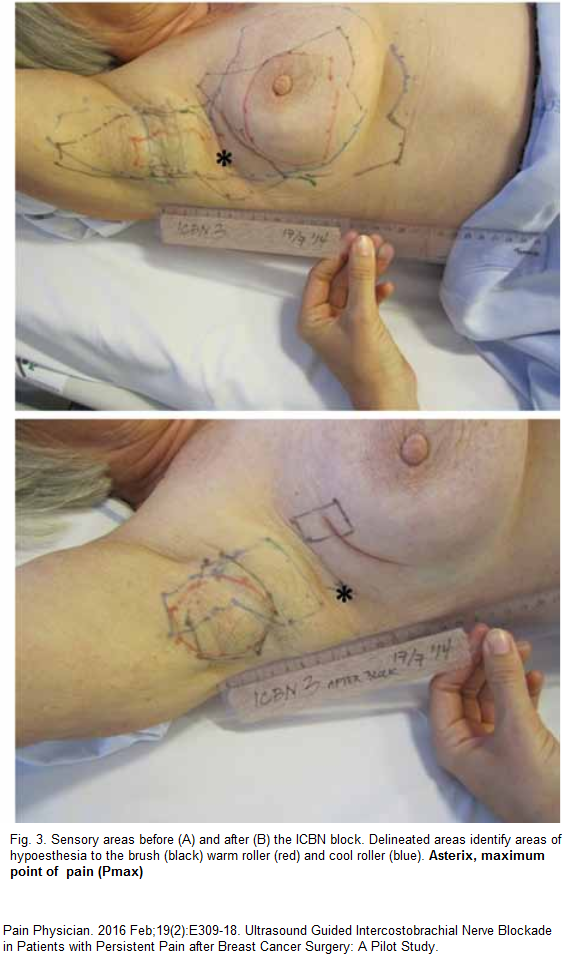 3- peripheral nerve stimulation and spinal cord stimulation (27)
Why don't surgeons deal with it?
The don't do nerve blocks;
they don't implant peripheral nerve stimulators;
they have no training in physiotherapy techniques like myofascial release.
Transferring groin lymph nodes to axilla helps some but unlike done here any time soon:
Post-mastectomy Neuropathic Pain Cure – Lymph Node Transplants
– The don't implant neuroma nerves (suspect plastic surgeons can)
– They don't like treating chronic pain or using narcotics – heck, I've had patients with hip replacement sent home on Ibuprofen!
They had very little training in chronic pain
I will try to expand on treatments sometimes
If you have good or bad experiences, I'd like to hear.
God help those who have mastectomies…
addendum:
Over 5-7 years after breast cancer surgery over 1/3 of women have persistent pain:
Evid Based Nurs. 2013 Aug 12. doi: 10.1136/eb-2013-101418. [Epub ahead of print]
Five to seven years after breast cancer treatment, over a third of women (37%) report persistent pain.
Knobf T.
no abstract
Comments – I use nerve damaging blocks of lidocaine 5% which like for shingles have to be given repeatedly: Scar injections might be needed to.
http://painmuse.org/?p=724
Addendum:
Part of the problem can result from fibrous cords that can develop in armpit that can occur particularly when axillary dissection or sentinel biopsying is done: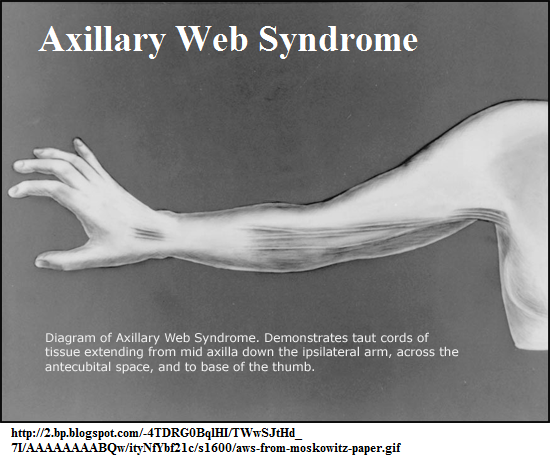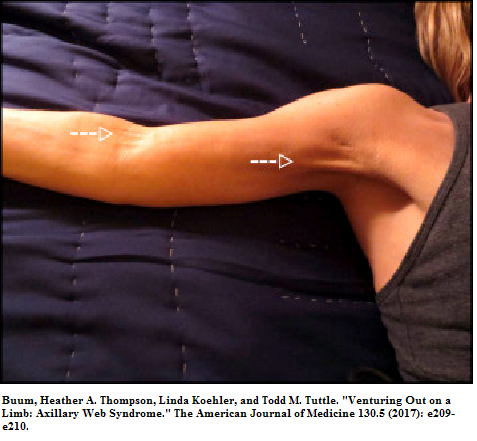 Recent article:
Buum, Heather A. Thompson, Linda Koehler, and Todd M. Tuttle.
Venturing Out on a Limb: Axillary Web Syndrome.
The American Journal of Medicine 130.5 (2017): e209-e210.
http://www.amjmed.com/article/S0002-9343(17)30006-2/pdf
at 18 months suggested 50% incidence
with axillary lymph node dissection 72%-75%
with sentinel node biopsy 20%-41%
syndrome is thought to be of lymphatic origin
they suggest early aggressive physiotherapy
However a recent article suggested "cording" in 13.3%
Rev Bras Ginecol Obstet. 2017 Jul 12. doi: 10.1055/s-0037-1604181. [Epub ahead of
print]
Management of Axillary Web Syndrome after Breast Cancer: Evidence-Based Practice.
Luz CMD et al
http://www.scielo.br/scielo.php?script=sci_arttext&pid=S0100-72032017000300115&lng=pt&nrm=iso
they found 1/2 resolved on own and 1/2 needed treatment but did not go into what exactly that entailed