Repeated nerve Blocks work within 100 days of Herpes zoster – quicker results if before the first 20 days
IASP Poster Presentation Number: PW 359, Montreal 2010
THE EFFECTS OF NERVE BLOCKS FOR SEVERE AND ELDERLY HERPES ZOSTER: EARLIER PERFORMANCE CREATES BETTER OUTCOME
O. Nishikido1, K. Okamoto2, Y. Masuda3, T. Tateda1, 1Anesthesiology, St Marianna Univ. Sch. of Med., Kawasaki, Japan, 2Anesthesiology, Showa Univ. Yokohama Northern Hosp., Yokohama, Japan, 3Anesthesiology, Showa Univ. Sch. of Med., Tokyo, Japan
9 patients within 20 days and 12 patients 21-200 days after shingles:
early had an average ot 8.6 blocks. Late had an average of 18.5 blocks!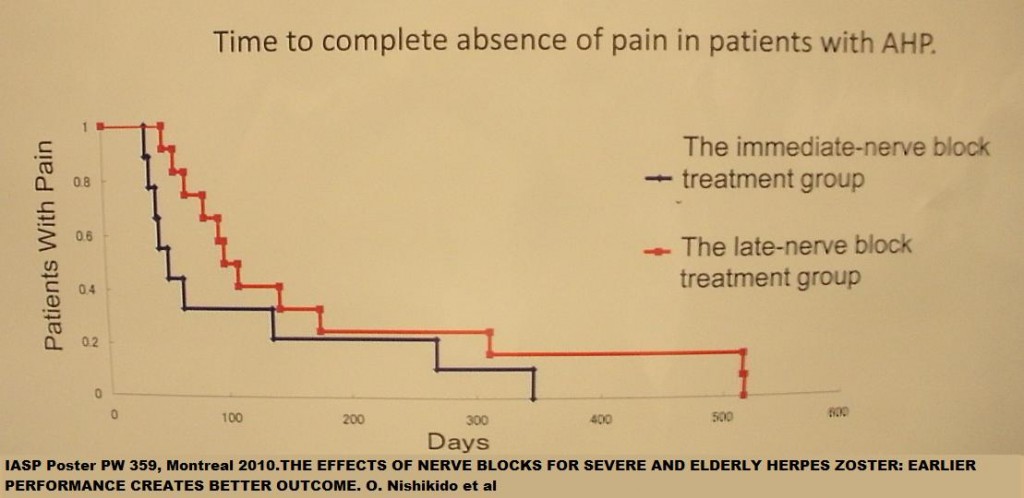 There was zero percent post herpetic neuralgia in the end… It's obvious the earlier the better but eventually both worked – wonder what the results would be if combined with ASA -ether peripheral effects…
Comment – this was a Japanese study – I could only assume they have great patience – not sure any anesthesiologist around here would do 8 – 18 stellates or epidurals. Intercostal rib blocks would be do-able in the office except in Ontario, Intercostal rib blocks now have to be done in the hospital despite the potential pneumothorax reactions occurring 4-24 hours later after they have gone home (Gd' who makes these rules!?) 
Making me ask how many were saved? probably not much here… Organizations are working to make access to pain care for people while their other hand other organizations are ensuring some of this does not happen. So sad.