Various desperately in pain cases have written me wondering how useful it actually is. The answer is not easy and runs like this – "It depends". Firstly, I feel sick to find that people are being gouged $2,000 – 5,000 dollars for a simple blind paraspinous injection that anyone could give – it spreads so well from paraspinous subcutaneous injection that the relief occurs within 20 minutes. Having said that, since the wild enthusiasm of Tobinick's initial cases, the enthusiasm of etanercept injections has not taken off in the literature as one would have thought.
The success of initial cases were not epidural steroid failures as much as the were augmented by prior epidural steroids. Even in Tobinick's big study:
Efficacy of etanercept delivered by perispinal administration for chronic back and/or neck disc related pain: a study of clinical observations in 143 patients
Edward Tobinick and Susan Davoodifar
CURRENT MEDICAL RESEARCH AND OPINION VOL. 20, NO. 7, 2004, 1075–1085   free article here
69% had had 3 steroid epidurals prior.
The trasnforaminal failure study mentioned below made an important point:
Enbrel works on Tumor Necrosis factor inhibition
Steroid effects "are primarily due to the inhibition of enzyme phospholipase A2, with resulting reduced formation of inflammatory mediators, prostaglandins and leukotriens"
Source: redOrbit (http://s.tt/162xf).
It seems likely that both mediators need to be dealt with to get maximum effects
It seems clear that ONE enbrel shot does not have much lasting effect. One study gave enbrel by caudal block:
The Efficacy and Safety of Caudal Epidural Injection with  the TNF Antagonist Adalimumab AND Etanercept in Patients with Disc-herniation Induced sciatica – results of a randomized, controlled 1 month followup study
Kune K. et al
Arthritis and Rheumatism Volume 60, Suppplement 2, 2009  no abstract
acute severe sciatica – this might not be fair because these will be more mechanical pressure cases then ones where the irritation is strictly chemical like most bulging disc sciaticas.
Enbrel 25 mg flouroscopically guided single cadual epidural – doesn't say what volume it was injected in.
Results: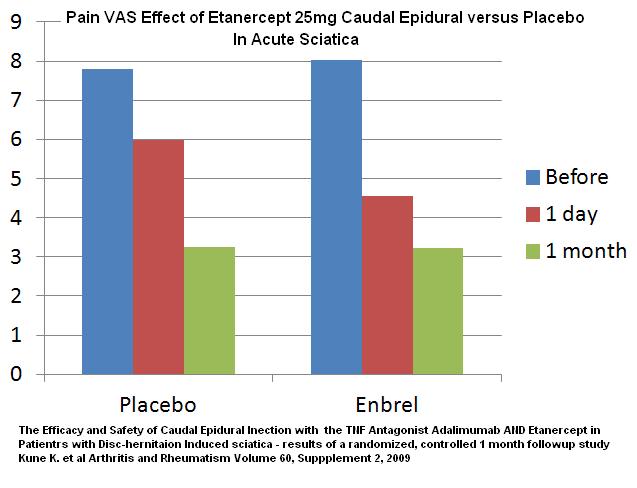 I could probably get better results with Caudal Intrathecal midazolam and it would be much cheaper.
Another study gave 25 mg  transforaminally at L5/S1 and did not notice any benefit until steroid was injected 3 weeks later:
Anaesthesia and Intensive Care,2007 Apr;35(2):301-2
Epidural Etanercept for Lumbar Radiculopathy
Malik, K  free article here
Even in the initial study it took over 2 shots on average to get the results you were after – given one week apart. One study gave 3 in 1 week The big study had average 2.3 shots.
The extent of benefits is not clear and may be suspiciously not that good. In the big study,  only 55% had improvement and 27/143 = 19% had sustained drop of over 1.9/10 severity at one month – not that many
There were "golden cases"that threw away their crutches and walked – they present them in their articles.
Now we get to the "depends" -I have one patient who was having his wife administer enbrel shots – he said it would give relief but it only lasted 7-10 days.  I knew something was not right so I examined him carefully and found:
Right sided piriformis syndrome – using transverse finger stretching 10 min followed by massage I was able to remove that temporarily. – he will need work on it 2 X week for next 3-6 weeks.
Iliac crest points – despite being a big man, tightness of the quadratus lumborum muscle must have dragged the right ribs down onto his iliac crest and gave him some exquisitely tender cluneal nerve pain spots on the iliac crest (though some could have come from Thoracolumbar – though he was not tender there). I injected these areas on crest with steroid and local and it temporarily completely removed his pains – I will see next week but suspect at least 1/2 of his pains there will be gone.
In the neck, I saw a case today with severe scalene spasm thoracic outlet syndrome with even hand colour changes. He has a radiculopathy in neck as well. He will not gain much relief until both thoracic outlet and radiculopathy are contended with. As well, he also has a very elevated left shoulder and multiple facet level tenderness which will also need attention before patient will feel any better ( I inject botox into facet joints and it helps considerably..)
Bottom line:
– better to have a steroid epidural first (I have published how shots need to be on the proper side and patient needs to lie down 20-30 min with bad side down  – after the injection)
 – your family doctor can cheaply give a subcutaneous paraspinous enbrel injection – don't get fleeced
– It takes TWO enbrel shots a week apart to get any results
 – I would not have enbrel shots unless someone is prepared to "turn out the lights" of other problems left behind – quadratus lumborum and piriformis spasms, iliac crest rub points, and in the neck – facets and  spastic scalene/1st rib area pains with thoracic out syndrome. People are so disappointed that one treatment does not give them results – I point out that most people have 5-10 issues and they will not feel better until most , if not all are dealt with (It only takes 1-2 problems to take a pateint to "ceiling" of their pain).
Don't forget, intrathecal midazolam shots can augment lumbar radiculopathy improvements as well.
I hoped to expand on this and lilnk to articles where I refer to other treatments..
Any comments? maillots foot maillots foot