I was asked to put a letter in a time capsule for my great nephew. I reflected over the near 40 years I have been working on chronic pain and my wishes for 2034. The treatment of neuropathic pain is an issue in which breakthroughs have to occur. I suspect genetic manipulation of gene  activation levels (especially in the spine) could play a role because otherwise, up to now, treatments have failed to work well.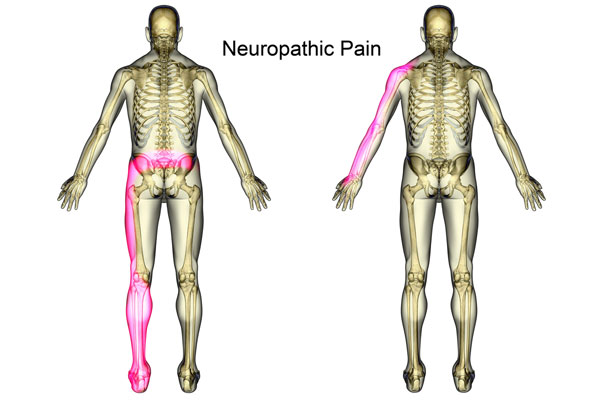 (http://www.clinicaladvisor.com/neuropathic-pain-symptoms–treatment/slideshow/734/)
(Note – the picture reflects radiculitis which amounts to over 1/2 of neuropathic patients)
Pain Ther. 2017 Dec;6(Suppl 1):1-3. doi: 10.1007/s40122-017-0086-1.
Neuropathic Pain: The Scope of the Problem.
Cruccu G(1), Truini A(2); Neuropathic Pain Special Interest Group of the Italian
Society of Neurology (Italian NeuPSIG)
most realistic estimate: incidence 6–8%, a proportion that is likely to increase in the future
less than 50% achieve relief and estimates are often far lower than that (Canadian estimate 23.7% achieve significant relief)
idea of multiple pain mechanisms involved and a need to address treatment to deal with these multiple mechanisms
One of the biggest disappointments was duoxetine-like drugs. In:
Pain Ther. 2017 Dec;6(Suppl 1):35-42.
doi: 10.1007/s40122-017-0087-0.
A review of Neuropathic Pain: From Guidelines to Clinical Practice.
Cruccu G(1), Truini A(2)
https://www.ncbi.nlm.nih.gov/pubmed/29178033
"Most clinical trials showed that the efficacy of SNRIs is lower than that of tricyclic antidepressants, with a combined number needed to treat (NNT) value of about 6.4 for the SNRIs and 3.6 for tricyclic antidepressants"
Both a disappointment and a help, has been the additi0n of marijuana in the treatment of chronic pain. With the upcoming legalization in Canada, many have come to try it with some degree of success. Certainly opioid deaths, which might be a reflection of the desperation of some pain cases, are lower in areas where marijuana is available. We had a whole generation of predominately opioid prescribing pain doctors who have re-invented themselves as marijuana prescribing doctors. Just like opioids had its day and then fell, there will be the marijuana days that will rise and fall as we create a generation of ?pot heads potentially suffering from amotivational issues. I  find my treatments will change dramatically within 6-12 months, but I will be lucky to see some of my marijuana-using cases much during that period so they have not had access to these changes.
One of the biggest changes I have done in neuropathic pain has been the addition of twice weekly ketamine injections
http://painmuse.org/?p=5611
I am led to understand an MS clinic in the country has multiple patients now using it.
I have also devised multiple measure that when combined have an impact:
http://painmuse.org/?p=3421
I, myself, have dedicated my time to looking at peripheral mechanisms, and their treatment as a mechanism to attain some relief.  Methylene blue, as a numbing agent, looks promising to me but needs more experience. Botulinum is useful in certain circumstances.  Stem cells offer a promise but are too expensive for routine use.
I would be interested in any future ideas that might be offered. nike air max cheap uk mens nike air max cheap uk mens