Imipramine drops polyneuropathy pain by one and has no increasing effect with dosage suggesting most effect is placebo. Pregabalin drops pain by 0.4 and marginal/not significant drug dosing effects suggesting neither is much use alone.
Clin J Pain. 2017 Dec;33(12):1047-1052.
doi: 10.1097/AJP.0000000000000497.
The Impact of Serum Drug Concentration on the Efficacy of Imipramine, Pregabalin, and their Combination in Painful Polyneuropathy.
Sindrup SH et al
https://www.ncbi.nlm.nih.gov/pubmed/28272120
Polyneuropathy – unknown cause (20), diabetes (10), alcohol overuse (7), drug-induced (4), and in one of each patient of the remaining 6 hereditary, hypothyroidism, vitamin B12 deficiency, monoclonal gammopathy of unspecific significance, sequelae to Guillain Barre syndrome, and vasculitis
age 25-80
6 month +
Cytochrome P450 subtype analysis done for imipramine dosing
 "titrated during the first week of treatment to 75 mg once daily for imipramine and 150 mg twice daily for pregabalin, and maintained at this level during the remaining part of each of the 5-week periods."
elderly >70  and poor metabolizers were given imipramine 25 mg once a day. Over 70 yr old,  pregabalin 75 mg twice a day.
Results: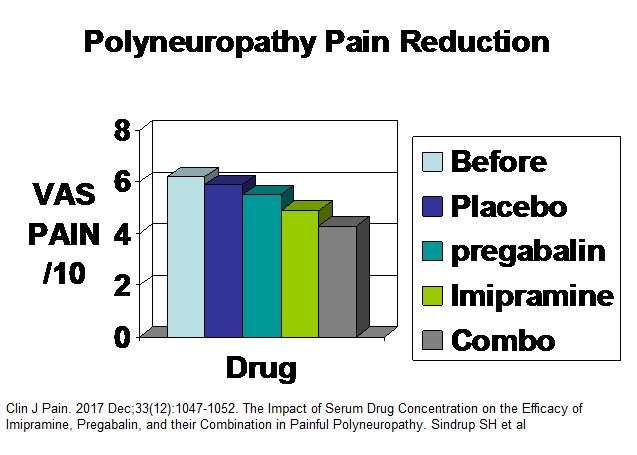 Pregabalin only got a 0.4/10 pain reduction which was only weakly related to serum levels. Imipramine achieved a 1/10 pain reduction which was not related to serum level. The combo achieved a 1.6/10 pain reduction but was not considered enough to be synergistic.
Both antidepressants and pregablin/gabapentin work primarily by stimulation the descending inhibitory circuits.  Pregabalin effects were poor; some suggest 600 mg/day is needed for full effect, yet serum level had no effect on results.
The combination had more meaningful results but of course more side effects.
Comment – It has been suggested that opioids only drop pain levels by 1/10 over placebo so imipramine had similar effects. Would be more inclined to use venlafaxine though.   I am not impressed with poor showing of pregabalin.
Every talk I go to, they talk with reverence to the use of TCA andtidepressants and prebablin in neuropathy. I'm not impressed. cheap air max 95 cheap air max 95