Recent guidelines for treating Neuropathic pain have drawn extensively from results with Diabetic and Post Herpetic Neuropathy. I have written about how those results cannot be generalized to treatment of Radiculopathy (sciatica either of back or neck).  see here:  Etanercept (Enbrel) for Radiculitis (Sciatica).
Now that Pregabalin has failed to help Lumbosacral radiculopathy, this is more clearly true.
The efficacy and safety of pregabalin in the treatment of neuropathic pain associated with chronic lumbosacral radiculopathy
Ralf Baron a,*, Rainer Freynhagen b, Thomas R. Tölle c, Christian Cloutier d, Teresa Leon e, T. Kevin Murphy e, Kem Phillips e, on behalf of the A0081007 Investigators
Pain 2010 in press  abstract here
screening (4–18 days); run-in (4–10 days) to screen out placebo responders; single-blind (28 days) to identify pregabalin responders; double-blind to randomize responders to pregabalin or placebo (35 days); and final study medication taper (7 days).
The primary endpoint was time to loss of response (LOR)  – there was little difference in placebo and pregabalin for such though there was some initial response.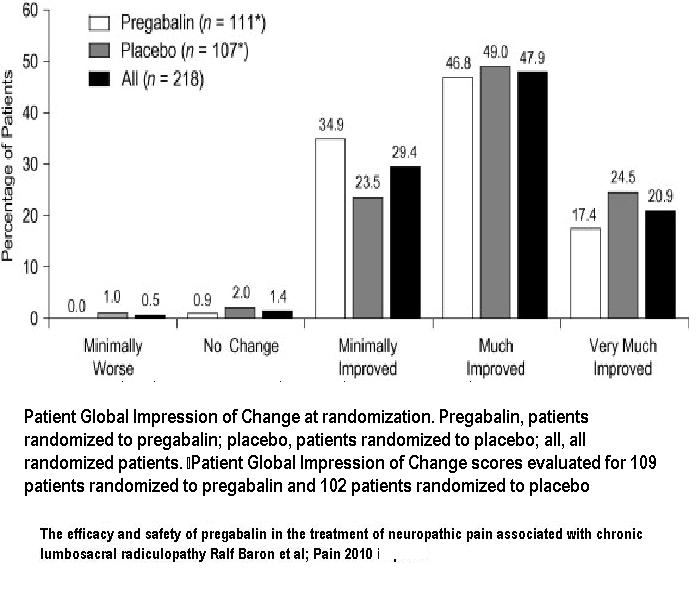 Sleep was some better on pregabalin though as you can see, global impressions were not.
Comment – I suggest any attempt to generalize treatments of neuropathic pain treatments stop at once, particularly when the most common form of nerve pain has not been shown to respond to pregabalin, and by extension, probably not to gabapentin.
Any comments? nike air max 90 mujer nike air max 90 mujer