Erythromelalgia (EM) is a syndrome of  burning pain in the feet often accompanied by redness and  warmth,and  often aggravated by heat and exercise. Cold water soaks are the mainstay of treatment. Painkillers are usually ineffective. IV lidocaine and mexelitine hold promise. Some cases are more complex then they seem.
 Reviews Include:
Mayo clinic series:
Archives of Dermatology 136(3), March 2000,330-336
Natural History of Erythromelalgia: Presentation and Outcome in 168 PatientsZ
Davis, Mark D. P. MB, MRCPI; O'Fallon, W. Michael PhD; Rogers, Roy S. III MD; Rooke, Thom W. MDRecent review:
J Vasc Nurs. 2010 Jun;28(2):67-71.
Erythromelalgia: a rare microvascular disease.
Latessa V  abstract here
Symptoms include:
redness- erythema
Pain + burning – 1/2 felt it as hot and 2/3 as burning according to Mayo clinic study
Warmth
in response to warmth and exercise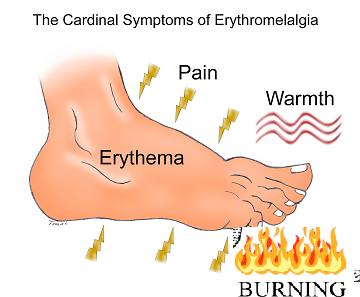 Primary EM
rare disorder in caucasians- most adult onset – 4.2% childhood
Rarely (4.7% in Mayo clinic series) it can be autosomal dominant form is a disorder of pain neuron sodium 1.7 channels . Interesting, sodium channel blockers include most neuropathic used drugs:

Amitriptyline and other Tricyclic drugs
Anticonvulsants
Most interestingly includes parenteral lidocaine and oral Mexiletine

Curr Pharm Des. 2005;11(23):3005-11.
Sodium channel blockers in neuropathic pain.
Kalso E. abstract here

This condition is distinct from another Na channel 1.7 disorder called Paroxysmal Extreme Pain Disorder (PEPD) – severe pain and skin flushing precipitated by perineal groin nerve activation and bowel movements:
Mol Pain. 2008 Sep 19;4:37.
Paroxysmal extreme pain disorder M1627K mutation in human Nav1.7 renders DRG
neurons hyperexcitable.
Dib-Hajj SD, Estacion M, Jarecki BW, Tyrrell L, Fischer TZ, Lawden M, Cummins TR,
Waxman SG.  free article here
described as a cutaneous microvascular disorder – the opposite of raynaud's phenonmenon – where there is vascular engorgement that results in actual decrease blood perfusion and hypoxia as consequence – with burning pain as result.
small-fiber neuropathy has been found associated:
J Am Acad Dermatol. 2006 Sep;55(3):519-22.
Histopathologic findings in primary erythromelalgia are nonspecific: special studies show a decrease in small nerve fiber density.
Davis MD, Weenig RH, Genebriera J, Wendelschafer-Crabb G, Kennedy WR, Sandroni P. abstract

Secondary EM
occurs as a consequence of other diseases which includes: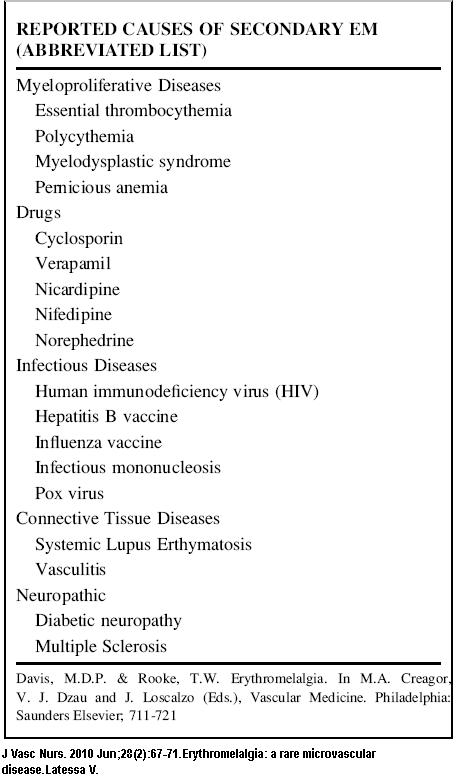 Also:
gout
Rheumatoid arthritis
musculoskeletal disease such as sciatica
mercury poisoning
Fabry's disease
certain platelet disorders like thrombotic thrombocytopenic purpura
HIV – AIDs
Differential Diagnosis
Considered more in the differential diagnosis (as per
J Vasc Nurs. 2010 Jun;28(2):67-71.Erythromelalgia: a rare microvascular disease.Latessa V.)
included:
skin infections – Cellulitis, erysipelas
skin rashes – Dermatitis
Complex Regional Pain Syndrome – though I wonder if there is not some in EM
Systemic Lupus Erythromatosis (SLE)
Raynaud's phenomenon – though the white finger/toe (s) should be a dead givaway
Peripheral neuropathy
Fabry disease
Arterial or venous insufficiency – raising the leg should give it a pallor that turns red when then put down again. Need to check the pulses..
Gout – and don't forget allopurinol can cause peripheral neuropathy – have a case of such though no EM.
I had one case who developed EM after being started on Nifedipine.  She was inconsiderable distress and it was a very scary situation. Besides stopping the drug, I started her on Prednisone 30 mg/day which mercifully remitted her condition. It makes one think it is similar to complex regional pain where steroids can be acutely used. Steroids were found helpful in an acute childhood EM situation:
Childhood steroid-responsive acute erythromelalgia with axonal neuropathy of large myelinated fibers: A dysimmune neuropathy?
Zoltan Pfund a, Jozsef Stankovics b, Tamas Decsi b, Zsolt Illes a,
Neuromuscular Disorders 19 (2009) 49–52 abstract here
They used " methylprednisolone (MP) therapy was initiated (500 mg for 5 days in infusion, then oral MP slowly tapered for 3 months)…symptoms in the feet started to subside in the next two weeks."
Triggers:
Heat – dressing too warm. hot weather
Night – especially if hot out and feet covered
Prolonged standing
exercise like brisk walking
alcohol
caffeine mentioned by one
medications – one not mentioned but could be inadvertently given could be the niacin in vitamins. It can cause a flush and I wonder if it makes things worse.
certain spices
certain fruits – particularly melon seems to be mentioned
large amounts of sugar mentioned in one article
Testing
Diagnosis is often clinical but testing would include:
If does not look good see in separate window Here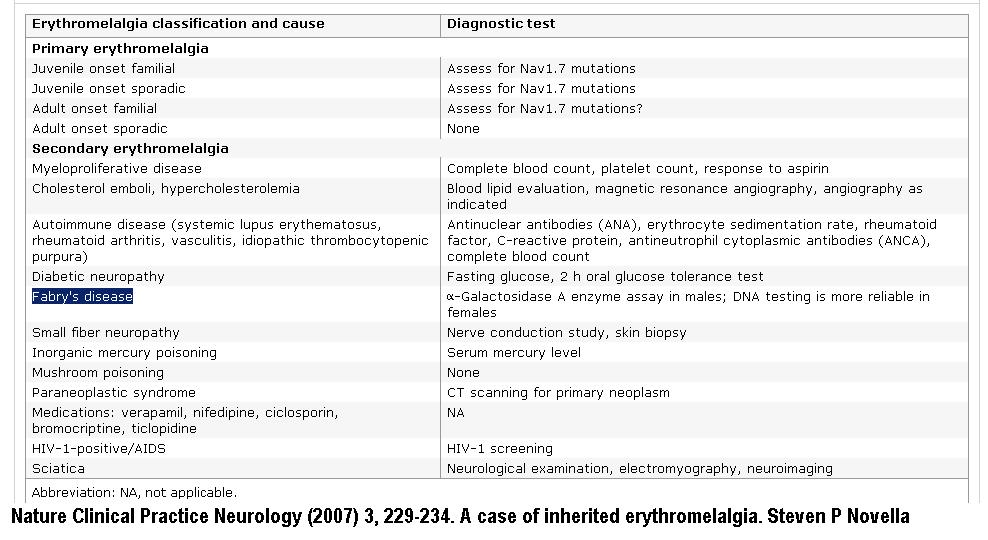 at:  http://www.nature.com/nrneurol/journal/v3/n4/full/ncpneuro0425.html
Elevated ESR and serum protein electrophoresis and be seen in 1/2 of Mayo clinic series
Watch out for increased WBC or platelet counts.
Mayo Clinic study facts
In a Mayo Clinic study (168 cases) the following associations were found:
3:1 female: male. All causacian.
Average age 55.8 ± 18.9 years;  range, 5 to 91 years. Three patients were 11 years old or young
97% had intermittent symptoms
88% feet; 25% hands
50% had a history of smoking
11.3% had a high cholesterol – I'm not sure a statin would be a wise idea in this disorder.
13.7% had hypertension – maybe avoid calcium channel blockers which cause vasodilation;  – though it is also listed as a treatment in some cases…
diabetes 2.4%
myeloproliferative disease in 8.9%
polycythemia rubra vera in 5.3% , essential thrombocythemia in 2.3% , and chronic granulocytic leukemia in 1%.
Prognosis:
"Over time, the symptoms can worsen, stay the same, improve, or resolve in approximately equal proportions." as per Mayo clinic here
3 Catagories of EM
Back in the 1990's it was suggested that there were 3 catagories of EM and each had different treatments:
BMJ. 1990 September 8; 301(6750): 454–455.
Three types of erythromelalgia.
J P Drenth and J J Michiels  free article here
associated with thrombocythaemia of platelets and a good response to aspirin or NSAID anti-inflammatory agents. – In Mayo clinic article 17.5% had excellent response to aspirin and 18.4% to NSAID's. One free ASA article:
Krishnan S, Yesudian PD, Jayaraman M, Jan. Erythromelalgia responding to aspirin. Indian J Dermatol Venereol Leprol 1996;62:204-5 article here
Primary – given this is a sodium 1.7 channel disorder, all the agents for Na channel neuropathy could help – IV lidocaine and mexiletine stand out as recent artcile notations
secondary EM – treat the underlying condition
Treatments
There is a proliferation of treatments that work in case studies, and some that are now becoming more popular:
ice water; store shoe in freezer; walk in snow barefoot
airconditioners or blow fans across their affected areas
avoid prolonged standing
Would sure what to know that patient's B12 levels were normal..
Aspirin –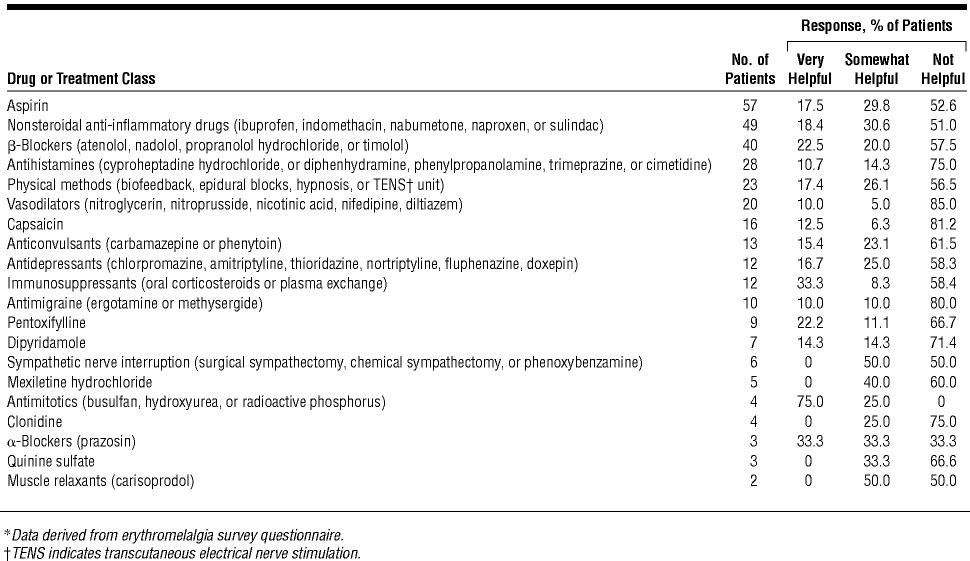 Mexiletine
A couple recent article found Mexiletine in children helpful:
Ann Saudi Med. 2009 Jul-Aug;29(4):316-8.
Experience with oral mexiletine in primary erythromelalgia in children.
Iqbal J, Bhat MI, Charoo BA, Syed WA, Sheikh MA, Bhat IN
abstract here                free article here
12 year old boy
started on mexiletine 100 tid  – increased to 200 tid (3 times a day)
relief started after 2 weeks and continued to improve up to 6 weeks
Mexiletine-responsive erythromelalgia due to a new Nav1.7 mutation showing use-dependent current fall-off
Jin-Sung Choi a,b,c, Lili Zhang d, Sulayman D. Dib-Hajj a,b,c, Chongyang Han, Lynda Tyrrell ,
Zhimiao Lin d, Xiaoliang Wang , Yong Yang,  Stephen G. Waxman
Experimental Neurology 216 (2009) 383–389
7 year old girl on Mexiletine 300 mg/day – improvement continued even after drug was stopped
In the pain world, IV lidocaine is often used prior to mexiletine-5 mg/kg given over 1 hour – a good response would suggest mexiletine might be worthwhile trying.
Comment – Although it is obvious, I would  select out another group – Those with Complex Regional Pain  symptoms. Treatments would include:
sympathetic blocks
________________________________________________________________________
Dealing with any peripheral factors – a common factor I see in many conditions. If I may digress, I would like to describe a case of "sciatica" that was left disabled
gentleman in his late 50's with several year history of medial ankle, leg, anterior thigh and buttock/back pain. Disabled and used a cane.
Finally had nerve testing done which suggested a tarsal tunnel syndrome – for which there was a concern no surgeon would be know how to treat.
I have written about it in regard to diabetics:
Surgery For Diabetic Peripheral Neuropathy – Another Option Not Available Here
Not only did he have tarsal tunnel with a tinel's sign at ankle (see above link) but he had noted he had become more flat footed in past few years and was very tender over his tibilais posterior tendon nearby. – indicating he has torn his posterior tibialis tendon – something that occurs in not infrequently in older age groups
J Bone Joint Surg Am. 1999;81:1173-82.
GREGORY C. POMEROY, R. HOWARD PIKE, TIMOTHY C. BEALS and ARTHUR MANOLI
Current Concepts Review – Acquired Flatfoot in Adults Due to Dysfunction of the Posterior Tibial Tendon  free article here
Knowing he had posterior tibialis tendonitis,I sought out the posterior tibialis muscle. About 1/3 way down the back of calf from knee and in deep in between the calf muslces can be realized a tenderness (maybe bit lower than this image in this case):

I needled the posterior tibialis muscle going anteriorly and using an acupuncture needle threaded between the tibia-fibula (safer as nerves/blood vessels anteriorly). While needling I applied pressure posteriorly on the sore area. I used a pointer plus to pulse- needle area until it was no longer tender. This took significant pain away from ankle temporarily.
Now getting to the sciatica part – he could bend forward and touch toes so I knew this had to be a more peripheral sciatic nerve entrapment and sure enough his piriformis was very tender.
I stretch massaged the piriformis muslce using a technique in which you engage the muscle either from below or above and push tangentually  It is described here:
How Should One Investigate Chronic Back Pain and What about the Back Muscles?
the procedure takes 10-20 minutes and I do knuckling back and forth over muscle over 120 times to get residual spasm released and then SI mobilize and lightly finger massage after.
There was some anterior quads tenderness but it massaged out easily
Kenalog was injected parallel to tibialis posterior tendon where still sore.
What was thought for years to be only sciatica turned out to have significant peripheral issues:

piriformis syndrome – needs 2-3 months of twice weekly stretching – assuming cannot afford Botox.
tibialis posterior triggers – can be very painful and respond amazingly to needling
Tibialis posterior tendonitis and tearing
Tarsal tunnel syndrome – anyone know a surgeon in Saskatchewan who does this?
pes planus (flat feet) – had been given an arch support blank but it was not significantly tilted "posted" – I put adhesive moleskin to post it higher medially on heel.
OK – long story – now a EM case: – Piriformis contribution:
I have mild EM that only bothers me on hot summer days ( One good reason to be in cool Canada). I had had a piriformis problem after driving a long distance with a wallet in my back pocket (boy don't do that anymore). During a hot period some years later, my EM started to bother me. One night not only were my feet hot, my right foot was painful as well, although it just seemed to be one pain. I thought about my piriformis and pressed over the area. It was tender and when I hit the right spot, I could feel the muscle vibrating under my pressing fingers. After a while the tenderness remitted, the pain in the leg disappeared and the hot feet were not particularly bothersome at all anymore – and I went to sleep.
I contend anyone with significant pain in the leg with EM will have significant peripheral elements – a piriformis, muscle leg knots that should be needled and massaged, tendonitis that may need injection, and perhaps a tarsal tunnel.  It is noted that sciatica can cause EM and steroid epidurals/ Enbrel shots would be helpful there as well.
New solution was its response to transcranial magnetic stimulation:
Int J Dermatol. 2018 Mar 10.
doi: 10.1111/ijd.13963. [Epub ahead of print]
Erythromelalgia: improvement in pain with transcranial magnetic stimulation.
Tjahjono LA et al
https://www.ncbi.nlm.nih.gov/pubmed/29524220
Would be interested in comments
addendum:
In new onset cases, triggered by drugs, trauma, infection, there is a early phase where steroid could shut it down:
I will include abstract as it is not readily available
Pain Medicine 18(3) march 2017 abstract 160
160
Erythromelalgia: A Steroid-Responsive Subset
Gabriel Pagani-Estevez, MD, paganiestevez.gabriel@mayo.edu1; Paola Sandroni, MD PhD1; Mark Davis, MD1; James Watson, MD1; (1) Mayo Clinic, Rochester
Introduction:
Erythromelalgia is a rare pain disorder characterized by the clinical triad of severe, usually distal, extremity pain, redness, and elevated temperature that is highly disabling and often treatment-refractory. Corticosteroids (CS) may benefit certain erythromelalgia patients and this study was designed to determine clinical predictors of corticosteroid-responsive erythromelalgia.
Materials and Methods: Following IRB approval, Erythromelalgia patients who received CS were retrospectively identified and stratified into corticosteroid non-responders (NR), partial-corticosteroid responders (PSR), complete-corticosteroid responders (CSR) and corticosteroid responders (SR=PSR+CSR). In the study variable analysis, a p-value less than 0.05 was considered statistically significant.
Results: The median (interquartile range) age of the 31-patient cohort was 47 (26–57) and 22 (71%) were female. Fourteen (45%) were NR, 17 (55%) SR, 8 (26%) PSR and 9 (29%) CSR. A subacute temporal profile to disease zenith (<21 days) was described in 15 (48%) patients, of whom 13 (87%) were SR (p = 0.003; OR 0.069: CI 0.011–0.431). Six (67%) CSR reported a disease precipitant (surgery, trauma, infection) (p = 0.007; OR 12.667; CI 2–80.142). SR patients received CS sooner than NR at 3 (3-12) versus 24 (17-45) months (p = 0.003). A high-dose CS trial ( > = 200 mg prednisone cumulatively) was administered to 17(55%) patients, of whom 13(76%) were SR (p = 0.012; OR 8.125;CI 1.612–40.752).
Conclusions: An infectious, traumatic, or surgical precipitant and subacute presentation may portend steroid-responsive erythromelalgia. A transient "golden window" where corticosteroid intervention is useful may exist before irreversible nociceptive remodeling and central sensitization occurs.
References:
1) Laughlin RS, Dyck PJ, Watson JC, et al. Ipsilateral inflammatory neuropathy after hip surgery. Mayo Clin Proc. 2014;89(4):454-461.
2) Davis MD, O'Fallon WM, Rogers III RS, et al. Natural history of erythromelalgia: presentation and outcome in 168 patients. Arch Dermatol. 2000;136(3):330-336.
3) Oaklander AL, Klein MM. Evidence of small-fiber polyneuropathy in unexplained, juvenile-onset, widespread pain syndromes. Pediatr. 2013;131(4):e1091-1100.