Exercise programs and biopsychosocial fear-avoidance perspectives abound but what workup should be involved prior to such processes? Despite attempts to talk about "nonspecific chronic back pain", research has demonstrated that in most many cases, a specific diagnosis can be made and hence specific treatment allotted.

Back Pain is Heterogenous (mixed etiologies) What in the world is chronic back pain? I am so sick of nonspecific back pain studies. In the 21st century it is no longer permissable to talk about "back pain" . Interventional studies have found the breakdown such for back pain:
Disc pain – ~40%
Facet pain – 20-40%
Sacroiliac pain ~ 20%
10+% ? I bet muscles
A recent german study documented how back pain should be dealt with:
Der Orthopäde 2008 (in press)
Concepts of in-patient gradual diagnostics for patients with lumbar back-pain
R. Kayser, K. Mahlfeld, C.E. Heyde
1) People with radicular pain were subjected to selective nerve root blocks to diagnose what nerve was involved.
2) People with back pain would have facet blocks (one level at a sitting and a positive one repeated three times on different days to be sure), and discograms (injections into disc to provoke pain – need a normal level done for comparison).
3) Sacroiliac injections done to R/O that concern.
4) Lumbar spinal instability – either post surgical or otherwise. These people are put in a "back immobilizer" that sounded very much like a cast for four days and the improvement in pain recorded. (See pic)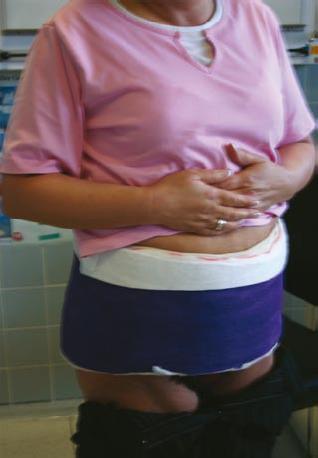 They say they have an upcoming article on its use but it's not up yet.
4) Hip injections – Interestingly, I have come across breakdowns of back pain groups which included hip problems as the final diagnosis. I have seen where someone thought they had back problems but the most pain was on hip movements. This group would do diagnostic hip injection on select cases.
5) there is a subgroup with multilevel diffuse concerns that just don't fit anywhere that they do not know how to deal with except by multidiscipinary pain clinics
What About Muscles?
I had a couple of chronic back post laminectomy cases that were not helped by Morphine. I examined them and did quadratus lumborum work and piriformis perpendicular stretch/releases. To my/their amazement they felt considerably better.
In back pain there is significant psoas, quadratus lumborum, gluteal, multifidi, iliocostalis, and piriformis components and these hurt alot!! Taking out those components first will leave the back pain much more localized.
Who's Going To Turn Out the Lights?
In back pain treatment procedure studies, l think "Didn't anybody bother turning out the lights?". Whatever treatment you are going to use, will require the muscles dealt with and I find very little attempt to do so in the literature except with botox injections. So if a treatment didn't work well – of course not – the muscles are still knotted – they will be easier to work with once you take out a component but they won't unknot themselves. This is particularly true for the piriformis which creates pernicious back pain by its ability to entrap the sciatic nerve – it's an entrapment neuropathy and once spasmed up by whatever back problem (L5, S1) will have a life of its own.
Quadratus Lumborum Disease
Quadratus Lumborum (QL) spasm/triggers – sit the patient down sideways in a chair and sit behind them. Grab the back muscles on the sides. You will find the FRONT wall of these muslces three times as tender as the back. This is the Quadratus Lumborum – it is only as thick as a pencil yet so painful I can only assume it is because some nerves must go through it. If you get your hands far enough in front lower down, you will feel the psoas muscle likely to also be very tender if the QL is tender.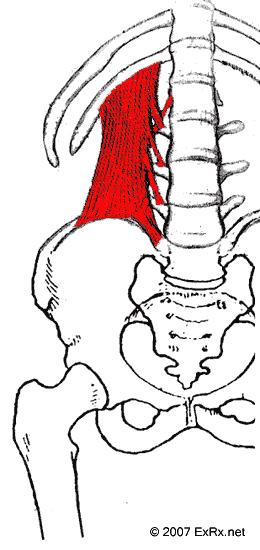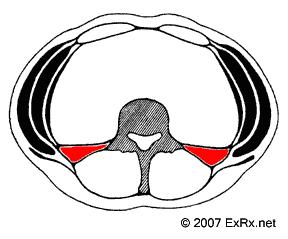 from: www.exrx.net/Muscles/QuadratusLumborum.html
I needle, inject, stretch, hand stretch, and massage (and Botox it). Surprisingly, just running your knuckles back and forth over it can eventually release it if it not too far gone. Then re-knuckle it while the patient is twisted to do the deeper portions of it. It takes me 10- 15 minutes to do. How much does the Saskatchewan Governement pay for that? $1.80 plus the visit fee. Massage therapists are making more than I am…
4/5 people that have a Quadratus lumborum seem to have gluteal-piriformis complex – I call it that because the muscles overtop the piriformis are often locally in spasm as well. These patients do not feel much better unless you do both QL and piriformis – How to do a piriformis? Best article I ever came across was:
Piriformis Syndrome: Diagnosis, Treatment, and Outcome—a 10-Year Study
Loren M. Fishman, MD, George W. Dombi, PhD, Christopher Michaelsen, MD, Stephen Ringel, MD,
Jacob Rozbruch, MD, Bernard Rosner, PhD, Cheryl Weber, MD
Arch Phys Med Rehabil Vol 83, March 2002 Pages 295-301
(pic from http://www.mydr.com.au/content/images/categories/Anatom/Piriformis.gifTheir) treatment protocol is:
__________________________________________________________________________________________
Table 1: Physical Therapy Protocol for PatientsWith Piriformis Syndrome*
Place patient in contralateral decubitus and FAIR position.†
1. Ultrasound 2.0 to 2.5W/cm2 applied in broad strokes longitudinallyalong the piriformis muscle from the conjoint tendon to the lateral edge of the greater sciatic foramen for 10 to 14 minutes.?
2. Wipe off ultrasound gel.‡
3. Hot packs or cold spray to the same location for 10 minutes.
4. Stretch the piriformis muscle for 10 to 14 minutes by applying manual pressure to the muscle's inferior border, being careful not to press downward, rather directing pressure tangentially toward the ipsilateral shoulder.§
5. Myofascial release at lumbosacral paraspinal muscles.
6. McKenzie exercises.
7. Use lumbosacral corset when treating patient in the FAIR position.#
Duration: 2 to 3 times weekly for 1 to 3 months.
* Patients usually require 2 to 3 months of biweekly therapy for 60%to 70% improvement.
† Because it is painful, patients often subtly shift to prone. This must be avoided because it places the affected leg in abduction, not adduction, greatly reducing the stretch placed on the piriformis
muscle.
‡ Cavitation is unreported in more than 20,000 treatments.
§ Unless explicitly stated, therapists may tend to knead or massage the muscle, which is useless or worse. The muscle must be stretched perpendicular to its fibers, in a plane that is tangent to the buttock at
the point of intersection of the piriformis muscle and the sciatic nerve, but approximately1 to 1.5-in deep to the buttock (ie, just below the gluteus maximus).
# It is particularly important to avoid inducing lumbar hypermobility in patients with histories of laminectomy, fusion, or spondylolisthesis.
_____________________________________________________________________________________________
I skip to #4 but do the perpendicular stretch for 10-15 minutes.
If it looks too tough, I needle it vs ultrasounding it.
Once you have stretched enough, you actually can knuckle it without causing the damage they say.
What I do less in the procedures, I do more by finishing of at times by rectal massage to get the deep portions relaxed – its amazing how much outside treatment still misses the deep portions.
You will occasionally find a posterior anal fissure which will explain the piriformis spasm – had one lady recently with gluteal pains for ten years – turned out she had an anal fissure that would come and go and I suspect perpetuate her piriformis spasms.
They did use steroid injections but found "Patients generally feel immediate relief. Unfortunately, without physical therapy, the pain returns, at least partially, within a few weeks."
Take note of the time schedule – "Duration: 2 to 3 times weekly for 1 to 3 months.- Patients usually require 2 to 3 months of biweekly therapy for 60%to 70% improvement." Patients need to be aware that this is going to take time and if a back disc/facet is contributing to the piriformis spasms might not go away until that is dealt with. This inject/needle/botox craze does not give the perspective of just how much work has to be involved in getting that muscle better – I asked a physiotherapist to do this protocol for me – she said she didn't have the strength to do it. I would agree but I found two Thumbsaver on index and middle finger give me the power I need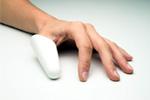 Psoas muscle and cluneal nerve entrapments are a whole talk in themselves.
I would be interested in other approaches and successes nike air max nike air max