With Both neuropathic level pains, and paresthesias common in Fibromyalgia; the idea Fibromyalgia is a small fiber neuropathy, was presented in 2010. Now an extremely thorough followup was presented again confirming this issue. They found a a "pathological process involving C-fibres" – abnormal function and fiber loss. They felt this affected skin tissues and joints as well. They concluded that  a proportion of FM was a neuropathy and, in their case subjects, not driven by depression.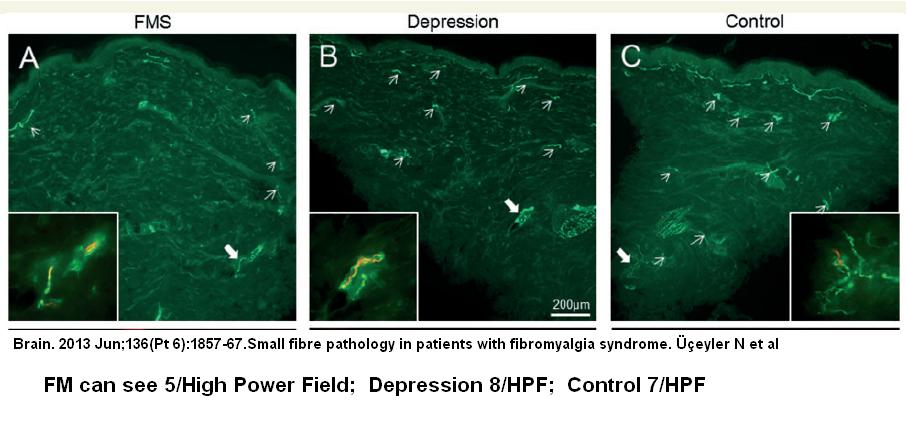 Brain. 2013 Jun;136(Pt 6):1857-67.
Small fibre pathology in patients with fibromyalgia syndrome.
Üçeyler N, Zeller D, Kahn AK, Kewenig S, Kittel-Schneider S, Schmid A, Casanova-Molla J, Reiners K, Sommer C.
http://www.ncbi.nlm.nih.gov/pubmed/23474848
Earlier a poster presentation at Montreal IASP congress was presented- discussed here:
Is Fibromyalgia(FM) a Small Fiber Neuropathy?
http://painmuse.org/?p=810
Features:
Strong evidence for presence of nerve pain in response to Neuropathic pain scale.
It rates various pain descriptors on a scale of  0-10
factors that are most significant were delineated in a study comparing it to osteoarthritis:
Quality:
Burning pain
Squeezing pain
Presence of paresthesias was also very important:
pins and needles
tingling
Features less important included;
Evoked pains  – evoked by brushing, pressure, cold
momentary pains – stabbing, electric shocks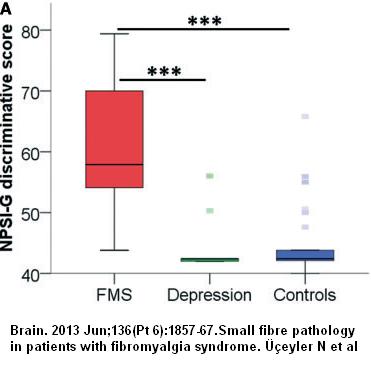 Sensitive Electrodiagnostics abnormal – particularly in feet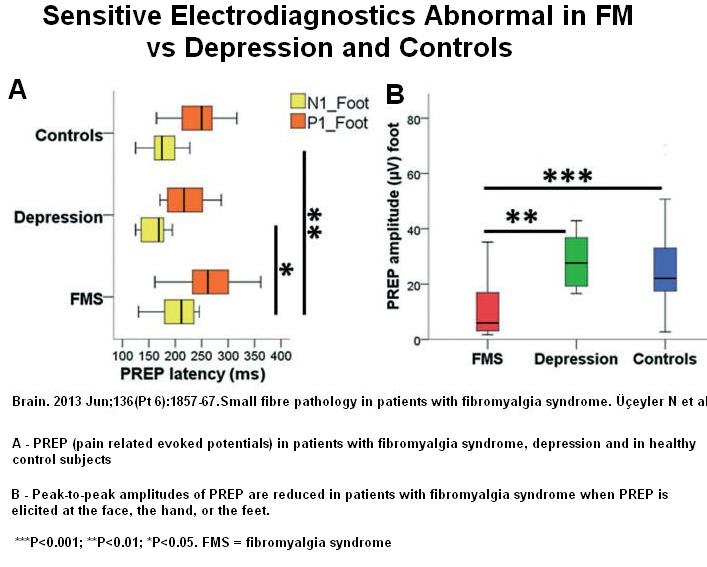 Nerve fiber density reduced in FM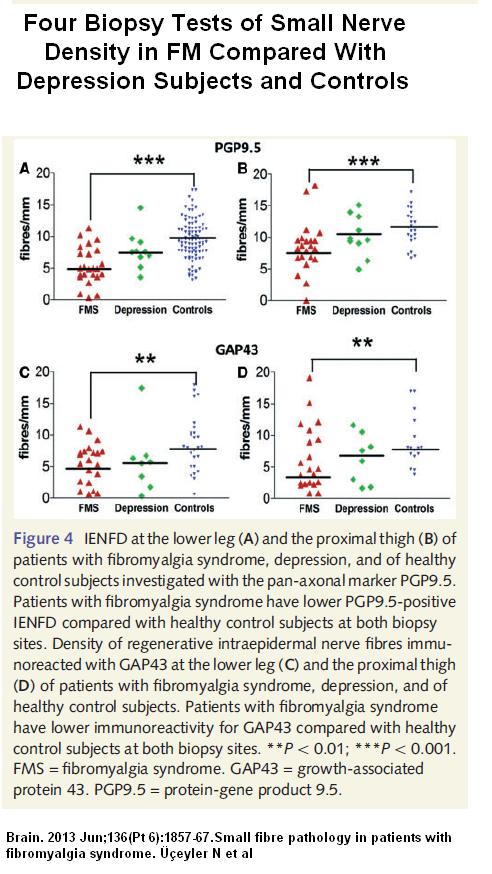 Other skin abnormalities have been found in FM:
Mast cell counts in skin – 5-15 mast cells per high powered field vs 0-1 in "normal" people – that is 5 -15 times the number of cells in the skin.
Clin Rheumatol. 2010 Dec;29(12):1403-12.
Abnormal overexpression of mastocytes in skin biopsies of fibromyalgia patients.
Blanco I, Béritze N, Argüelles M, Cárcaba V, Fernández F, Janciauskiene S, Oikonomopoulou K, de Serres FJ, Fernández-Bustillo E, Hollenberg MD.
http://www.ncbi.nlm.nih.gov/pubmed/20428906
Pain Med. 2013 Jun;14(6):895-915.
Excessive peptidergic sensory innervation of cutaneous arteriole-venule shunts(AVS) in the palmar glabrous skin of fibromyalgia patients: implications for widespread deep tissue pain and fatigue.
Albrecht PJ, Hou Q, Argoff CE, Storey JR, Wymer JP, Rice FL.
http://www.ncbi.nlm.nih.gov/pubmed/23691965
There are good reasons to feel the nerves are involved:
One study documented that 76% of their FM cases complained of "paresthesias" – numb funny feelings:
A subset of fibromyalgia patients have findings suggestive of chronic inflammatory demyelinating polyneuropathy and appear to respond to IVIg
X. J. Caro, E. F. Winter and A. J. Dumas
Rheumatology 2008;47;208–211  http://rheumatology.oxfordjournals.org/content/47/2/208.full.pdf
About 50% of FM vicitims have neuropathic level of pain:
Medina, Miriam, and Arnulfo Nava.
"Use of the Leeds assessment of neuropathic symptoms and signs questionnaire in patients with fibromyalgia."
Seminars in arthritis and rheumatism, vol. 32, no. 6, pp. 407-411. WB Saunders, 2003.
http://www.sciencedirect.com/science/article/pii/S0049017203000039
FM subjects have been found to respond to drugs used in Diabetic Neuropathy (gabapention, lyrica)
Restless legs can be common in FM and are, in some cases, a small fiber neuropathy:Subclinical sensory neuropathy in late-onset restless legs syndrome
M Polydefkis, RP Allen, P Hauer, CJ Earley, JW
Neurology 2000;55:1115-1121  http://www.neurology.org/content/55/8/1115.short
Comments:
Obviously small fiber neuropathy will be involved in a subgroup of FM – but probably in those in more pain and more disabled.
Nerve counts can apparently be done by any lab. However, when elevated skin mast cell counts were found in FM, I asked a local pathologist whether they would do them and he seemed quite put out. I suspect you will have to send them out. A  company with a reputation for doing them is Therapath.com
http://www.therapath.com/Overview.php
In their site they give a good DD of small fiber neuropathy which I have included should they take it down:

In its extreme form, there is a subgroup that is defined as chronic demyelinating peripheral neuropathy which is treated with immunoglobulin infusions,plasmaphoresis,  pulse steroids, and potentially immunosuppressive agents.
A subset of fibromyalgia patients have findings suggestive of chronic inflammatory demyelinating polyneuropathy and appear to respond to IVIg
X. J. Caro, E. F. Winter and A. J. Dumas
Rheumatology 2008;47;208–211  http://rheumatology.oxfordjournals.org/content/47/2/208.full.pdf
When Melzack et al tested the McGill pain questionnaire, they found fibromyalgia to have one of the severest levels of pain. Part is from the small fiber neuropathy, part from comorbid depression, and part from the victimization they suffer from having a disease that could not be validated.  Hopefully this will change. In children an recent in depth study found the all had neuropathy – with involvement of the cardiovascular system as well(postural hypotension syndrome too). One test they did on kids was to cover them with a dye which would turn color in areas they could sweat in. By putting them in a sweating situation, they could easily see the areas no longer populated by many nerves as they did not turn color. Read more here:
Fibromyalgia- Like Pains in Children Often a Treatable Small Fiber Neuropathy
http://painmuse.org/?p=2442