Repeated peroneal nerve blocks can remarkably control sciatica leg pains in most cases and avoid the necessity of surgery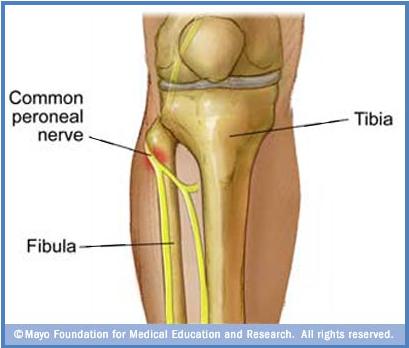 .
It has been known for some time that peroneal block can also block sciatica: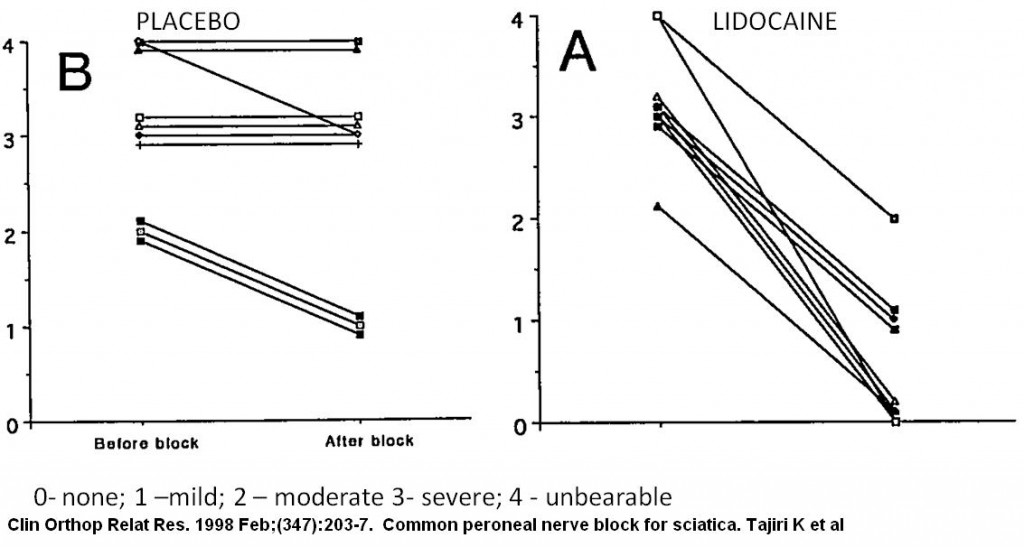 It's application required weekly use and this was accomplished in a large study published in an obscure journal and ignored by fact journal is not accessible ( I had to buy a copy of the article).
Prolapsed intervertebral disc with sciatica: the role of common peroneal nerve block
S S Sangwan, MS DNB, Rajeev Mittal, MS, Z S Kundu, MS DNB, R C Siwach, MS DNB, Soneet Aggarwal, MS and R K Garg, MS
Trop Doct 1 July 2005 vol. 35 no. 3 172-174  abstract here
 Procedure:
One technique is quite simple – go 2 – 2.5 cm below fibular head, go straight down 1 cm through skin onto fibula, wait for paresthesias and inject 5 mls local.
I grip fibula, go down 2-2.5 cm from fibular joint,  inject transversely from side,  5 mls of 2% lidocaine.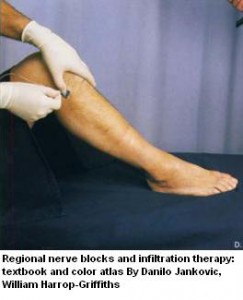 210 cases of L5 or S1 Radiculitis
35/210 needed 2 blocks to show effect
Pain decreased from 2.99/4 to 0.91/4 – painkiller use was down by 2nd week
 Straight leg raising went from average 32 degrees before to 60 degrees after
They felt: "A large number of cases, which would otherwise need surgery, could be easily managed by the use of a simple common peroneal nerve block"
Comment –  have used it and found it surprisingly helpful where lower leg pain was involved. In sciatica, this leg pain came be very intense and this can relieve it for 3-7 days – whereapon one re-injects. Got to admit this is a lot cheaper then enbrel shots for sciatic pain. I am not sure this would work for cases where pain just referred to buttock.