Our medical college has taken upon themselves the task of antagonizing doctors to point many clinic will no longer even prescribe opioids. They called their program "educational" but demanded doctors respond to them is 2 weeks or else face discipline. No where else in Canada is it that short – BC has 2 "working" weeks which ends up 3 weeks. Some 20 years ago I went to see The then Registrar, Dr. Kendel, and told him 2 weeks was too short but he seemed more concerned that doctors did not take the letter seriously. I got in trouble over that and retired over it.
Shortly before I retired, I was late in response to a letter and Dr. Oberhozer decided I needed disciplinary review if I did not retire. I felt he was just a bully and I could not get him to elicit any compassion for pain patients – to the point I had to ask him if he really was a certified doctor. Being late was bunk as he had given me a 2 week extension. He seemed more concerned that I ridiculed  program by finding opioid death rates are not going down because of it.  I was going to volunteer to potentially work with the pain clinic or do pain research but did not like the effect this bullying had on my wife so retired.
5 years ago a cancer patient went to his doctor in Regina with pain and was told their clinic did not prescribe opioids. He went home, put a gun in his mouth, and that was that. Near the bottom is a case where the mother would go home and cry herself to sleep,  while her young children listened,because she is not get adequate care.  I wonder if this is happening all over again now that I am no longer there.
Not only are doctors not prescribing opioids, they seem to be less attune to chronic pain treatments. I think that is directly related to not being active in pain treatments with opioids. The most striking being treatment for complex regional pain and lack of knowledge to use prednisone/cortisone early and shingles – use of injections early or after the fact. Each of these situations involves someone who suicided in the province from what I would consider neglect.
Below is a letter to the College I wrote in response to their "educational" inquiry that has educational value as well.
"Given that ketamine use is so unusual, I felt it necessary to include the following:
1) Patient history with intolerance or lack of efficacy of alternative treatments including Dr. Lang's pain clinic reports
2) Disabling pain which put him in a palliative care position
3) How failure to treat disabling pain leads some to suicide.
4) How most medication fair poorly in the treatment of spinal pain
5) How opioids fair poorly in treatment of pain
6) How chronic depression is serious and difficult condition in chronic pain
7) How Ketamine quickly helps relieve pain and depression in significant numbers of people with chronic pain. How one Saskatoon Psychiatrist is already using it and making money while I am losing money in my protocol.
8) How my landmark study demonstrated that ketamine can be safely used repeatedly to control pain and depression and give some people with chronic pain their lives back.
9) Seeing as you claim to be educational, perhaps you can help me over what I see could actually make a difference in the pain crisis. I have various questions.
10)How disappointed I am with an opioid monitoring program that might be actually increasing opioid death rates.
11) How I want some answers to why it was necessary to write me
Patient
The gentleman is an old retired farmer with multiple failed neck operations and failed facet rhizotomies. He has fusions from C3-7..  He is often in severe pain but localized to neck and not shooting like neuropathic. I have found that Dr. Zwai has found he can not help him and that he subsists with pain at 9.5/10. He is a retired  farmer; stoical and even and not prone to exaggerate. He has a helpful wife.
He is an expert on hypnosis and biofeedback that I taught him and has learnt meditation from the meditation evenings I sponsored fee at my clinic using a free Lama led instructor. He has not responded to steroid epidurals and is being followed by a neurosurgeon that has not been a been to help him.  He is certainly low on my opioid risk assessment.
Facet rhizotomy especially in c2/3 is associated with a 19%  incidence of neuropathic pain so I wonder if that is part of problem:
Gazelka HM, Knievel S, Mauck WD, Moeschler SM, Pingree MJ, Rho RH, Lamer TJ. Incidence of neuropathic pain after radiofrequency denervation of the third occipital nerve. J Pain Res. 2014 Apr 10;7:195-8.
https://www.ncbi.nlm.nih.gov/pmc/articles/PMC3986282/
His pain is so severe I wondered re metastasis or Complex regional pain syndrome (CRPS). I have ordered a bone scan but they are as slow at doing it which explains my slowness at sending you a letter.
addendum – bone scan report was now available and was normal.
The gentleman had been seen 8 times by pain anesthetist,  Dr. Lang, between 2012 and 2014.  Last thing Dr. Lang tried was Cymbalta. I have included his  letters.
He has been tried on multiple medications without benefit. He finds he cannot tolerate opioids.
He reacted to lyrica, could not tolerate topirimate, lamotigine made him itchy, zanaflex made him fall down, tramadol gave him seizure like activity.
He found little help from marijuana though I'd like him to try again
The gentleman's inability  to tolerate opioids makes methadone unlikely and Dr. Zwai felt and opioid pump just as unlikely.
Necessarity of Ketamine
The gentlemanwas told by Dr. Zwai that nothing could be done for him. I started my pain blog about 10 years ago after hearing that a Moose Jaw man, with 2 children,  committed suicide after being told on west coast that nothing could be done for his pain. !0 years ago there was a lady in south east Saskatchewan that committed suicide because she was told there was nothing that could be done for her post herpetic neuralgia. This is far from true.
Last year, Allan Landrie took an overdose of painkillers at outpatient Royal university hospital  because "just can't take the pain anymore".
Lack of Evidence of Agents in Spinal Pain
The Canadian Pain Society gives a hierarchy of meds to be used in chronic pain including antidepressants, gabapentinoids, opioids, and marijuana. None of them may work well.
Antidepressants:
older ones  – A metanalysis of studies concluded the benefits were "small"
Salerno, Stephen M., Robert Browning, and Jeffrey L. Jackson. "The effect of antidepressant treatment on chronic back pain: a meta-analysis." Archives of Internal Medicine 162.1 (2002): 19-24.
"In conclusion, adjunct antidepressant therapy at doses therapeutic for depression is associated with a small but significant reduction in the severity of chronic back pain but not improvement in activities of daily living."
Cymbalta in spinal pain is not clinically relevant: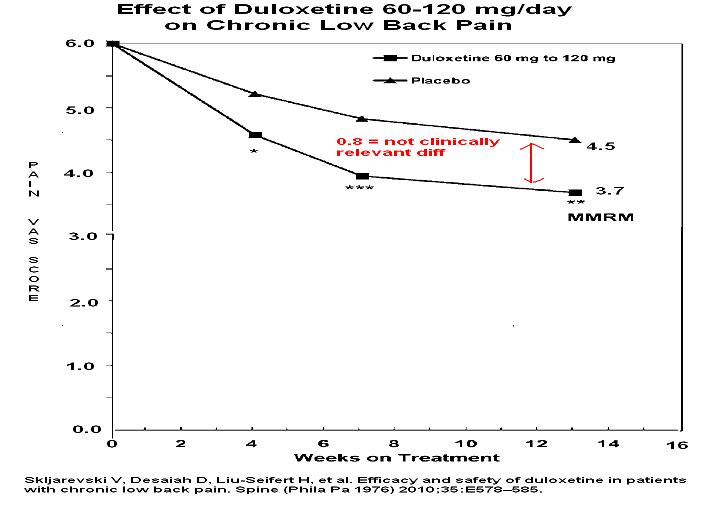 Gabapentin: – Gabapentin has not been shown helpful in spinal pain:
Atkinson JH, Slater MA, Capparelli EV, et al.
A randomized controlled trial of gabapentin for chronic low back pain with and without a radiating component.
Pain. 2016 Jul;157(7):1499-1507.
http://europepmc.org/abstract/med/26963844
108 cases; 46 radiating and 62 non-radiating
"There was no significant correlation between gabapentin plasma concentration and pain intensity. Gabapentin appears to be ineffective for analgesia in chronic low back pain with or without a radiating component."
Pregabalin – Pregabalin has the same problem with only a 0.9/10 reduction in VAS pain over 12 weeks.
Flórez‐García, Mariano, et al. "Effect of pregabalin in the treatment of refractory neck pain: cost and clinical evidence from medical practice in orthopedic surgery and rehabilitation clinics." Pain Practice 11.4 (2011): 369-380.
They were only able to show benefit by excluding 354/667 (53%) drop outs. My daughter, a statistician who review article for medical publication, quotes literature that suggests anything over 20-40% is excessive and not really publishable.
Pregabalins use in cervical radiculaopathy is not much better than cymbalta: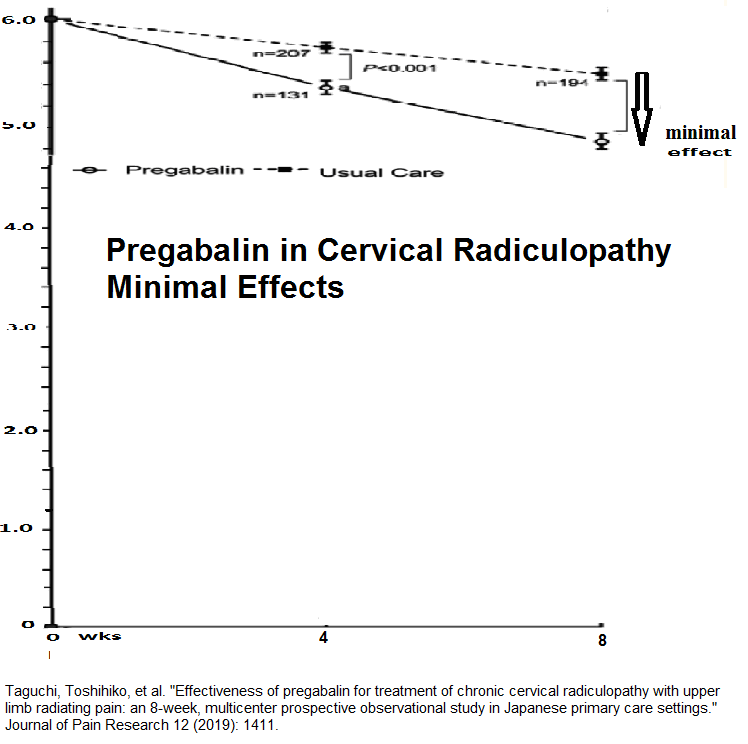 Also any effectiveness of pregabalin can dissipate after 4 weeks:
Jung, Jong-myung, et al. "Comparison of the use of opioids only and pregabalin add-on for the treatment of neuropathic pain in cervical myelopathy patients: a pilot trial." Scientific Reports 10.1 (2020): 1-8.
"The LANSS, neck pain, and arm pain scores in the pregabalin add-on group improved significantly compared with those in the opioid-only group after the first 4 weeks (p = 0.005, 0.001 and 0.035, respectively), but there was no significant difference between the two groups during the next 4 weeks. [or at 8 weeks]"
There was little evidence it works in sciatica as well:
Baron, Ralf, et al. "The efficacy and safety of pregabalin in the treatment of neuropathic pain associated with chronic lumbosacral radiculopathy." Pain 150.3 (2010): 420-427.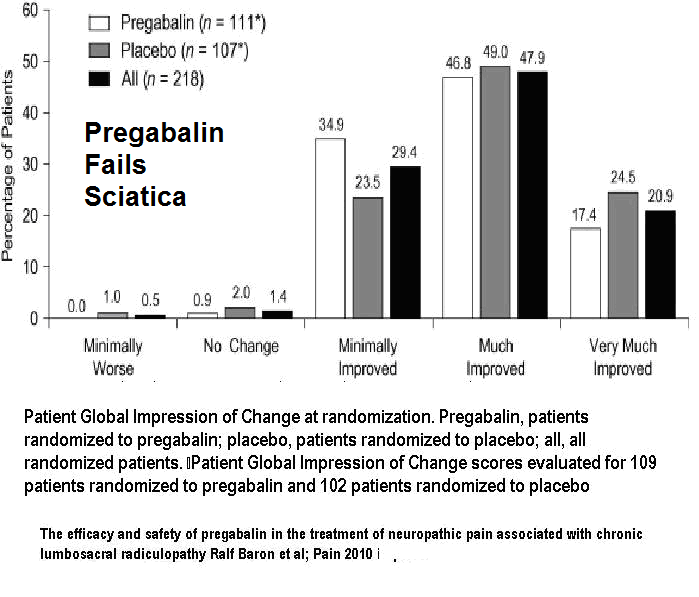 Opioids: –
Opioids are not really very helpful.
Dennis Turks, Seattle pain physician and pain author, reported ""up to 50%  of patients discontinue opioid therapy because of a lack of efficacy or because of side effects". One poster presentation made it clear:
LONGITUDINAL STUDY OF NEW NON-CANCER USERS OF PRESCRIBED STRONG OPIOIDS
K. Svendsen1,2, A. Moroz1, O. M. Fredheim2,3, S. Skurtveit4,5, P. C. Borchgrevink1,2
IASP Poster DM 045 Montreal 2010
Only 1/2 will initially tolerate or find it effective
Only 1/4 of planned opioid users will be taking it 3 years later.
If my math is right, that leaves only 1/8 of sufferers on opioids. If one is really optimistic and assumes 1/2 of people got better, this still leaves only 1/4 chronic pain sufferers on opioids
A meta-analysis presented by Dr. Moulin at the Canadian Pain Society found that opioids, if you take out placebo effect, only on average reduce pain by 1/10. This is confirmed by RxFiles
Cannabinoids:
Cannaboids have had a mixed reaction. One metanalysis found it worked poorly:
Stockings E, Campbell G, Hall WD, Nielsen S, Zagic D, Rahman R, Murnion B, Farrell M, Weier M, Degenhardt L. Cannabis and cannabinoids for the treatment of people with chronic noncancer pain conditions: a systematic review and meta-analysis of controlled and observational studies. Pain. 2018 Oct;159(10):1932-1954
Evidence for effectiveness of cannabinoids in CNCP (chronic non-cancer pain) is limited. "Effects suggest that number needed to treat to benefit is high, and number needed to treat to harm is low, with limited impact on other domains. It seems unlikely that cannabinoids are highly effective medicines for CNCP."
In response to that article was published the following analysis:
Goel A. Review: In chronic noncancer pain, cannabinoids reduce pain (NNT 24) but increase adverse events (NNH 6). Ann Intern Med. 2018 Dec 18;169(12):JC62
Campbell, Gabrielle, et al. "Effect of cannabis use in people with chronic non-cancer pain prescribed opioids: findings from a 4-year prospective cohort study." The Lancet Public Health 3.7 (2018): e341-e350.
"Interpretation
Cannabis use was common in people with chronic non-cancer pain who had been prescribed opioids, but we found no evidence that cannabis use improved patient outcomes. People who used cannabis had greater pain and lower self-efficacy in managing pain, and there was no evidence that cannabis use reduced pain severity or interference or exerted an opioid-sparing effect. As cannabis use for medicinal purposes increases globally, it is important that large well designed clinical trials, which include people with complex comorbidities, are conducted to determine the efficacy of cannabis for chronic non-cancer pain."
To be fair, uncontrolled trials did find benefit of cannabinoids in some pains:
Ueberall MA, Essner U, Mueller-Schwefe GH. Effectiveness and tolerability of THC:CBD oromucosal spray as add-on measure in patients with severe chronic pain: analysis of 12-week open-label real-world data provided by the German Pain e-Registry. J Pain Res. 2019 May 20;12:1577-1604
improvement was significantly superior in the neuropathic pain subgroup (n=497, 62.1%) vs those with mixed (n=249, 31.1%; ASR-9: 18.2±12.0, median: 19, range: -12 to 42%) or nociceptive pain (n=54, 6.8%; ASR-9: -11.9±10.5, median: -11, range: -41% to 12%; p<0.001 for each).
J Pain. 2019 Jan;20(1):1-15..Combination Drug Therapy for the Management of Low Back Pain and Sciatica: Systematic Review and Meta-Analysis. Mathieson S et al
https://www.ncbi.nlm.nih.gov/pubmed/30585164
This gentleman does not have any radiculopathy and hence would be more in nociceptive range where marijuana is less likely to work.
Conclusion re drugs for spinal pain:
In conclusion not much works in spinal pains and this has been concluded in a recent meta-analysis
J Pain. 2019 Jan;20(1):1-15..Combination Drug Therapy for the Management of Low Back Pain and Sciatica: Systematic Review and Meta-Analysis. Mathieson S et al
https://www.ncbi.nlm.nih.gov/pubmed/30585164
"Most combinations had no or small effect on pain and disability"
Worse , is in sciatica where
Pain 132 (Dec. 2007) 237–251
Review and recommendations Pharmacologic management of neuropathic pain: Evidence-based recommendations
Robert H. Dworkin et al
https://www.ncbi.nlm.nih.gov/pubmed/17920770?dopt=Abstract
"To date, no medications have demonstrated efficacy in lumbosacral radiculopathy, which is probably the most common type of NP(neuropathic pain)."
Need For Effective Pain Anti-Depressant
There is a high incidence of psychiatric mood issues in chronic pain (45% versus 12% in non-users of opioids)
Psychatric disorder rate high among regular opioid users  M. Tucker. Pain Medicine; June 2001,. 63.
and they don't necessarily respond to antidepressants.
Ketamine has been found to have strong antidepressant effects and is now being used recently by a Saskatoon psychiatrist – see printout. This subject has had depression issues in past and I would suspect without ketamine he would be suicidal by now.
Ketamine Program
What is needed is an agent that helps pain and also has anti-depressant effects – that is ketamine – its painkilling and antidepressant effect kick in within 15 minutes of use.
I became interested in Ketamine in pain with a simple study finding children with CRPS were better after a simple once weekly subcut injection:
IASP Poster Presentation Number: PH 412; Montreal 2010
KETAMINE FOR REFRACTORY CRPS: A CASE SERIES REPORT
F. B. Fukushima1, V. S. Lima1, E. I. Vidal2, M. Borges3, G. A. Barros1
4 cases several years refractory CRPS , moderate – severe pain (6 – 7.5/10)
weekly ambulatory administration of 10 mg subcutaneous ketamine
"after the first week of treatment, with VAS scores dropping from 6-7.5/10 to 2-3/10. Interestingly, significant reductions ranging from 50% to 80% in the size of the allodynic area were also exhibited by all patients"
"improvements regarding the intensity of pain and decrease in size of the allodynic region was sustained for a period of 2 to 4 weeks after discontinuation of the treatment with subcutaneous ketamine."
No mention of any side effects
Then I came across a study from Texas showing that you could simulate Iv ketamine infusions by giving IM deltoid injections every 10-15 minutes and get dramatic reductions in pain with three times injections given at intervals.
The results were excellent but did not check long term: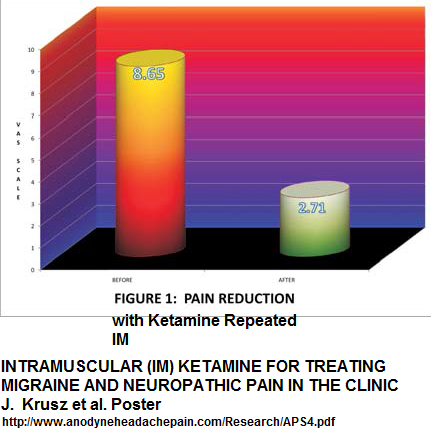 I did a study with my statistician daughter on patients living with unrelenting pain of 7/10 or more which I presented as a poster at the Canadian Pain Society and hence peer reviewed . I also bring it up at CPS meetings repeatedly in regard to CRPS as it is helpful (though there was no meeting this year).  It involves the use of small doses of ketamine given at 15 minute intervals. I only use 15-30 mg which is above 1/2 of above study. Though the sedative effects often wear off in a few weeks, there is no development of tolerance. It can drop pain in responders ( about 2/3 of cases in IV studies) by 2-3/10 for 2-3 unless it is very severe
It is available online at my website painmuse.org
I enclosed a copy and it includes the letter from a child I sent you earlier as it was part of my poster presentation.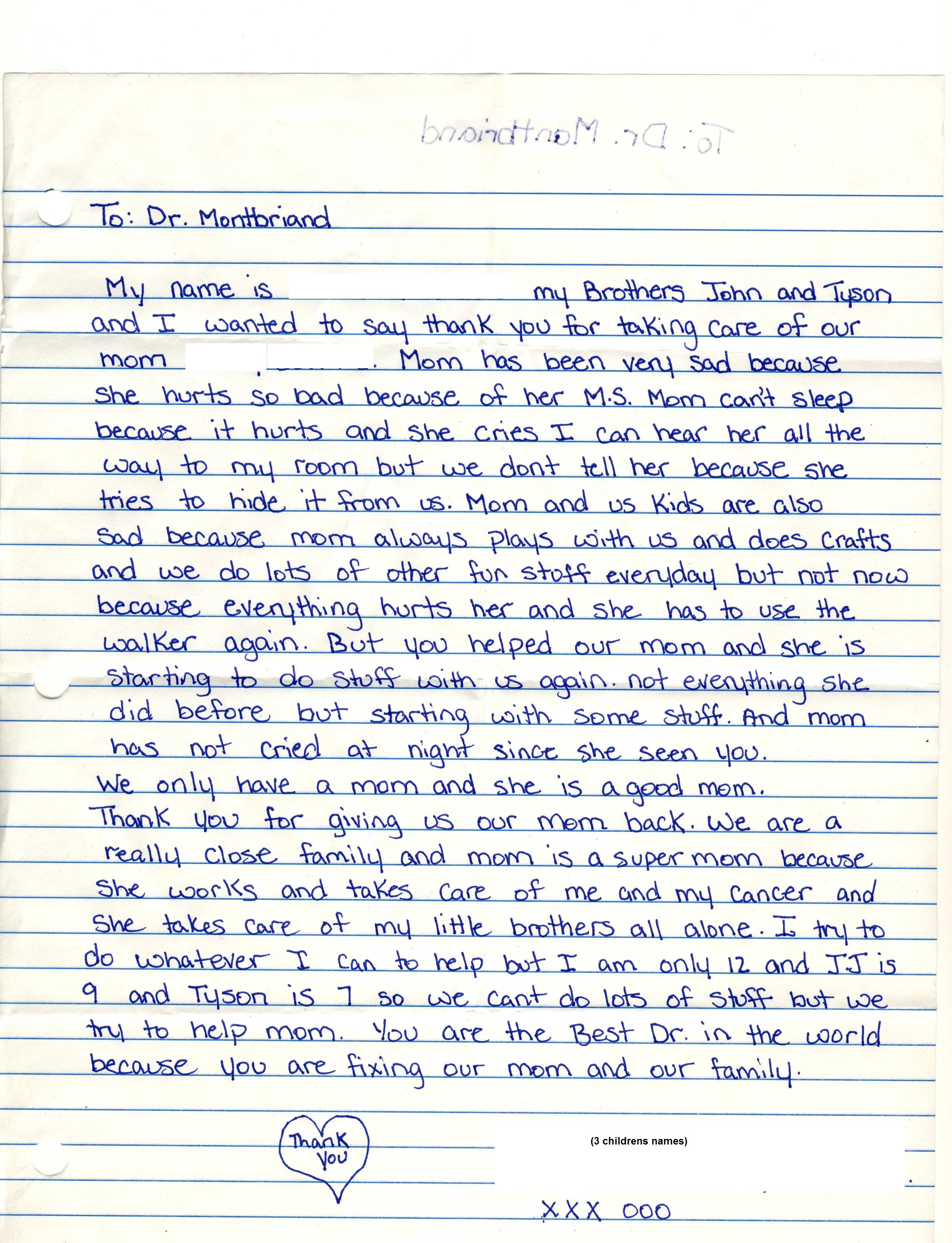 Instead of being lauded for my efforts I get letters from you.
Hence ketamine is being used as essentially a palliative care measure and it does not involve tolerance to medication and has a strong anti-depressant effect.
Questions for You
I do have some questions given this is an educational situation:
1) I am do to retire in 6 months. Given that there is no radiculopathy, Dr. Lang did not have any suggestions. My area of interest is myofascial pain and there are no triggers to inject. He is not on opioids. Occipital nerves were some tender but injections did not help. So who will take care of him after me? Send me an informational list of pain physicians.  I do not much care for opioid/marijuana doctors because they exude more of the feeling that that is all that can be done. Just so you know, I have sent people to the new "pain clinic" before it was opened and was told at time the wait was 5-6 months. Now I imagine it will increase so not so much help there.
2) I am trying to get him to tolerate opioids with small doses of liquid morphine. If he tolerates it some who can I send him to try methadone besides palliative care?  Send me a list. I did not want to be involved in Methadone as the College has already attacked two such physicians.
3)  The only real pain combination that appears to satisfactorily work is a combination of Buprenophine and pregabalin:
Pota, Vincenzo, et al.
Combination therapy with transdermal buprenorphine and pregabalin for chronic low back pain.
Pain management 2.1 (2012): 23-31.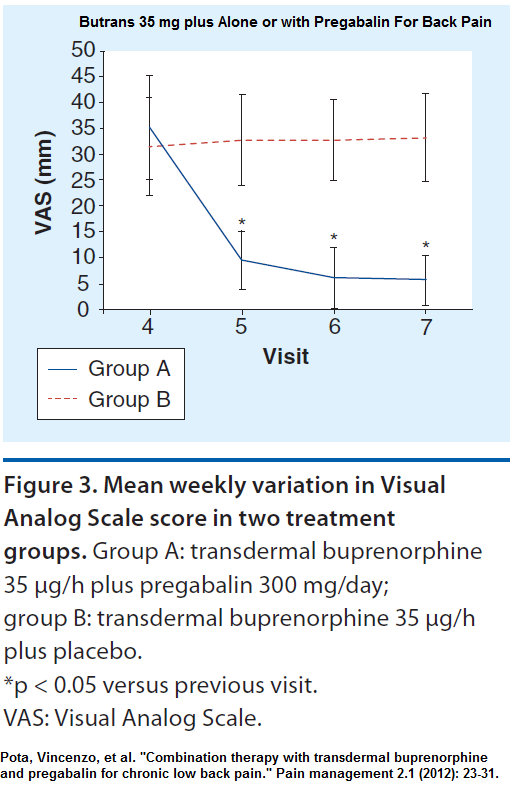 Could you find out if  the College prepared to help me get the drug plan to help with coverage for butrans Buprenophine patches or  oral Suboxone for those that cannot tolerate patches? Please check with them.
3) Should he be able to benefit marijuana, does your educational acumen include any service clubs etc. that will cover the cost for it?
4)  IV pamidronate as mentioned above might help.
I also wanted to try IV pamidronate as it is helpful in low back pain and CRPS: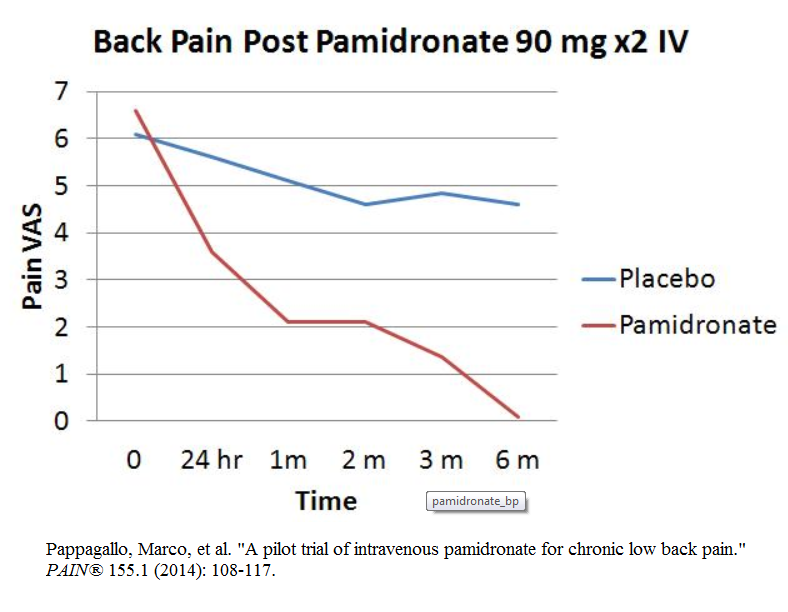 However the IV clinic is not functioning during covid time. This gentleman has end stage COPD and cannot go to emergency where there could be COVID
I could maybe do it at the office but it takes 4 hours. Could the College ask medical care to cover for the 4 hours?
It is especially useful in MRI imaging that shows Modic changes as it has been suggested this might respond well:
Cecchetti, Stella, Bruno Pereira, Antoine Roche, Christophe Deschaumes, Dihya Abdi, Emmanuel Coudeyre, Jean-Jacques Dubost et al. "Efficacy and safety of pamidronate in Modic type 1 changes: study protocol for a prospective randomized controlled clinical trial." (2014).
https://d-nb.info/1099147611/34
Could you ask the College to hence expedite use of MRI's by All physicians? Could you send me a letter confirming pamidronate  might be a good idea to  help expedite it with the drug plan?  Quite some years back I sent a letter with references asking them to cover botulinum for pelvic pain. I got as cursory no (i.e. if not covered by Food and Drug FDA then no)
5)  A pain pump could be helpful. Could you explain how I could expedite it? ( just so you know, neurosurgeons will not phone  GP's back so saying get in touch is useless). Unless it is an easy disc herniation, letters often go in the round file.
6)  a possible treatment for chronic severe pain is HCG -Human Chorionic Gonadotrophin. An endocrinologist turned pain physician has presented talks and two poster presentations that I attended  at Painweek in Las Vegas. He has several pain websites:
Long-Term Safety and Efficacy of Human Chorionic Gonadotrophin (HCG) For Centralized Intractable Pain
Forest Tennent
Pain week Poster Las Vegas 2013 plus associated presentation
26 cases of those that persisted on taking the med
centralized intractable patients with unremitting pains
dose – HCG 250-750 units sublingually or 1000 units injections 2-3 times/wk.
all had some pain free hours, permanent reduction in pain, and 30-100% reduction in opioid use.
all noted increased energy or endurance
side effects – 2/26 got some headaches and one noticed hair loss
As I am desperate. I am trying it on him but it is too early to report anything. Again another reason I have been waiting Is there anyway you could suggest to drug plan it would be a good idea to cover him for it? (remember not FDA approved so they will say no to me)
7) As cervical epidurals are unlikely given advanced fusions and facet procedures not helpful I have been looking for other procedure that could help.  Here is a write-up from my painblog:
Koning, Henk M., et al. Percutaneous radiofrequency lesion of the superior cervical sympathetic ganglion in non-traumatic neck pain.
The Pain Clinic 12.4 (2000): 271-279.
they used xray imaging but gave better idea of how injected:
entry  point  of  the  needle  is  chosen  overly-ins  the  facetal  column  at  the  level  of  the  third  cervical  vertebrae
advanced  until  the  tip  is  situated  a  few  millimeters  anterior  to  the  anterior border  of  the  vertebral  bodies
appears to be anterior to longus collis but below/ lateral to carotid carotid
article radiofrequencied 100 cases of non-truamatic neck pain.
most  patients  (93%) rated  their  pain  intensity  as  serious  or  intolerable
6% had temporary worsening of pain lasting up to 2 months;     "4% reported  a  change  in  sensibility  in  the  painful  region " ?more tender or more numb??
1/2 got some relief and "two  years after  the  treatment,  the  maintenance  of  pain  relief  occurred  in  eighty  per  cent  of  the  patients responding  to  this  therapy"
Those results are a new hope and as part of your educational process I would like you to find out who would do it.  Telling me to talk to an interventional radiologist will get me one of several responses:
1) Who are you? – have patient wait for a pain doctor or neurosurgeon 6 month – 2 years and have them talk to me.
2) That's just one study ( interpretation – I'm not that familiar with that procedure and don't  want to do it).
So if you are really educational see if you can find me someone who will say – OK I will look at doing that – and maybe someone who would do it soon and not in 1 year!
8) Nucynta has the power of opioids with little risk of abuse. Suboxone is used like methadone in high risk opioid abusers. Why aren't these agents promoted in high risk individuals rater than writing letters?
If your answers to all of these is no to helping above, and your "education" is restricted to opioids then why are you questioning me about ketamine?
I hope you are now aware that this opioid monitoring system does not work and that opioid death rates provincially are still rising;
Fischer, B., Jones, W., Tyndall, M. et al. Correlations between opioid mortality increases related to illicit/synthetic opioids and reductions of medical opioid dispensing – exploratory analyses from Canada. BMC Public Health 20, 143 (2020).
https://doi.org/10.1186/s12889-020-8205-z
https://bmcpublichealth.biomedcentral.com/articles/10.1186/s12889-020-8205-z#citeas
Found that as legal opioid dispensing is decreasing opioid deaths are increasing likely from ilicit drugs used instead. They go into analysis province by province and Saskatchewan is in the thick of things.  Is this like prohibition all over again where instead of making things better, it is making things worse? I find letters from the opioid program demoralizing and a slap in the face for the work I am doing.
My Concerns re Letter
Thank you for you letter but I am bemused by it. There are no Canadian Pain Society Guidelines for Ketamine so on what basis are you writing me? Given no dosage guidelines, what are you basing your letter?  The doctor from the college said you would have a good reason. So I presume it was an alert from colleague, pharmacy, patient or police. Do you think this 77 year old man is selling it? If that was so then that is fine. However, if it is because you were just interested in my use of ketamine, then I am going to have to ask you to pay for the time involved in my presentation. Ketamine is an unusual drug so to show it was necessary to do this presentation which is not an easy thing to do. Please let me know what sort of alert you received. If you do not reply, I will bill you in 3 weeks :).
addendum – patient was treated with azithromycin 500 mg bid for 3 days then 500 mg twice a week His pain over time dropped to half of what it was suggesting chronic infection was involved as per article:
Chronic Neck and Back Pain Might Be a Treatable Infection
http://painmuse.org/?p=2342
IV pamidronate did not seem to help but his pain did drop so not sure.
I got no response to my letter but they did stop calling themselves educational. They did send out a lame letter that ketamine could be dangerous without referring to any guidelines .
What our college needs to do is write doctors and say – your patient is taking a lot of opioids – how can we help you with them? Of course that would mean doing some of what I talked about above.