Earlier I wrote about Nerve blocks controlling headaches.
Quick Fix For Headaches – Repeated Nerve Supraorbital, Infraorbital, and Occipital Nerve Blocks – and What To Do For The Very Bad
http://painmuse.org/?p=2886
Several protocols had been made up. This present one, was weekly Occipital Nerve Blocks either unilateral or bilateral for one month and then monthly thereafter. After 3 months, headache frequency was cut about in 1/2, and the headaches were some shorter and a bit less severe. This is a good or better than botulinum but if used in combo should give great results.
Neurol Sci. 2017 Feb 28. doi: 10.1007/s10072-017-2861-5. [Epub ahead of print]
Do bilateral and unilateral greater occipital nerve block effectiveness differ in
chronic migraine patients?
Ünal-Artık HA
https://www.ncbi.nlm.nih.gov/pubmed/28247118
42 patients with an average of 20 migraines/month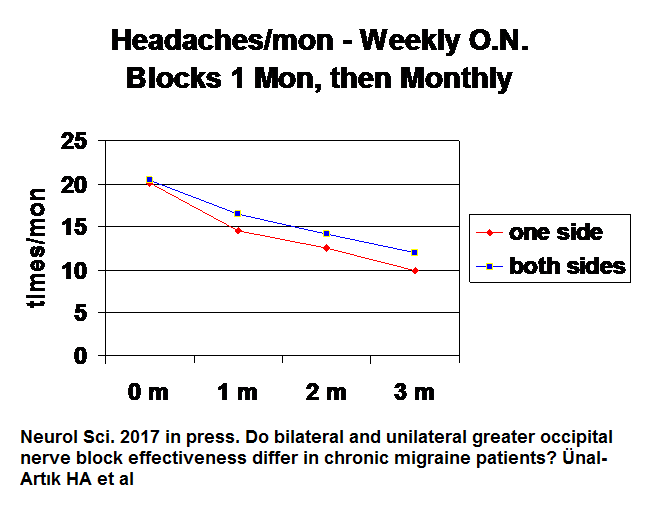 Comment – I use 5% lidocaine as its use has been documented before and is easy to use as long as you stay at 2 ml for average adult and 1.5 mls for elderly.
J Headache Pain. 2010 Dec;11(6):519-23. doi: 10.1007/s10194-010-0244-x.
Adverse effect profile of lidocaine injections for occipital nerve block in occipital neuralgia.
Sahai-Srivastava S et al
https://www.ncbi.nlm.nih.gov/pubmed/20665065
I put about 0.5 mls into each tender location:
– 3rd occipital nerve near midline – Greater Occipital nerve maybe 2.5 cm laterally
–  Lesser Occipial nerve – half way out from there to ear
make sure you bend needle 30 degrees and try to run parallel into nerve. I use a 30 gauge needle unless heavyset. Don't try injecting steroid through a 30 gauge though…
Steroids are unnecessary unless they have had a constant headache for days (A status migraine) in which case 40 ml triamcinolone  IM helps. In study below they compared results to injecting steroids – only got 6 days relief from steroids.
There is a way to augment the semi-neurolytic effects of lidocaine by using 10% lidocaine but then you are reduced to 1 ml.which is enough to do 2 spots:
J Pain Res. 2016 Sep 29;9:721-725. eCollection 2016.
Prolongation of greater occipital neural blockade with 10% lidocaine neurolysis:
a case series of a new technique.
Kim DD et al
https://www.ncbi.nlm.nih.gov/pmc/articles/PMC5047742/pdf/jpr-9-721.pdf
They got relief for 148.05 +/- 98.87 days which sounds appealing.
Would be hard to do much with elderly if stuck to 0.75 mls of 10% at a time – have done it though, by having patient come back in a few hours to have second spot done…
If subject is desperate:
triamcinolone depot 40 – 60 mg IM if unremitting
ketamine protocol daily until headache broken
Simulating Ketamine Infusions with Repeated Detoid Muscle Injections
http://painmuse.org/?p=4993
Occipital and perhaps supraorbital blocks repeatedly
Botulinum toxin protocol
Chronic Migraines – Botulinum Helps
http://painmuse.org/?p=1502