Repeated OnabotulinumtoxinA shots can reduce chronic migraine headache frequency from 20 headaches/month to 10/month.
Cephalalgia. 2010 Jul;30(7):793-803. Epub 2010 Mar 17.
OnabotulinumtoxinA for treatment of chronic migraine: results from the double-blind, randomized, placebo-controlled phase of the PREEMPT 1 trial.
Aurora SK, Dodick DW, Turkel CC, DeGryse RE, Silberstein SD, Lipton RB, Diener
http://www.svettmottagningen.com/Files/Migrain/PREEMPT%201.pdf
huge double-blind, randomized, placebo-controlled – onabotulinumtoxinA (n = 688); placebo (n = 696)
OnabotulinumtoxinA fixed-dose (5 U), i.m. injections across 7 specific head/neck muscle (frontalis, temporalis, trapezius and others as indicated )- max 195 units over 39 sites – areas every 12 weeks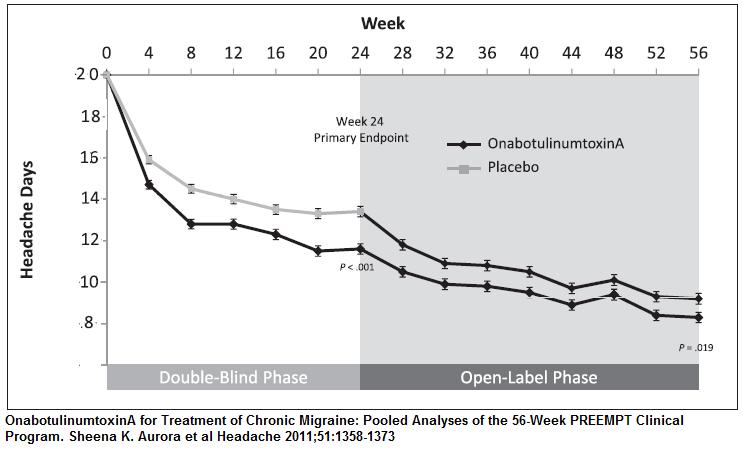 An older study on transformed migraines (daily headaches that used to be intermittent migraines) found injection bilateral greater occipital nerve blocks and tigger injections into cervical and shoulder tip trapezius muscles gave relief for several days and improvement for 2 weeks – addition of steroid did not help.
Greater occipital nerve block using local anaesthetics alone or with triamcinolone for transformed migraine: a randomised comparative study. A Ashkenazi et al . J Neurol Neurosurg Psychiatry 2008;79:415–417.    abstract here
Comment – huge study showing disappointing results until year was up. Saline injections nearly as good but talking to the author, I found out that the saline stopped working as soon as they realized it was placebo. First two shots with botulinum showed more beneficial.  I'm hoping to get even better results by adding ketamine shots to regimen.
ketamine for depression and/or chronic pain here
Had one case with temple pain that did not respond to repeated botox injections until I did lateral pterygoid – wonder if they did that muscle or not. Wonder if they would have got better results if they dealt with TMJ and neck issues as well as dietary issues and sleep. nike air max bw nike air max bw