Have a case of lancinating severe jabs to right top of head. She had them before but they have recently returned. There was no trigger zone, no tenderness, and occipital, temporal and supraorbital nerve trunks were nontender. Write up on subject describes it like a trigeminal neuralgia of the scalp but with differences.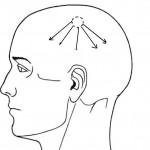 Epicrania fugax: an ultrabrief paroxysmal epicranial pain
JA Pareja1, ML Cuadrado1, C Fernández-de-las-Peñas2, AB Caminero3, C Nieto4, C Sánchez1, M Sols5 & J Porta-Etessam
Cephalalgia, 2008, 28, 257–263  abstract here
9 women; 1 man
ultrashort jabs scalp – sometime to eye
paroxysms with some with tenderness between attacks
some cases – can go to eye or nose where can cause nasal drip during attack
I tried to find a trigger zone with my case and did myofascial release – it paroxysmed while I was stretching and I could feel the jab spasm a band of muscle.
My case responds well to tegretol as did some of the ones in the study
In there study, 5 were remitting and 5 were chronic
Diffences with V1 trigeminal neuralgia include:


Important issue is that it is not as severe and tenderness may not exist.
Treatments –
Best article I came across was:
Headache: The Journal of Head and Face Pain
Volume 50, Issue 3, pages 451–458, March 2010
Epicrania Fugax: Ten New Cases and Therapeutic Results
Angel L. Guerrero et al
They state:
"Interictal pain was responsive to acetaminophen. In 3 cases a preventive was considered in order to avoid the paroxysms. Gabapentin led to significant improvement in 2 cases. The third patient did not obtain any benefit from gabapentin or amitriptyline, but improved slightly with lamotrigine.
Rev Neurol. 2011 Nov 1;53(9):531-7.
Epicrania fugax: the clinical characteristics of a series of 18 patients.
Herrero-Velázquez S, Guerrero-Peral ÁL, Mulero P, Peñas-Martínez ML, Cortijo E, Miranda S, Rojo-Martinez E, Henao A, Rodríguez R, Pedraza M, Hurtado ML,Marco-Llorente J, Fernández-Buey MN, Fernández R.  abstract here spanish free article
no response – 7/18
infiltration response – 2/18
gabapentin – 7 – partial 3, complete 4
lamotrigine 3 – 1 partial, 2 complete
So it seems try infiltration of painful area or nerve, if that doesn't work try gabapentin, if that doesn't work try lamotrigine.