The initial study of use of Amitriptyline was a study with diabetic neuropathy where patients were subject to impressive coaching (calls from nurse and pharmacist) . That way doses of 75-150 mg were obtained. They were able to show benefits. Over half of recent studies, using 25-75 mg which is what patient ordinarily tolerate, failed to show much benefit. The most recent study is one on HIV neuropathy; doses of 25-50 mg failed to show any benefit. Two studies using it in Chemotherapy neuropathy failed to show benefit. However, the myth it is good for all neuropathy persists. In some cases exaggerated benefits persists because of a lack of control group which would expose lack of benefit. Some clue to its ineffectiveness comes from a study showing you need 300 mg/dl in blood to get any clinical effectiveness – 2/3 reach that with 75 mg but many studies just used 50 mg.
PLoS One. 2015 May 14;10(5):e0126297. doi: 10.1371/journal.pone.0126297.
Randomized, Double-Blind, Crossover Trial of Amitriptyline for Analgesia in
Painful HIV-Associated Sensory Neuropathy.
Dinat N(1), Marinda E, Moch S, Rice AS, Kamerman PR.
http://journals.plos.org/plosone/article?id=10.1371/journal.pone.0126297
HIV sensory neuropathy
Amitriptyline 25-50 mg/day
"In summary, amitriptyline, at the doses used here, was no more effective than an inactive placebo at reducing pain intensity in individuals with painful HIV-associated sensory neuropathy of moderate to severe intensity, irrespective of whether they were on antiretroviral therapy or not."
Anticancer Res. 2009 Jul;29(7):2601-6
Amitriptyline in the prevention of chemotherapy-induced neuropathic symptoms.
Kautio AL(1), Haanpää M, Leminen A, Kalso E, Kautiainen H, Saarto T.
http://ar.iiarjournals.org/content/29/7/2601.long
Amitriptyline target 100 mg/day
"There was no difference in the appearance of chemotherapy-induced neuropathic symptoms between the groups. In general, the intensity of neuropathic symptoms was mild."
This lack of effect in chemotherapy induced neuropathy was seen in a prior article:
Kautio, Anna-Liisa, et al.
Amitriptyline in the treatment of chemotherapy-induced neuropathic symptoms.
Journal of pain and symptom management 35.1 (2008): 31-39.
http://www.sciencedirect.com/science/article/pii/S0885392407005672
Amitriptyline – start at 10 and work up to 50 mg if tolerate
"The results demonstrated that amitriptyline did not improve sensory neuropathic symptoms"
did suggest quality of life might be bit better probably re sleep
Interestingly, the one often quoted had nothing to do with its painkilling effects, it rated the recovery of Post-herpetic neuralgia at 6 months:
Bowsher, D.
The effects of pre-emptive treatment of postherpetic neuralgia with amitriptyline: A randomized, double-blind, placebo-controlled trial.
Journal of pain and symptom management, 13(6), 327-331.(1997)
http://www.ncbi.nlm.nih.gov/pubmed/9204652
Amitriptyline 25 mg
cut incidence of pain at 6 months but did not say whether it controls pain.
Part of the problem could be dose – A study on post stroke pains found that amitriptyline/nortriptyline (its metabolite)needed to be over 300 mmol/l for best effect. They got all their subjects on 75 mg but only 2/3 reached above 300.
Central post-stroke pain – a controlled and carbamazepine
G. Leijon, J. Boivie
Pain, 36 (1989) 27-36
http://www.ncbi.nlm.nih.gov/pubmed/2465530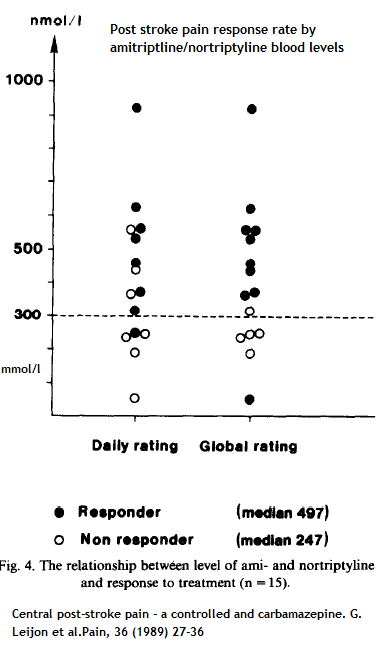 Many studies are comparison studies with no placebo. Placebo effect is usually pegged at 20%. Marginally significant improvement is a VAS drop of 1 from placebo. Moderately significant would be 2 or over. Some studies:
Amitriptyline 105 mg in Diabetic neuropathy caompared with desipramine: anticipated 5.3 vs 4.5 = drop of only 0.8 –NO GOOD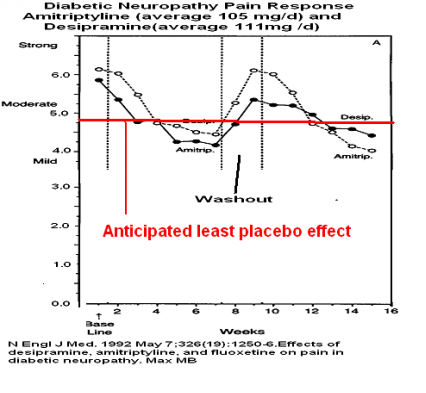 Comparison study of Amitriptyline and gabapentin in diabetic neuropathy – Barely much more than placebo.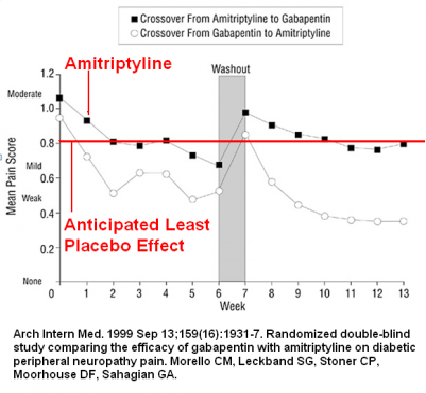 In an electrotherapy comparison study for diabetic neuropathy – no effect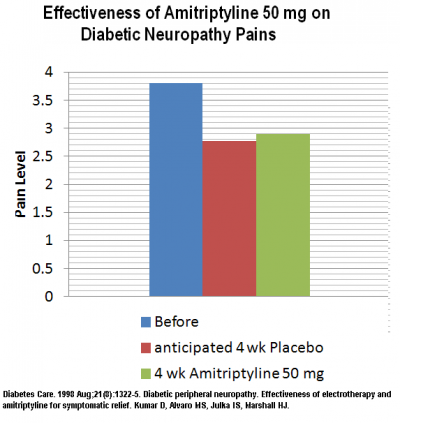 In a diabetic neuropathy study comparison with pregabalin: 64-50 = drop of VAS 1.4/10 – about the only study showing effect though modest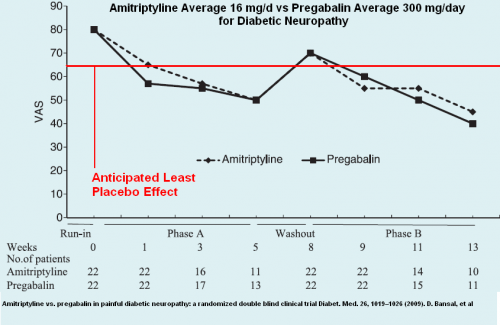 For diabetic neuropathy at 75 mg compared with Maprotiline (Ludiomel) – 4.5- 3.8 = 0.7 NO GOOD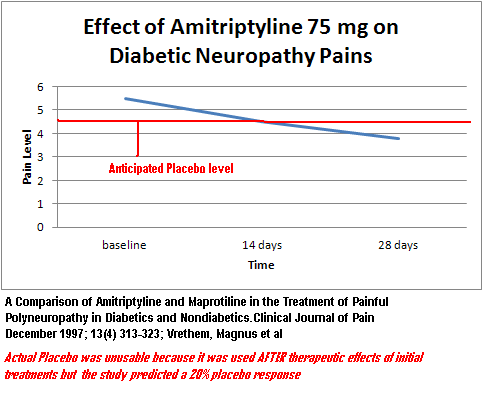 For diabetic neuropathy amitriptyline versus lamotrigine _ NO GOOD -crossover period not valid because of prior drug effects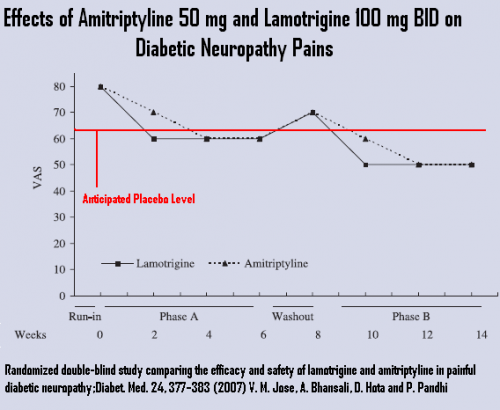 Amitriptyline vs duloxetine where after cross over prior probably invalid from residual effects of former: 5.3 – 3.9 = 1.4 = modest effect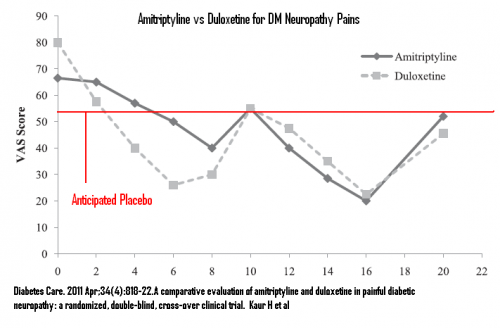 If we were to put this all together: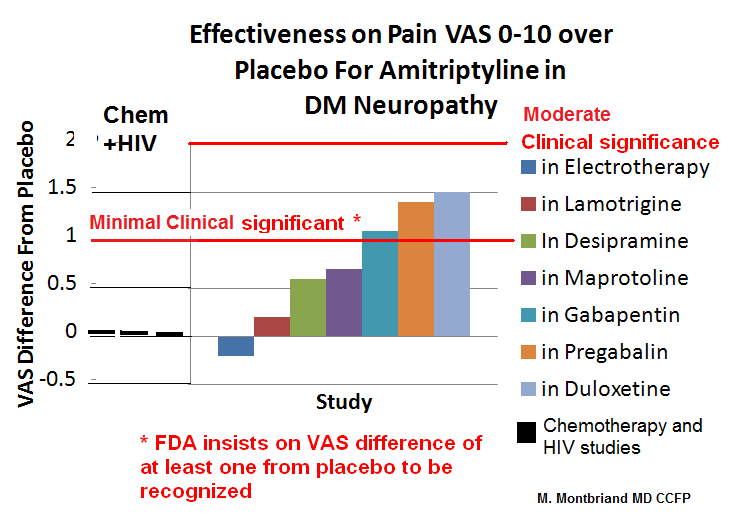 Only time I see much use for amitriptyline is in a duloxetine or pregabalin study where there was a "being treated like king" drug study effect.
There is little evidence any drug orally works for radiculitis/sciatica pains which is almost half of all neuropathy:
Etanercept (Enbrel) for Radiculitis (Sciatica)
http://painmuse.org/?p=52
 Sciatica Pain Is Different and Does NOT Respond Much to Pregabalin (Lyrica)
http://painmuse.org/?p=341
Comment – I am not a great believer in TCA's for pain and feel this is one of the biggest scams of the 20th/21st century. I would never expect it to be a first line treatment except to help sleep – where pregabalin might be better (though not for sciatica). To be fair results might be betteer if treatments weree at least 75 mg – though only 2/3 reach therapeutic doses there,  and may need up to 150 mg.