Due to lack of rheumatists in Regina, I have been forced to deal with complex pain cases that in part have an inflammatory nature. Some fit a PMR profile that requires more difficult management than I am used to. Below is a summary of articles (one German) which creates a new picture of the disease for me:
Z Rheumatol. 2009 Jul 9. [Epub ahead of print] Myalgia in polymyalgia rheumatica, temporal arteritis and other vasculitides.  Schmidt WA. abstract here
15% of people with PMR will also have Temporal arteritis (TA)
45% of people presently with TA will have PMR too.
PMR presents with
incidence of 3/1000  over 50 though 70-75 is average ages
general deterioration
muscle joint aches
flu infection like symptoms
fatigue – reduced stamina – leading to reduced performance
Pain characteristic –
shoulder girdles radiating to upper arms
pelvic girdle radiating to thigh
neck and the thoracolumbar spine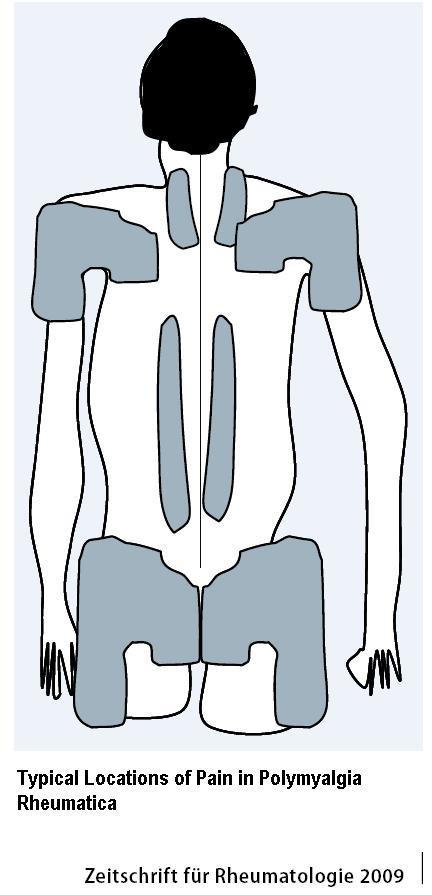 OUCH – I have on case I have had to treat the back in those zones repeatedly due to poor steroid response.
Typical patient:
bilateral shoulder and pelvic girdle pain
decreased abduction and rotation of the shoulder and hip joints
pain in major trochanter area
general state of deterioration,
weight loss of 3-4 kg, possibly more, if later,
Morning stiffness
increased temperature
night sweats,
increased blood sedimentation rate(ESR) and C-reactive protein (CRP) values
Various criteria have been used:

Future criteria considered include:
age ≥ 50 years
symptom duration ≥ 2 weeks,
bilateral shoulder, or pelvic pain
Morning stiffness ≥ 45 minutes
elevated ESR and CRP values
a good response to corticosteroids
Diagnostic "proof" is lacking so cases with chronic pain (eg one case with polyneuropathy following chemotherapy) diagnosis becomes difficult.
Investigations:
ESR >40; elevated CRP (though cases in literature with "normal" levels). Another problem concerns fact some will present with shoulder bursitis and have steroid injections for such – which will decrease ESR/CRP rates – should the all have ESR/CRP levels first? – I now think so.
The German article is big on sonography and suggests it be done for both shoulder and hips areas and may show:
Shoulder – minor synovitis, tenosynovitis and bursitis – apparently the shoulder US has to be done "dynamically" with shoulder turned into external rotation to show some of the effusions/bursitis. Subdeltoid bursitis and Tenosynovitis of the long biceps tendon are common.Hip joint synovitis –
hip – joint synovitis and trochanteric bursitis with pathological bursal fluid accumulation
Positron emission tomography (PET) measures increased glucose metabolism which in active PMR is seen in the shoulder and pelvic girdle and in the area of Spinous Processes.
MRI could give more detailed pictures of synovitis/buristis/tendonitis
Frustrating (?scary) part is trying to sort out the differential diagnosis which include:
1) Rheumatoid Arthritis (RA)- 20% RA will be misdiagnosed as PMR AND VISA VERSA so delineating RA is critical. Differentiating factors include:
existence of an arthritis of the wrist joint
arthritis in at least one MCP or PIP joint wrist/hand
positive rheumatoid factor
positive anti-CCP antibodies
Rheumatology (Oxford). 2009 Feb;48(2):123-7. Epub 2008 Nov 2. Polymyalgia rheumatica can be distinguished from late onset rheumatoid arthritis at baseline: results of a 5-yr prospective study. Pease CT, Haugeberg G, Montague B, Hensor EM, Bhakta BB, Thomson W, Ollier WE, Morgan AW. abstract here
Hence RA factor, anti-CCP antibodies, Xrays wrist, hands and feet are indicated
2) Malignancy –
May not have typical pain pattern
more deterioration of general condition combined with a "sick feeling"
The study suggests: "To exclude tumors, are X-ray  Chest examinations, an ultrasound of the abdomen and the search for occult stool recommended" I have seen published cases that needed CT chest to find cancer nodules. Blood malignancies are slightly more common but blood testing may show that.
As a final statement they say "Further tests as indicated" which is not much use to someone with out access to CT or MRI.
3) Polymyositis
less muscle pain, more muscle weakness
significant elevations of CK
skin may show characteristics of Dermatomyositis  – upper eyelids, in the collar area, and nail creases
slower to respond to glucocorticoids
4) Fibromyaglia:(FM)
Symptoms emerge more slowly, while patients with PMR can remember a certain day or week that it started
CRP and ESR are usually normal in fibromyalgia. Obese women, however, can be slightly elevated CRP values.
FM not respond to corticosteroids.
5) Primary shoulder disorders:
Xrays and ultrasound will show Osteoarthritis, califications, and ruptured tendons.
6) Primary Hip problems:
Xrays can sho osteoarthritis
Ultrasound and MRI may be needed to delineate other issues
Treatment of Polymyaglia Rheumatica without Temporal Arteritis:
"The initial Prednisolone dose is 15-25 mg / day with a weekly dose reduction of 1-2.5 mg to 10 mg / day, then by 1 mg per month, depending on the clinical response".
If there is a flare, dose is increased by 2 mg/day.
If dose stays above 10 mg/day then methotrexate will be needed though it helps more with control than it does with corticosteroid sparing:
Clin Exp Rheumatol. 2008 May-Jun;26(3):395-400.
Long-term follow-up of polymyalgia rheumatica patients treated with methotrexate and steroids. Cimmino MA, Salvarani C, Macchioni P, Gerli R, Bartoloni Bocci E, Montecucco C,  abstract here
This study used 10 mg Methotrexate once/week (with folic acid 5 mg/day, I presume). Side effects were not increased: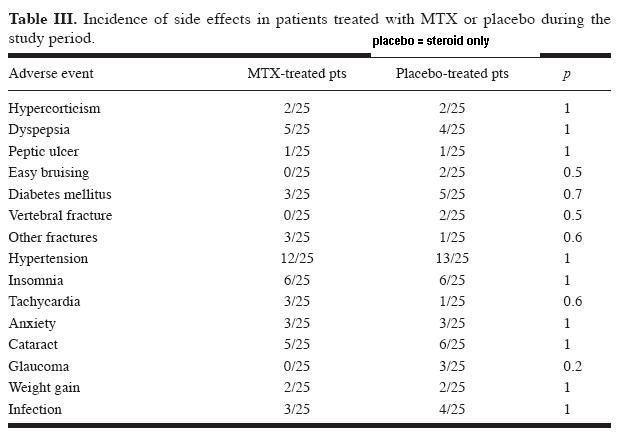 One interesting comment from methotrexate article was:
"PMR is not a benign condition, as often reported, since one third of patients need steroid treatment for more than 6 years."
In diabetics, Etanercept has bee successfully used:
Clin Rheumatol. 2009 Jan;28(1):89-92. Epub 2008 Oct 23. Fast recovery with etanercept in patients affected by polymyalgia rheumatica and decompensated diabetes: a case-series study. Corrao S, Pistone G, Scaglione R, Colomba D, Calvo L, Licata G.  abstract here
I have not touched on Temporal arteritis which involves the blood vessel to head and eye and can result in strokes and blindness. Headache, visual disturbances, tenderness to temple blood vessels, and if the axillary arteries are affected, stenosis there – with differing Blood pressures on either arm. 7% of "pure" PMR will still have ultrasonic/MRI evidence of TA.
One more point mentioned by one journal:
South Med J. 2008 Dec;101(12):1277-8.
Do not overlook polymyalgia rheumatica as a cause for immobility in poorly communicating dementia patients.
Alisky JM.
Any comments? canada goose frauen canada goose frauen