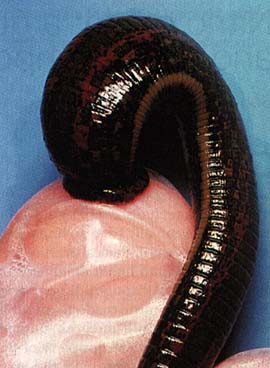 Arthritis of the joint in the wrist down from the thumb can be common and in some cases eludes successful treatment. Recent article published in the prestigious medical journal, Pain, describes one application of leeches to the area can reduce pain 60% for more than 60 days.  
Pain 137 (2008) 452–459
Effectiveness of leech therapy in women with symptomatic arthrosis of the first carpometacarpal joint: A randomized controlled trial
Andreas Michalsen, Rainer Ludtke, Ozgur Cesur, Dani Afra, Frauke Musial,
Marcus Baecker, Matthias Fink, Gustav J. Dobosabstract here 
The disorder is most common in post-menopausal women – a rate of 20%
Their process was as follows: 
"2–3 medicinal leeches (Hirudo medicinalis, Fa. Zaug, Biebertal, Germany) were applied once to the periarticular soft tissue of the affected thumb joint with preference to maximum pain points during examination and palpation. Leeches were left in place until they detached by themselves, after a mean of
50 min. The leeched area then was bandaged." 
Rsults were as follows: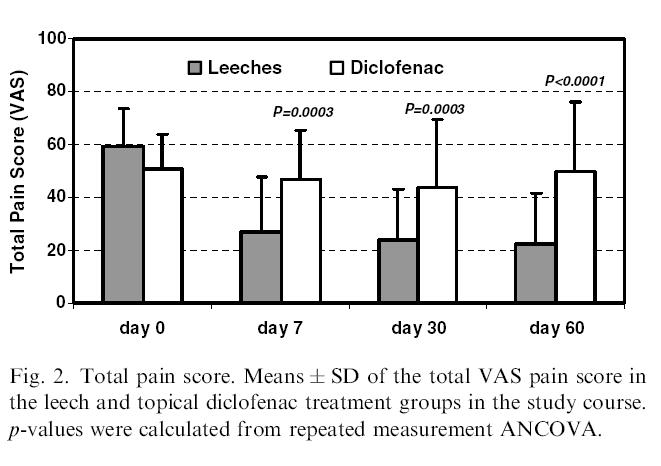 (pic from article) 
Suggested factors include: 
anti-thrombolytic
"antinociceptive (pain fighting) effects and by counterirritation."
placebo effect
There was a previous leech therapy for knee osteoarthritis that gave significant pain relief for over a week "differences for function, stiffness, and total symptoms remained significant in favor of leech therapy until the end of study and for quality of life until day 28" 
Ann Intern Med. 2003 Nov 4;139(9):724-30.
Effectiveness of leech therapy in osteoarthritis of the knee: a randomized,controlled trial.
Michalsen A, Klotz S, Lüdtke R, Moebus S, Spahn G, Dobos GJ.
http://www.ncbi.nlm.nih.gov/pubmed/14597456?dopt=Abstract 
A more recent review of its use in OA knee is here:

Clin J Pain. 2014 Jan;30(1):63-72. 




A systematic review and meta-analysis of medical leech therapy for osteoarthritis of the knee.

Lauche R, Cramer H, Langhorst J, Dobos G.

http://www.ncbi.nlm.nih.gov/pubmed/23446069


 

they state:
"RESULTS: Three RCTs and 1 CCT were found, in which a total of 237 patients with osteoarthritis were included. Three trials had a low risk of bias. There was strong overall evidence for immediate (SMD=-1.05; P<0.01) and short-term pain reduction (SMD=-1.00; P<0.01), immediate improvement in patients' physical
function (SMD=-0.72; P<0.01), and both immediate (SMD=-0.88; P=0.04) and long-term improvement in their joint stiffness (SMD=-0.62; P<0.01). Moderate evidence was found for leech therapy's short-term effects on physical function (SMD=-0.46; P<0.01) and long-term effects on pain (SMD=-0.45; P<0.01). Leech
therapy was not associated with any serious adverse events."


Therapies I have seen used include: 
After I injection "froze" many of a patient's thumb problems I found that part of the pain was thumb flexor tendonitis which I steroid injected – so consider there could be more than one thing…
1) splinting 
Splinting in the Treatment of Arthritis of the First Carpometacarpal Joint . The Journal of Hand Surgery , Volume 24 , Issue 1 , Pages 86 – 91, 1999
C . Swigart 
"All patients who had initial improvement in their symptoms with splinting had between 54% and 61% average improvement in symptom severity 6 months after splinting." 
[seems the trick is to see if there IS initial improvement]
2) Arthritis pills – "NSAID's" 
3) Topical treatments- 
capsiacin or 
Pennsaid = topical diclofenac in DMSO (consider adding gabapentin) – found to be as good as oral diclofenac and gives 17- 35% relief depending on study
4) Painkillers
5) Steroid injection – There is another MORON study to consider: 
Annals of the Rheumatic Diseases 2004;63:1260-1263
A randomised controlled trial of intra-articular corticosteroid injection of the carpometacarpal joint of the thumb in osteoarthritis
G K Meenagh 1, J Patton, C Kynes, G D Wright 
They got no effect but when you look closer:"intra-articular injections of 5 mg triamcinolone hexacetonide (0.25 ml)". That dose would not kill a fly. One would say a larger dose can't be gotten in the joint – yes it can: 
let the triamcinolone settle out – the supernatent is just preservation – draw off the preservative and add a little 4% lidocaine. You can usually get a 5 ml bottle down to 1 ml and add one ml 4% lidocaine will get you a 100 mg/ml., mostly preservative free.
One protocol mentioned down by lubricants gave 10 mg triamcinolone every week for three weeks and got 79.1% response at 26 weeks. I would wonder if this is better than one shot. I must admit I do not bother with steroids if there is significant joint instability until after that has been treated. 
6) Surgery – silicone arthroplasty (artificial joint) or fusion 
Other options have been suggested: 
7) Thermal (heat) capsulorraphy: 
Hand Clin 22 (2006) 153–163
Trapeziometacarpal Arthroscopy: A Classification and Treatment Algorithm
Alejandro Badia, MD, FACS
His approach reasons that the inflammation is secondary to the joint instability. From arthoscopic analysis he graded the severity. Treatment for stage I involved: 
 

 

debridement
"thermal capsulorraphy,…using a radiofrequency shrinkage probe."

  

following the procedure, a thumb spica cast was applied for 1-4 weeks 

stage II was treated similarly except debridement was described as " synovectomy, debridement, and occasional loose body removal", and thermal capsulorraphy This was followed by surgery involving dorsoradial closing wedge osteotomy was performed and a Kirschner wire held things in place.                                              

8) Injection of lubricant –
Intra-articular hyaluronic acid compared with corticoid injections for the treatment of rhizarthrosis
Osteoarthritis and Cartilage , Volume 14 , Issue 1 , Pages 82 – 88
S . Fuchs , R . Mönikes , A . Wohlmeiner , T . Heyse  abstract here
 

They had either three weekly injection of 10 triamcinolone or 1 ml. hyaluronic acid. 

"In all, 88.0% of patients treated with SH and 79.1% of the TA-group described pain improvement after 26 weeks" 

I have use synvisc but could not possibly get a whole ml in each time. 

9) Injection of hypertonic dextrose:
The Journal of Alternative and Complementary Medicine August 1, 2000, 6(4): 311-320.
Randomized, Prospective, Placebo-Controlled Double-Blind Study of Dextrose Prolotherapy for Osteoarthritic Thumb and Finger (DIP, PIP, and Trapeziometacarpal) Joints: Evidence of Clinical Efficacy
K. Dean Reeves, Khatab Hassanein. 

One half milliliter (0.5 mL) of either 10% dextrose and 0.075% xylocaine in bacteriostatic water (active solution) medial and lateral aspects of each affected joint. This was done at 0, 2, and 4 months. 

I have used 12.5% Dextrose. After I hyperextended my thumbs doing massage therapy techniques on patients (Yah, I was an amateur), I ended up with distal thumb joints that would sublux and give sharp pains. I injected them 3 times and wore a splint and you can feel the joint stiffening up by one- two weeks. You don't have to wait a month – every 2 weeks would do (I gave them weekly but I didn't want to be stuck with a splint forever). I can feel the sharp pains rarely if I overdo it so I would say they are at least 50% tighter. 

On the thumb carpal -metacarpal join they do tighten things up but the treatments are painful which means you might have tight sore joints. But then, steroid must be useful though attention has to be paid to the thumb muscles which I find are much involved. Then one has to consider how much spinal sensitization has occurred and consider work there to.
10) There has been mention of using platelet rich plasma to regenerate joint cartilage but I cannot find much more on it except with tennis elbow. Here is a review on its use in wound healing: 

I would be interested in others ideas and views. If a patient wants leeches, s/he will have to buy their own…  

   

Addendum – re Leaches – article found it very effective for thrombosed piles: 

Ayu. 2012 Apr;33(2):261-3. doi: 10.4103/0974-8520.105248.
Clinical efficacy of Jalaukawacharana (leech application) in Thrombosed piles.
Bhagat PJ, Raut SY, Lakhapati AM.  abstract here 

Makes me want to have leaches available at all times :)