Antidepressants are poorly tolerated in elderly and DHEA, found to be low in elderly, has been found to help with depression. I suspect part of its effect is through androgen stimulation as some is converted to such.  I have patients order DHEA from USA and have it sent C/O my office as I thought it would legitimize its import.  Had a visit today from 2 men from Canada Customs who made it clear that wasn't so.
Some literature on antidepressant effects:
Wolkowitz, O. M., et al.
Antidepressant and Cognition‐Enhancing Effects of DHEA in Major Depression.
Annals of the New York Academy of Sciences 774.1 (1995): 337-339.
https://nyaspubs.onlinelibrary.wiley.com/doi/abs/10.1111/j.1749-6632.1995.tb17403.x-i1
6 subjects aged 51-72
dose 60-90 mg/day
results not great but neither was dose (<7 = no depress)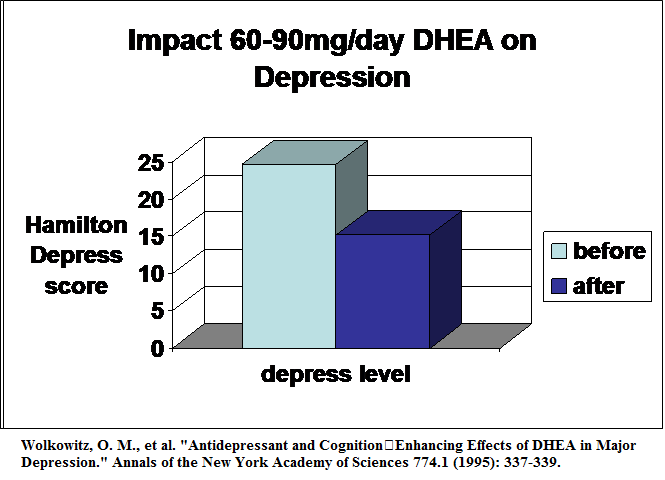 Wolkowitz, Owen M., et al.
Double-blind treatment of major depression with dehydroepiandrosterone.
American Journal of Psychiatry 156.4 (1999): 646-649.
https://ajp.psychiatryonline.org/doi/full/10.1176/ajp.156.4.646
DHEA 30 mg/day for the first 2 weeks, then 30 mg b.i.d. for 2 weeks, and then 30 mg t.i.d. for the final 2 weeks
"The mean percentage change in Hamilton depression scale ratings in the DHEA group was 30.5% (SD=29.1), compared with 5.3% (SD=20.2) in the placebo group. Five of 11 DHEA treated subjects were considered treatment responders, compared with none of 11 placebo-treated subjects.  does not give actual values so I cannot graph it
Schmidt, Peter J., et al.
Dehydroepiandrosterone monotherapy in midlife-onset major and minor depression.
Archives of general psychiatry 62.2 (2005): 154-162.
https://jamanetwork.com/journals/jamapsychiatry/fullarticle/208294
Six weeks of DHEA therapy, 90 mg/d for 3 weeks and 450 mg/d for 3 weeks, and 6 weeks of placebo
aged 45-60
results are more robust with higher dose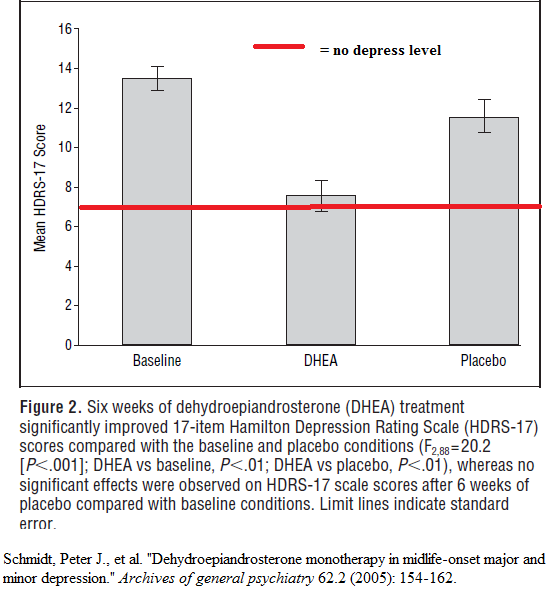 Annoyingly, could not find any other studies except in HIV subjects. – There is no money in researching a generic drug…
The Canadian standards:
Ravindran, Arun V., et al.
Canadian Network for Mood and Anxiety Treatments (CANMAT) 2016 Clinical Guidelines for the Management of Adults with Major Depressive Disorder: Section 5. Complementary and Alternative Medicine Treatments.
Focus 16.1 (2018): 85-94.
https://focus.psychiatryonline.org/doi/pdf/10.1176/appi.focus.16106
Classifies it for use in mild – moderate MMD depression, third line.
Comment – I use it in milder cases in the elderly. Getting it from USA is much cheaper than getting it compounded. I use 100 mg tid and found it helpful without side effects. Now, that option in Canada, has been eliminated. Don't customs people have elderly parents who could maybe need this?