Severe limb pain unresponsive to treatment ends up a surgical problem with spinal or ganglion stimulation becoming more common. A pain pump is an option. Motor cortex stimulation is as well, if pain is localized.  This is technically more difficult to do on a leg but a  Japanese study shows it can be done.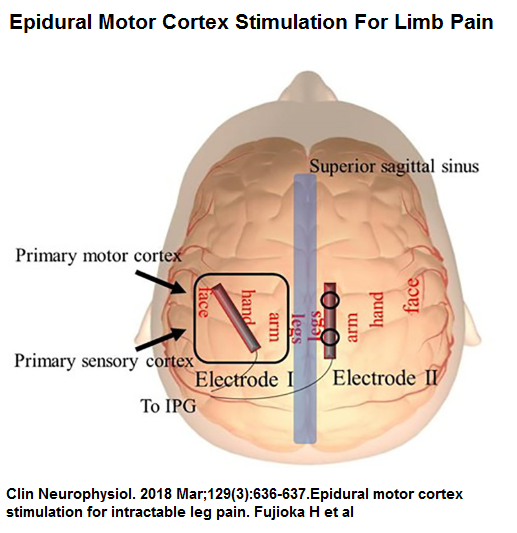 Clin Neurophysiol. 2018 Mar;129(3):636-637.
doi: 10.1016/j.clinph.2018.01.007.
Epidural motor cortex stimulation for intractable leg pain.
Fujioka H et al
no abstract
Contend growing evidence that "intractable pain will experience a benefit of pain reduction by 50%"
motor cortex stimulation (MCS) is usually used for upper limb pain but they managed to make it work for a case of leg pain as well
83 year old with prior thalamic stroke intractible right upper and lower limb pain 8-10/10
spinal stimulation was ineffective
found the right spots by transcranial magnetic stimulation of motor cortex spots – when right spot got 3-4/10 drop in pain for 2 days
One of a pair of paddle-type 16-channel electrodes fixed on the dura over the upper limb area
"Two burr holes were subsequently placed over the assumed lower limb area of the contralateral primary motor cortex, and the other pair of electrodes was carefully slipped into the epidural space"
leg pain down 2/10 and arm pain down 3/10 over 1 year
Comment – dropped pain from 8/10 to 5-6/10. I would contend that is probably a 50% improvement because at higher pain levels it is not a linear scale – it is more logarithmic  – a drop of one means it is quite a bit at high pain levels.