There are small bones surrounding certain joints called sesamoids. In the thumb, they can get inflamed at the thumb MCP joint and respond to 10 mg triamcinolone injection or rarely to surgical removal.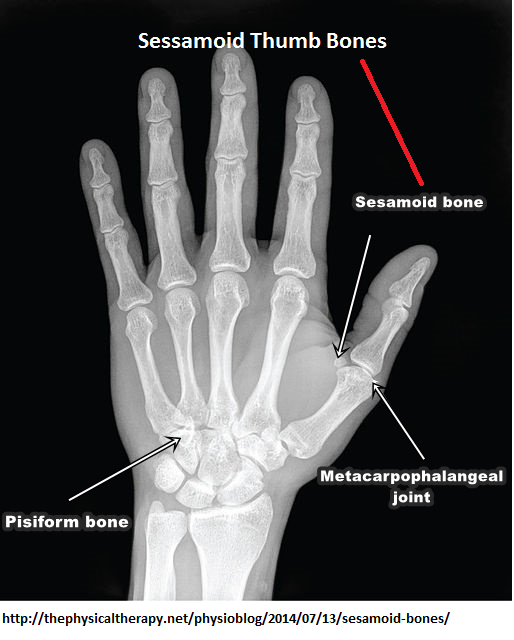 Chin, Andrew YH, et al.
Long-term results using a treatment algorithm for chronic sesamoiditis of the thumb metacarpophalangeal joint.
The Journal of hand surgery 38.2 (2013): 316-321.
https://www.ncbi.nlm.nih.gov/pubmed/23294650
20 thumbs in 18 patients (8 men and 10 women) average age 36 with symptoms for over 6 months; 5/18 had it bilaterally
not surprisingly, 80% on dominant hand and 30% with hx trauma
there is both a radial and ulnar situated sesamoid – 86% were radial; 6% ulnar and 8% both
all had tenderness over palmar aspect MCP joint – compressing the sesamoid is suggestive it's a problem.
Seasamoid Provocation tests (SPT): with thumb bent or straight
The SPT is positive when the patient experiences little or no pain with the first maneuver and considerably more pain with the second maneuver.
In positions seen, "the thenar muscles are pulled out to length and are unable to lift
the sesamoid away from the metacarpal head. The taut flexor pollicis longus tendon presses against the sesamoids, bringing them closer to the metacarpal head." – which hurts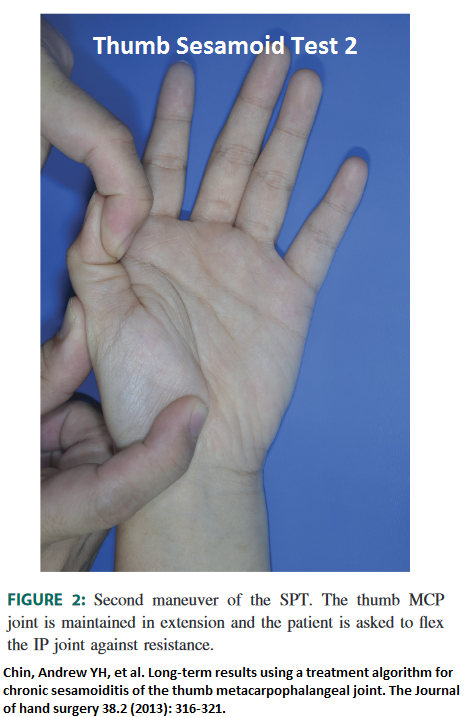 occasionally a fracture of osteoarthritic changes will be seen in thumb sesamoids xrays
Treatment:
Injection of steroid and local anesthetic (1 mL triamcinolone acetate [10 mg/
mL] plus 1 mL bupivacaine [0.5%]) into the subsesamoid joints. Earlier studies found this ineffective – maybe they didn't splint…
 analgesic; 12/18 had 2 injections –
"hand-based thumb spica splint that immobilized the MCP joint in neutral position with the IP joint free to move".- for 6 weeks.
Results
10 thumbs had no pain;
3 had pain less than 3/10
6 thumbs had removal sesamoid with 5 cured and 1 pain <3/10
Comment – being able to use the dominant hand is critical and this offers a way to treat it. There are wrist splints incorporating them in neutral position and this could be used instead of a spica…  This is not a new study, but only 2 article have referenced it so findings are still current.