In Hashimoto's thyroiditis, quoted FM rate is 30-40% ; present study found 62%.  Thyroid antibodies, abdominal girth, and duration disease among other things, contribute to FM possibility.
Clin Rheumatol. 2017 Jul;36(7):1617-1621. doi: 10.1007/s10067-017-3556-2.
Fibromyalgia in patients with thyroid autoimmunity: prevalence and relationship with disease activity.
Haliloglu S et al
https://www.ncbi.nlm.nih.gov/pubmed/28176037
79 cases Hashimoto's thyroiditis (HT)
Hasimoto's also called chronic lymphocytic thyroiditis
Other thyroid disease is Grave's disease
about 10% women and 1% men have Hashimoto's
"diagnosis of HT was made based on the presence of positive antithyroid peroxidase antibody (TPOAb) and antithyroglobulin antibody (TgAb) titres and the typical ultrasonography findings"
Prevalence Fibromyalgia was 62%
Correlated with Fibromylagia: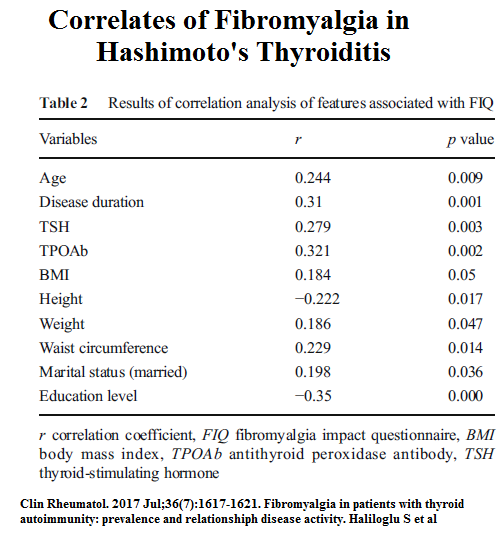 More likely in:
Older age
longer duration of thyroiditis
thyroid lab abnormalities – TSH and thyroid antibody levels
Obesity – higher BMI and wider abdominal girth
lower height
lower education level ( maybe sign of illness) but not income level
married status
Comment – This fits with my concept that Fibromyalgia is an autoimmune disease. Small fiber neuropathy seen in 40+% is a feature of that. Recently, 10+% were found to have MRI evidence of frank active spondyloarthitis another autoimmune type.
\What is interesting is that patients on thyroid replacement often end up with bacterial overgrowth:
Bacterial Overgrowth and Irritable Bowel Syndrome (IBS) – What is the Hypothyroid/Levothyroxine Connection?
http://painmuse.org/?p=5256
I check for thyroid antibodies in FM subjects and now it seems even more important. bracelet pandora bracelet pandora