Venlafaxine (300 mg/d) and Clonazepam (5 mg/d) in Refractory Burning mouth – All responded with a reduction in pain from 8.6/10 to 3.2/10 after 3 months
J Headache Pain. 2017 Dec;18(1):40.
doi: 10.1186/s10194-017-0745-y.
Refractory burning mouth syndrome: clinical and paraclinical evaluation,comorbiities, treatment and outcome.
Mitsikostas DD et al
https://www.ncbi.nlm.nih.gov/pmc/articles/PMC5371535/pdf/10194_2017_Article_745.pdf
highest prevalence age 70-79
mean age at diagnosis – 60
rates vary from 3.7-40% in elderly
small fiber neuropathy
associated with restless legs and tension headaches
topical capsaicin, alpha-lipoic acid and clonazepam rx
Clonazepam rx:
Oral solution of clonazepam  (Rivortil® oral solution 2.5 mg/
ml).
 keep the solution in their mouth for 5 min before swallowing,
start with in one evening dose of 2.5 mg.
After 5 days the dose increased up to 5 mg
daily, divided into three doses (1.25 mg in the morning,
1.25 in the afternoon and 2.5 mg at bedtime).
solution should be kept in the mouth for at least five
minutes before ingestion
Venlafaxine – work up to 300 mg
14 cases – 8 women average age 58
pain was triggered or exaggerated by   mastication, tongue movements, altered
food temperature
daily, lasting for more than two hours and worse at bedtime
dry mouth, altered taste
all associated headaches
depression common
Results rx: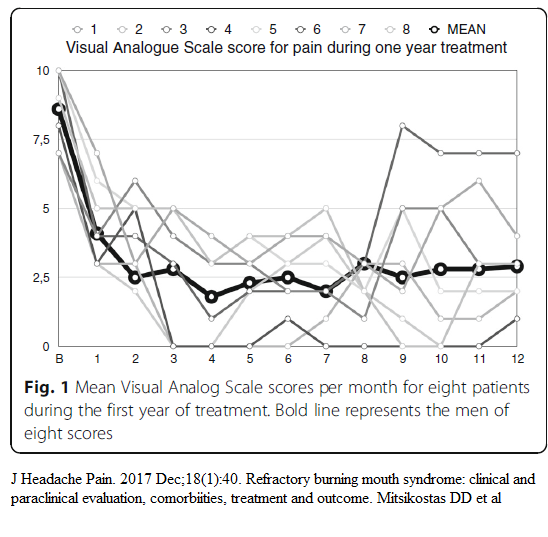 Comment  – combined with recent botulinum results:
Burning Mouth Syndrome – Remarkable Improvement with Botulinum Injections
http://painmuse.org/?p=5563
and maybe stopping any Vitamin B6:
Burning Mouth Syndrome – Could a Subgroup With Elevated B6 Levels be Helped by Stopping B6?
http://painmuse.org/?p=5421
Treatment results should be more satisfactory
About 10% have low zinc levels and so looking for that might help:
Yoshida, Hiroaki, et al.
Clinical study of tongue pain: Serum zinc, vitamin B12, folic acid, and copper concentrations, and systemic disease.
British Journal of Oral and Maxillofacial Surgery 48.6 (2010): 469-472.
medications associated with burning mouth include: