Point stimulation has been found helpful in nummular headaches:
Small Spot Body Pain Treatment – Pen like Electrical Skin Stimulation
http://painmuse.org/?p=704
This case, involved treatment of persistent plantar fasciitis. Using a point probe (like an acupuncture point locator), Spots of low impedance in the skin were found on the heel, and they were stimulated for 10 minutes each with probe (pointer-plus is what I have) then the used a multiple small pad tens pad to stimulate these spots for a further 10 minutes. This was done 3 times a week for total 10 times. Pain was cut in maybe half.
J Foot Ankle Surg. 2017 Jul – Aug;56(4):768-772. doi: 10.1053/j.jfas.2017.02.015.
Treatment of Chronic Plantar Fasciitis with Noninvasive Interactive
Neurostimulation: A Prospective Randomized Controlled Study.
Razzano C et al
https://www.ncbi.nlm.nih.gov/pubmed/28633774
in low impedence areas, the pulse doesn't seem that special: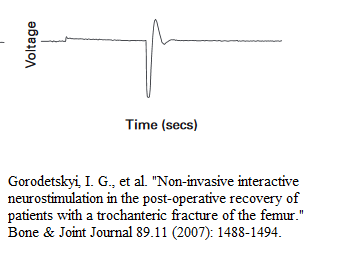 It is ramped up with tolerance.
The pad they use is interesting: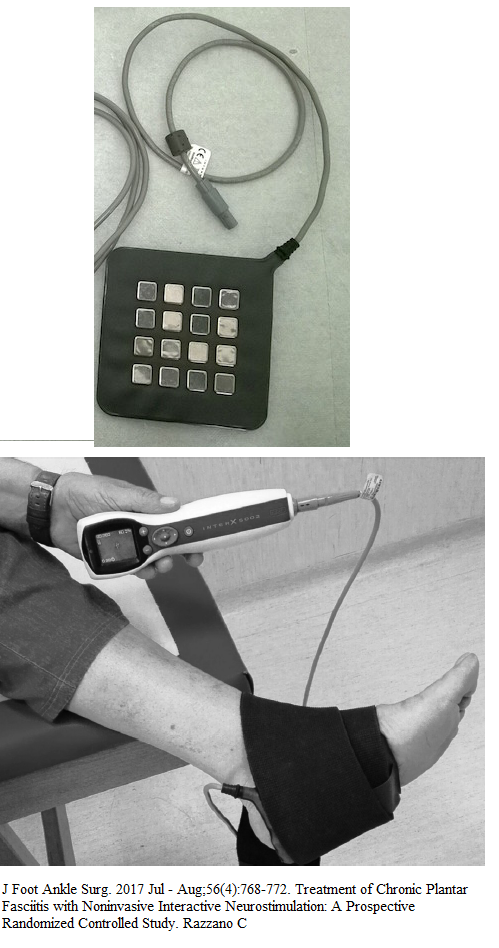 It also can't be that important since 10 minutes is done with the pointer and 10 minutes with the pad
done 3 times a week for ten times. It was compared to shockwave;
Results:(click into a window fore bigger pic)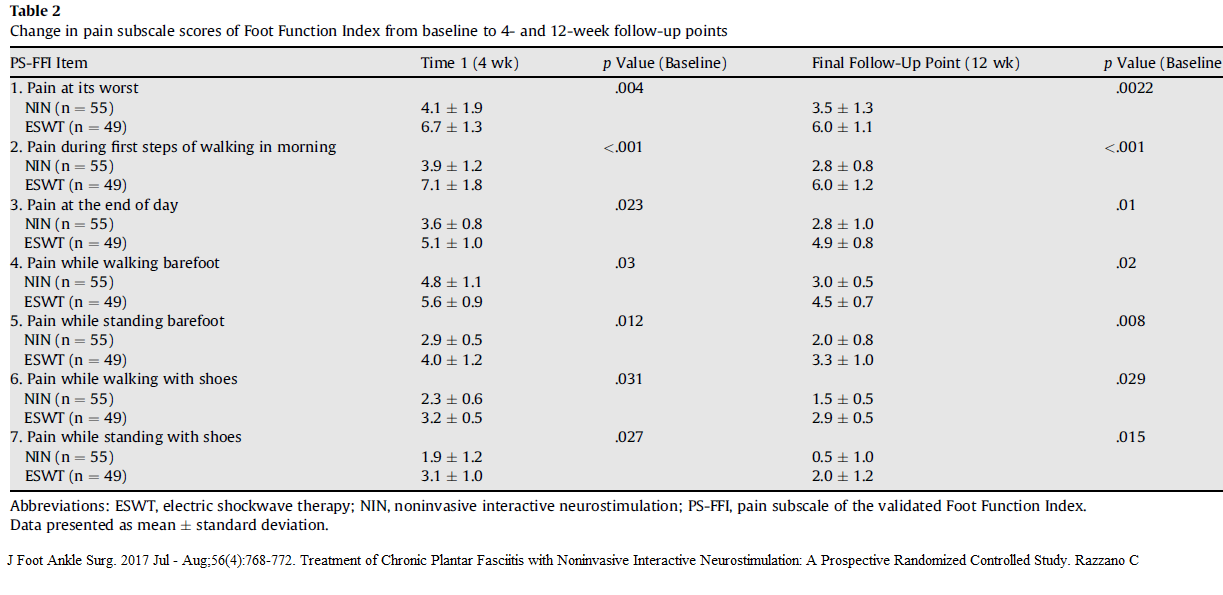 had maybe 3/5 the pain level of shock therapy.
Comment – you can find these low impedance spots with an acupuncture -like probe and stimulate them for 10 minutes . I use a pointer plus. You can pulse stim are by pressing button on top.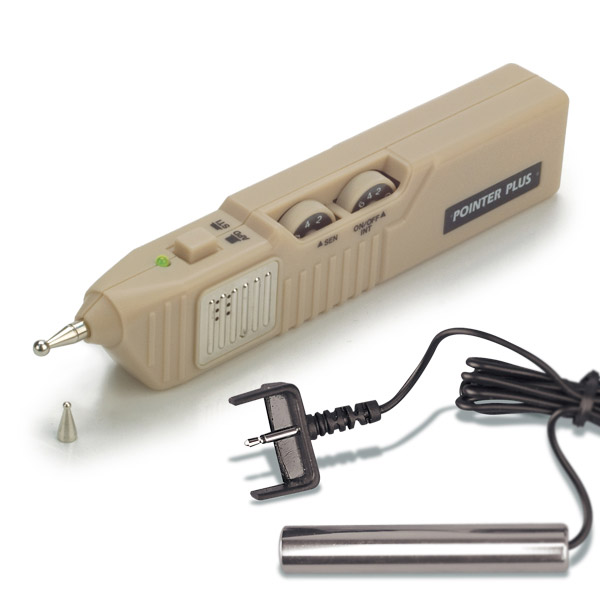 I suspect plain TENS to the area for another ten minutes might do instead of the multiple pad.
It does confirm my suspicions of chronic pain that there is perhaps microentrapment and hypersensitivity of small fiber nerves in painful tissues.  Simple D5W Perineural injections techniques have been found useful – even in achilles tendonitis:
Lyftogt, John.
Subcutaneous prolotherapy for Achilles tendinopathy: The best solution?.
Australasian Musculoskeletal Medicine 12.2 (2007): 107.
http://www.lyftogtmed.com/assets/Uploads/Subcutaneous-prolotherapy-for-Achilles-tendinopathy-John-Lyftogt-AMM-Nov-2007-pp-107-09.pdf
I have been recently injecting hypersensitive spots with 5% lidocaine and 0.5% methylene blue and this causes long lasting relief to tissues but concentrated freezing must be avoided near spine. bracelet pandora pas cher bracelet pandora pas cher