Effectiveness of Treatments for Benign Paroxysmal Positional Vertigo of the Posterior Canal
Helen S. Cohen, Kay T. Kimball
Otol Neurotol  26: 1034–1040, 2005
Modified  Canalith  Repositioning  Maneuver  (CRP)  technique:
The head was held in each position as follows:
The subject sat on the long side of the mat table.
The investigator turned the subject's head 45 degrees away from the involved side and tilted the patient en bloc into a side-lying position through the coronal plane, with the nose pointing upward.
Ten seconds after the cessation of vertigo, the subject was tilted nose-down toward the uninvolved side and held there until 10 seconds after the cessation of vertigo.
Keeping the head turned toward the uninvolved side, the patient was assisted to sit up and remained in that position for 10 seconds after the cessation of vertigo.
This variation from the original description, eliminating the premedication and shortening the interval between head movements, is associated with significant reductions in vertigo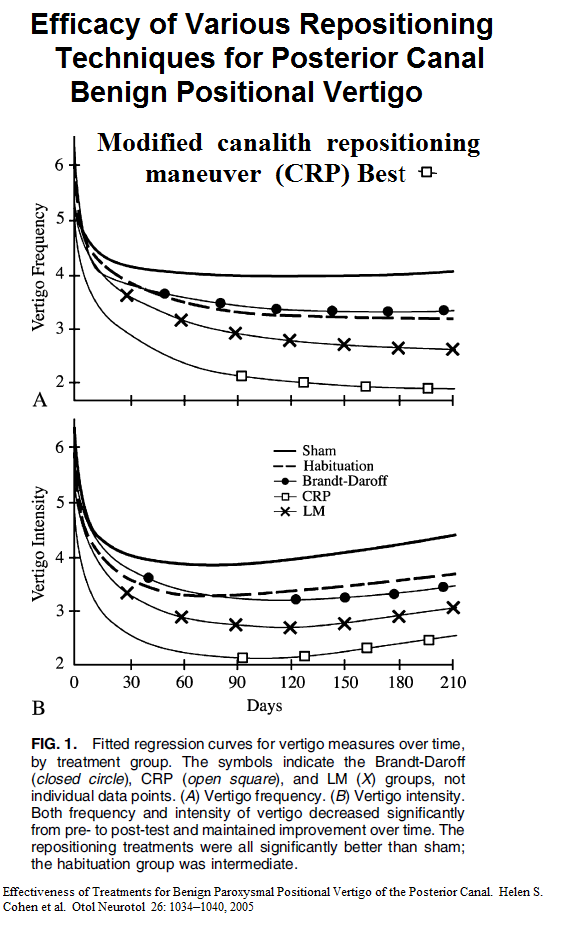 Comment – this is a companion article to one showing treating dizziness helps TMJ, whiplash and Fibromyalgia.