Bio Skin® Q Brace™ reduced pain in knee patellofemoral OA and reduced bone marrow edema seen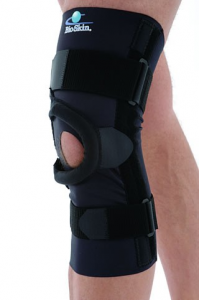 http://www.ossur.co.uk/injury-solutions/products/knee/knee-sleeves-wraps/bioskin-q-brace-patella-tracking-brace
A randomised trial of a brace for patellofemoral  osteoarthritis targeting knee pain and bone marrow lesions
Michael J Callaghan et al
Ann Rheum Dis 2015 in press. doi:10.1136/annrheumdis-2014-206376
http://ard.bmj.com/content/early/2015/01/16/annrheumdis-2014-206376.abstract
randomized control trial
6 wks brace
mean of 7.4 hrs/day
Followed evidence of bone marrow edema: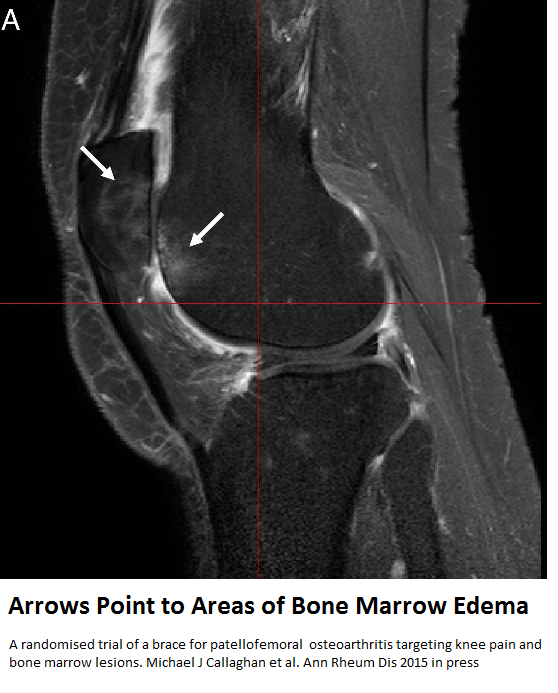 No brace had a VAS of 6.3; brace one of 5 (mediocre difference)
bone marrow edema less in brace one
didn't keep good track of NSAID use
Comment – treatment of bone marrow edema unsatisfactory with both Zoledronic acid (IV once bone building ), Ibandronate bone building and prostaglandin I2 being tried:
Laslett, Laura Louise, et al.
"Zoledronic acid reduces knee pain and bone marrow lesions over 1 year: a randomised controlled trial."
Annals of the rheumatic diseases (2012): annrheumdis-2011.
http://ard.bmj.com/content/early/2012/02/21/annrheumdis-2011-200970.abstract
Bartl, C., Imhoff, A., & Bartl, R. (2012).
Treatment of bone marrow edema syndrome with intravenous ibandronate.
Archives of orthopaedic and trauma surgery, 132(12), 1781-1788.
http://link.springer.com/article/10.1007/s00402-012-1617-1#page-1
Jäger, Marcus, et al.
"Rationale for prostaglandin I2 in bone marrow oedema–from theory to application." Arthritis research & therapy 10.5 (2008): R120.
http://arthritis-research.com/content/10/5/R120
Brace appears to help a bit.