In Osteoporosis, not only did Risedronate 5 mg/day cut back pain to 1/3 in 4 months, it cut the disability rating in half – despite the fact there were no fractures.
Journal of Clinical Neuroscience 17 (2010) 209–213
Risedronate decreases bone resorption and improves low back pain in postmenopausal osteoporosis patients without vertebral fractures
Seiji Ohtori a,*, Tsutomu Akazawa b, Yasuaki Murata c, Tomoaki Kinoshita d, Masaomi Yamashita a, Koichi Nakagawa a, Gen Inoue a, Junichi Nakamura a, Sumihisa Orita a, Nobuyasu Ochiai a, Shunji Kishida a, Masashi Takaso a, Yawara Eguchi a, Kazuyo Yamauchi a, Munetaka Suzuki a, Yasuchika Aoki a, Kazuhisa Takahashi
27 postmenopausal women 58 – 83 years old
"low back pain that was resistant to treatment with oral NSAIDs" – (use of arthritis pills NSAIDs with higher risk of stomach bleeding in this group is a little creepy…)
Risedronate 5 mg/day
Results:


Disability results: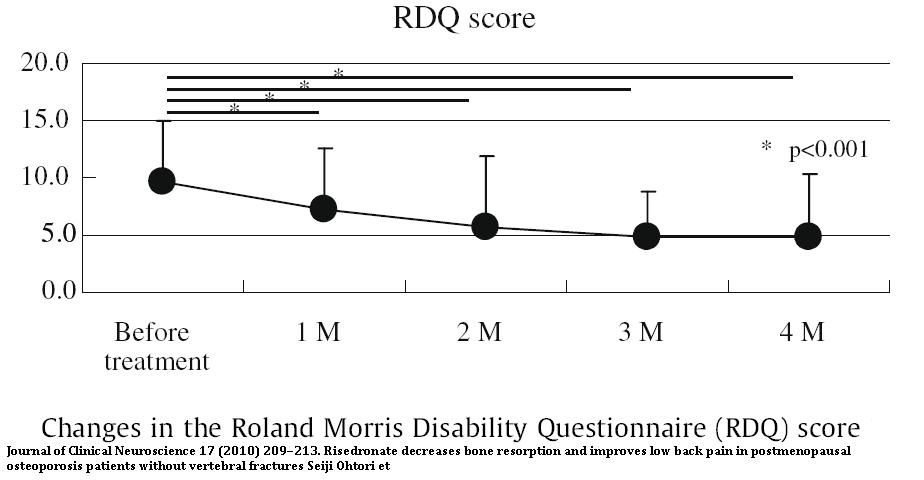 Comment – I will be changing all my Osteoporosis Actonel cases with back pain to 5 mg/day…
They make mention about IV pamidornate:
"When intravenous pamidronate was given to 25 patients who had disabling spinal pain without osteoporotic vertebral fractures, the pain rating score decreased 91% "
from:
Pappagallo M, Breuer B, Schneider A, et al.
Treatment of chronic mechanical spinal pain with intravenous pamidronate: a review of medical records.
J Pain Symptom Manage 2003;26:678–83.
I discussed it here:
Pamidronate and Clodronate – hope for Reflex Sympathetic Dystrophy (aka CRPS) and Back Pain
For those who cannot tolerate actonel, they mention:
Iwamoto et al. reported that patients who had osteoporosis without vertebral fractures, and who
were receiving cyclical etidronate [Didronel] combined with alfacalcidol [ trade name – One-alpha – a type of Vitamin D] showed a significant increase in the lumbar BMD and a decrease of the urinary NTx levels with alleviation of back pain.
from:
Iwamoto J, Takeda T, Ichimura S, et al.
Effects of cyclical etidronate with alfacalcidol on lumbar bone mineral density, bone resorption, and back pain in postmenopausal women with osteoporosis.
J Orthop Sci 2003;8:532–7.  abstract here
oral etidronate 200 mg daily for 2 weeks every 3 months
alfacalcidol 1 mcg daily
Any comments? michaelbolsos michaelbolsos