There seems to be two distinct types of Diabetic Neuropathy (DM) – Multifocal and Symmetrical. The former "showed a marked improvement in severe pain"; the symmetrical did not.
J Clin Neurosci. 2010 Aug;17(8):1003-8.
Differential response to intravenous immunoglobulin (IVIg) therapy among multifocal and polyneuropathy types of painful diabetic neuropathy.
Kawagashira Y, Watanabe H, Morozumi S, Iijima I, Koike H, Hattori N, Sobue G.  abstract here
focal/multifocal neuropathy includes head, limb, and trunk neuropathy  – Inflammatory vasculopathy
(inflamed blood vessels) might be more common in this group.
Initial symptoms:

pain in trunk or lower limbs with worsening over several months.
One side more affected than other. especially near trunk areas.
Burning and aching.
Light touch is uncomfortable.
Temperature and vibration senses are lessened
Reflexes are decreased or absent
average 7 months duration
Nerve biopsies NO HELP – "Although inflammatory infiltration or vasculitis were not detected in sural nerve biopsy specimens from our patients, the ability of IVIg therapy to relieve pain would also suggest that a focal inflammatory process, not involved in the sural nerve, is required to develop this type of neuropathy"

symmetric polyneuropathy – more small fiber axonal damage often distally

bilateral pain – more distal and numbness in feet.
pain with sense of heat in bottom of feet
deep sensory loss of all types
diminished or absent reflexes

RX – IV Immunoglobulin therapy (0.4 g/kg for 5 days).
Results – this includes examples of two responders – a typical pattern – (pains level from 0-10 over time)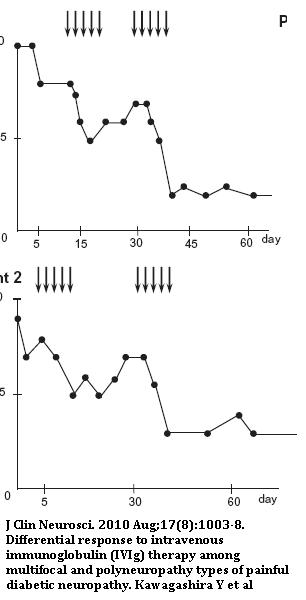 These two examples required a second course one month later.
Those with symmetric peripheral neuropathy showed no improvement.
suggested actions of Immunoglobulins:

neutralising proinflammatory cytokines,
blocking Fc receptors on macrophages
blocking inhibition-activated complement
Comment:
I have a patient with diffuse sensory polyneuropathy, part inflammatory and part post-chemotherapy. Vasculitis was suspected but biopsy was negative  – which now appears to mean nothing.  On wonders if that would work here… convincing a hematologist might be a problem and one always has to worry about reactions:
Reactions to the IV. – In:
Neurology 2001;57:1699-1701
Rapid infusion of intravenous immune globulin in patients with neuromuscular disorders
J. A. Grillo, MD, K. C. Gorson, MD, A. H. Ropper, MD, J. Lewis, RN and R. Weinstein, MD abstract here
26% had some reaction though only 3.5% requiring hospitalization.
Any comments?