Gluthathione levels decrease by 10-15% per decade – what can one do to help this anti-oxidant?
Glutathione production follows the following pathway: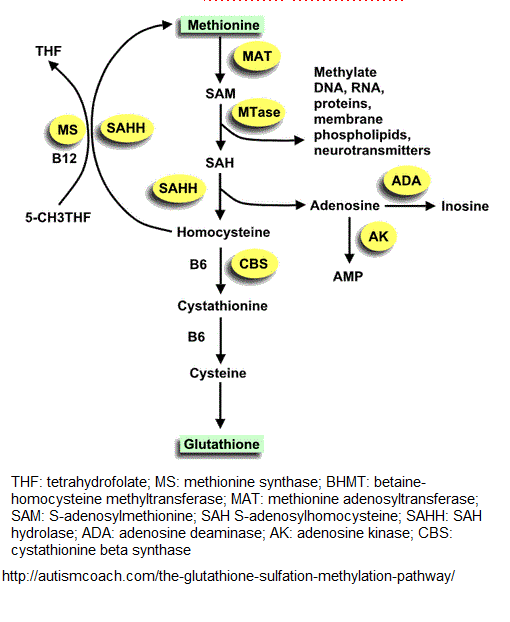 One use for glutathione has been in chronic pancreatitis as an antioxidant in IV form:
      Method for medical treatment utilizing glutathione

 However, treatment of chronic pancreatitis was equally effective using micronutrients beta- carotene, selenium, vitamin E, and methionine – the last being a precursor of glutathione as seen above so the precursor might be all one needs.

Micronutrient Therapy for Chronic Pancreatitis:
Rationale and Impact
Joan M Braganza1, Thomas L Dormandy
JOP. J Pancreas (Online) 2010 Mar 5; 11(2):99-112. free article here
There is a patent on increasing glutathione levels:
      Method of treatment of glutathione deficient mammals . Its patent is  for N acetyl cysteine and alpha-lipoic acid regulation of glutathione levels. It mentions many benefits but is vague on that.
Above fails to mention that SAMe (S-adenosylmethionine) is a precursor of glutathione and has deverse uses as an anti-inflammatory and makes glutathione:
      Crit Rev Food Sci Nutr. 2008 May;48(5):458-63.
Exploring the mechanisms behind S-adenosylmethionine (SAMe) in the treatment of osteoarthritis.
Hosea Blewett HJ. Department of Agriculture, Food & Nutritional Sciences University of Alberta, Edmonton, AB. Heather.Hosea@afhe.ualberta.ca   abstract here
where they specifically mention "SAMe can…action… increasing levels of glutathione"

Another herbal, Co-enzyme Q10, can also increase Glutathione levels

Effects Of Coenzyme Q10 On Lipid Levels And Antioxidant Defenses In Rats With Fructose Induced Hyperlipidemia And Hyperinsulinaemia
Ketan P. Modi M. Pharm
The Internet Journal of Pharmacology™ ISSN: 1531-2976  article here
(OK – I was too lazy to get a better example…)
"CoenzymeQ10 treatment … increased… Glutathione"
Coenzyme q10 also helps migraine headaches and is used in chronic fatigue.
see:
migraine treatment options
Stomach Enteroviral infection in Chronic Fatigue?

Alpha lipoic acid, a herb found to have anti-neuropathic uses and one of the few agents known to prevent progression of diabetic neuropathy, also increases glutathione levels:
      J Physiol Pharmacol. 2009 Jun;60(2):139-43
Assessment of the antioxidant effectiveness of alpha-lipoic acid in healthy men
exposed to muscle-damaging exercise.
Zembron-Lacny A, Slowinska-Lisowska M, Szygula Z, Witkowski K, Stefaniak T,
Dziubek W.  free article here
"a-Lipoic acid (ALA) as a pro-glutathione dietary supplement"—"The study has shown the significantly higher erythrocyte levels of glutathione (GSH)"

n-acetyl cysteine (NAC), used to prevent hepatic damage from acetaminophen toxicity, is also a a precursor of glutathione, and it too can elevate glutathione levels and indeed does "elevate the biosynthesis of protective GSH" as per:Inhal Toxicol. 2010 Apr 12. [Epub ahead of print]
N-acetylcysteine attenuates phosgene-induced acute lung injury via up-regulation
of Nrf2 expression.
Ji L, Liu R, Zhang XD, Chen HL, Bai H, Wang X, Zhao HL, Liang X, Hai CX.  abstract here

It is considered the antidote for low glutathione levels:
Current Opinion in Pharmacology 2007, 7:355–3595–359
N-Acetylcysteine—a safe antidote for cysteine/glutathione deficiency
Kondala R Atkuri, John J Mantovani, Leonard A Herzenberg and Leonore A Herzenberg   abstract

Resveratrol – polyphenol compound (brown tanin like substance) found in various berries (cranberry, blueberry, grapes) and herbs also induces glutathione synthesis and can protect against smoke induced oxidative damage:
Am J Physiol Lung Cell Mol Physiol. 2008 Mar;294(3):L478-88. Epub 2007 Dec 27.Resveratrol induces glutathione synthesis by activation of Nrf2 and protects against cigarette smoke-mediated oxidative stress in human lung epithelial cells.
Kode A, Rajendrasozhan S, Caito S, Yang SR, Megson IL, Rahman I. abstract here

Comment – glutathione's best results were with IV treatments and sure, NAC and alpha lipoic acid (ALA) combo can increase glutathione levels. However, readily available herbals  – ALA by itself, SAMe, resveratrol and Coenzyme q10 can do the same and have known therapeutic benefits. Having said that, n-acetyl cysteine, commercially call Mucomyst, has known benefits in prevention in acute renal failure from IV dye, acetaminophen overdose, acute noise induced hearing loss, and possibly for interstitial lung disease
as per Wikipedia here
Recently NAC has been found beneficial in Ulcerative colitis:
N-acetyl-L-cysteine combined with mesalamine in the treatment of ulcerative colitis: Randomized, placebo-controlled pilot study
Luis G Guijarro, Jose Mate, Javier P Gisbert, Jose Luis Perez-Calle, Ignacio Marín-Jimenez, Encarna Arriaza,
Tomás Olleros, Mario Delgado, Maria S Castillejo, David Prieto-Merino, Venancio Gonzalez Lara, Amado Salvador Peña
World J Gastroenterol 2008 May 14; 14(18): 2851-2857  free full article here
a 4-wk course of oral mesalamine (2.4 g/d) plus N-acetyl-L-cysteine (NAC) (0.8 g/d) (group A) or mesalamine plus placebo (group B).
oddly, glutathione levels in blood did not change:


though IL-6, IL-8 and MCP-1 blood levels decreased – did not seem to affect Tumor Necrosis factor (TNF) levels.
NAC has also been shown to help bipolar disease:
BIOL PSYCHIATRY 2008;64:468–475
N-Acetyl Cysteine for Depressive Symptoms in Bipolar Disorder—A Double-Blind Randomized Placebo-Controlled Trial
Michael Berk, David L. Copolov, Olivia Dean, Kristy Lu, Sue Jeavons, Ian Schapkaitz, Murray Anderson-Hunt, and Ashley I. Bush  abstract here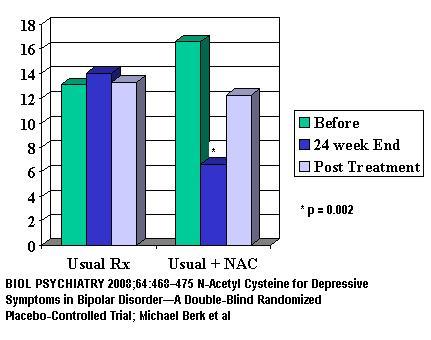 Should be noted that following stopping NAC, there was no persistent benefit as you can see from post treatment levels so any glutathione induction is not persistent.
There was a study of NAC use in Schizophrenia:
Biol Psychiatry. 2008 Sep 1;64(5):361-8. Epub 2008 Apr 23.
N-acetyl cysteine as a glutathione precursor for schizophrenia–a double-blind,randomized, placebo-controlled trial.
Berk M, Copolov D, Dean O, Lu K, Jeavons S, Schapkaitz I, Anderson-Hunt M, Judd
F, Katz F, Katz P, Ording-Jespersen S, Little J, Conus P, Cuenod M, Do KQ, Bush
AI. abstract here
two NAC (500 mg) capsules twice daily (2 g daily)
Positive and Negative Symptoms Scale (PANSS) used; also Clinical Global Impression-Severity (CGI-S) needed > 3.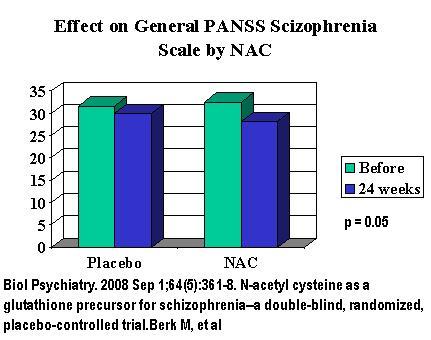 ok – you can see an effect but I don't think it's "moderate". However, their group was a refractory one. Their comments were:
"While the mechanism of action of NAC here is unproven, it is unlikely that NAC acts at a receptor level, and the delayed benefits, as well as the possible effects on akathisia, support a potentially neuroprotective mechanism. The loss of treatment benefits shortly after discontinuation may be important for clinical use and for understanding the mechanisms underlying efficacy. Glutathione undergoes rapid biochemical turnover.
Given that a genetic diathesis cannot be altered by NAC treatment, the benefits of glutathione supplementation would be expected to wear off rapidly once the precursor is stopped. The relatively slow onset of some aspects of benefit may be related to the need to reverse years of accumulated oxidative and neurochemical changes."
NAC has some effect on Chronic bronchitis – its effect size as per below: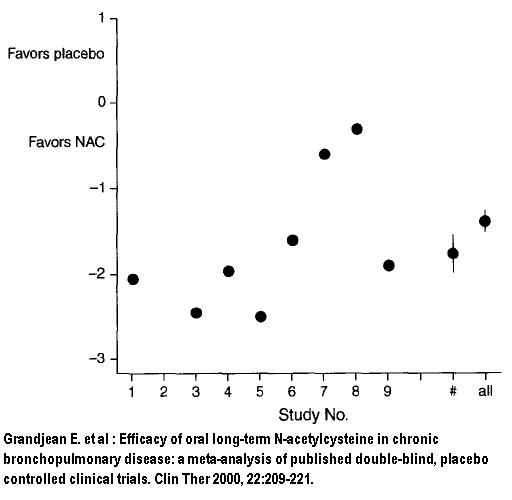 However, treatment in COPD failed to show benefit:
Decramer, M., Rutten-Van Mölken, M., Dekhuijzen, P.N.R., Troosters, T., Van Herwaarden, C., Pellegrino, R., Van Schayck, C.P.O., (…), Ardia, A.
Effects of N-acetylcysteine on outcomes in chronic obstructive pulmonary disease (Bronchitis Randomized on NAC Cost-Utility Study, BRONCUS): A randomised placebo-controlled trial
(2005) Lancet, 365 (9470), pp. 1552-1560 abstract here
What about muscle pain?
from
J Appl Physiol 104: 853–860, 2008.
Muscle-derived ROS and thiol regulation in muscle fatigue
Leonardo F. Ferreira and Michael B. Reid  free article here
"NAC improved indices of fatigue by 15–60% during exercise of individual muscles or muscle groups: tibialis anterior (98),
98. Reid MB, Stokic DS, Koch SM, Khawli FA, Leis AA. N-acetylcysteine
inhibits muscle fatigue in humans. J Clin Invest 94: 2468–2474, 1994.
quadriceps (56),
56. Koechlin C, Couillard A, Simar D, Cristol JP, Bellet H, Hayot M,
Prefaut C. Does oxidative stress alter quadriceps endurance in chronic
obstructive pulmonary disease? Am J Respir Crit Care Med 169: 1022–
1027, 2004.
forearm (69),
69. Matuszczak Y, Farid M, Jones J, Lansdowne S, Smith MA, Taylor
AA, Reid MB. Effects of N-acetylcysteine on glutathione oxidation and
fatigue during handgrip exercise. Muscle Nerve 32: 633–638, 2005.
and diaphragm (113).
113. Travaline JM, Sudarshan S, Roy BG, Cordova F, Leyenson V, Criner GJ. Effect of N-acetylcysteine on human diaphragm strength and fatigability. Am J Respir Crit Care Med 156: 1567–1571, 1997.
However, it may only work in people who are in reasonably good shape to start with:
"NAC did not improve performance of nontrained individuals during near-maximal cycling exercise (73)."
73. Medved I, Brown MJ, Bjorksten AR, McKenna MJ. Effects of intravenous N-acetylcysteine infusion on time to fatigue and potassium regulation during prolonged cycling exercise. J Appl Physiol 96: 211–
217, 2004.
What about prolonged use of NAC:
"Regular NAC consumption would oppose ROS and RNS signaling and might interfere with exercise training in young, healthy individuals. In contrast, aging and chronic inflammatory disease are associated with persistent states of oxidative stress (40). Long-term support of glutathione regulation
could be beneficial under such conditions. For example, Hauer and associates (43)
(43. Hauer K, Hildebrandt W, Sehl Y, Edler L, Oster P, Droge W.
Improvement in muscular performance and decrease in tumor necrosis factor level in old age after antioxidant treatment. J Mol Med 81: 118–125, 2003)
found that exercise training was more effective in improving strength in old individuals (>65 yr) that received NAC (1,800 mg/day) for 6 wk. Overall, long-term glutathione support is a vexed concept. We have few data on the effects of prolonged NAC supplementation, and the physiological responses cannot be predicted."
Comments – Seems to be of benefit in acute conditions – but not so much on chronic. NAC doses varied from 400 – 1800/day; 400 is now recognized as the bare minimum dose so better 600-1800.
L Acetyl cysteine is on our drug plan:
It comes in:
ACETYLCYSTEINE
20% SOLUTION (30ML)
02243098 ACETYLCYSTEINE SOLUTION SDZ $ 17.5500
02091526 MUCOMYST WEL 19.1600
30 mls would be 6 gm (200 mg/ml) so for 500 mg BID would be 2.5 mls BID which would cost 3+ dollars/day unless had a drug plan covering.
Addendum:
a patent in 2007 contends that it takes a combination of NAC 600 mg/day( 1.5 mls twice daily) plus 2 other agents to be sufficient to help COPD:
Ansorge, Siegfried, et al.
Use Of At Least One Effector Of Glutathione Metabolism Together With Alpha-Lipoic Acid For The Treatment Of Chronically Obstructive Lung Diseases.
U.S. Patent Application No. 10/584,072.
https://patentimages.storage.googleapis.com/0c/fd/e0/11cf08211a3d5a/US6495170.pdf
They suggest:
Silibinin from milk thisle  – a fruit extract – 175 mg/day
and
Picrorhiza  – a Himalayan mountain herb 120 mg/day
plus maybe B2, B6 and B12 vitamins