Some years ago, I came across a graph, that explained some migraine treatments options. I found it handy to show patients but have upgraded it. The original graph was this:
Therapeutic gain of migraine prophylaxis compared to placebo. Graph shows the percentage of patients with a 50% decrease in attack frequency during active drug treatment minus the percentage with 50% decrease during placebo therapy.Article found here
I have upgraded it but categorized effectiveness as more vaguely.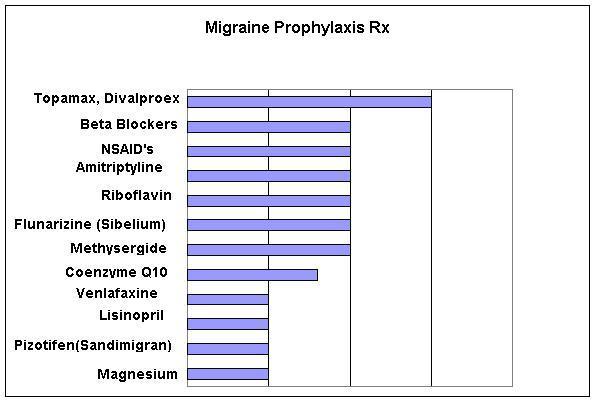 There are plenty of reasons why certain problems can jump treatment effectiveness a whole level:
sleep issues – Amitriptyline, Sandimigran
Mood issues – Divalproex, Venlafaxine
Inflammatory issues – NSAID's
Menopausal flushes – Venlafaxine
Blood pressure problems – Beta blockers, lisinopril
Severe constipation – Magnesium as Citromag 1 Tablespoon BID (great for people on opioids)
Chronic nausea – Sandimigran (used for cyclical vomiting)
Multiple pain complaints – Topirimate (topamax)
For those with sensitivity to meds – Riboflavin, Coenzyme Q10 (takes 3 month), and Magnesium
I would not use Dilaproex in women without explaining risk of menstrual irregularities and Polycystic Ovaries. I would not use Divalproex in women without contraception (and prefer depo-provera though Didrocal needed to help prevent bone loss).
Topamax(topirimate) is a very nice drug for headaches. However, it can cause nausea, and has been nic-named the "stupid pill" by some who find it can cause cognitive problems – not something you would want to give a university student before finals. 2% kidney stone rate. It has the advantage of simple night dosage and can case weight loss (a big draw). Can help other pains as well.
I have not used Flunarizine since I induced a depression in a previously stable individual. Methysergide is an act of desperation used for short periods because of retroperitoneal fibrosis risk.
In children I like riboflavin though food diary is necessary.
Obviously there are food, sleep, orthopedic, stress, and other issues but that would take a book…
I would be interested in other agents that others find effective and others perspectives on migraine treatments. nike air max nike air max