Various new approaches help define vertebral compression fracture so can be earlier diagnosed.
1) Physical Signs:

Ann R Coll Surg Engl. 2009 Dec 7. [Epub ahead of print]
Vertebral compression fractures: new clinical signs to aid diagnosis.
Langdon J, Way A, Heaton S, Bernard J, Molloy S. abstract here
Pain on closed fist percussion – sensitivity of 87.5% and a specificity of 90%
Pain on lying supine (on back) on examination table – sensitivity of 81.25% and a specificity of 93.33%
2) Scoring system:
Ann Rheum Dis. 2007 Jan;66(1):81-5.
A clinical tool to determine the necessity of spine radiography in postmenopausal women with osteoporosis presenting with back pain.
Roux C, Priol G, Fechtenbaum J, Cortet B, Liu-Léage S, Audran M. free article here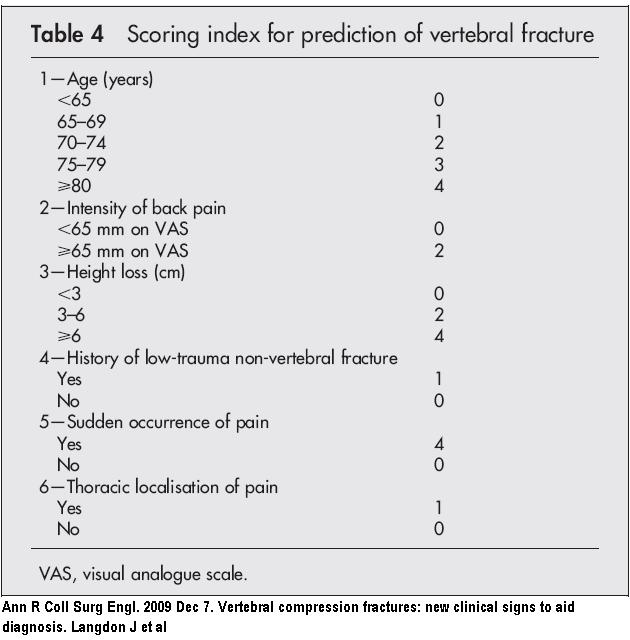 If score is 7 or more, the changes of having xray evidence of a compression fracture was 43%.
Found an odd association while researching this. Those on Estrogens may have fewer fractures but when the get one, it hurts:
Spine (Phila Pa 1976). 2001 Jul 15;26(14):1606-12.
Back problems among postmenopausal women taking estrogen replacement therapy: the study of osteoporotic fractures.
Musgrave DS, Vogt MT, Nevitt MC, Cauley JA. abstract
Rheumatology (Oxford). 2010 Mar;49(3):505-12. Epub 2009 Dec 16.
Lateral back pain identifies prevalent vertebral fractures in post-menopausal women: cross-sectional analysis of a primary care-based cohort.
Clark EM, Hutchinson AP, McCloskey EV, Stone MD, Martin JC, Bhalla AK, Tobias JH.
abstract here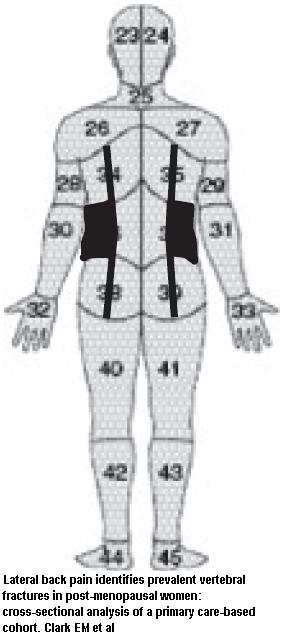 Presence of lateral waist back pain associated with a 4.5 fold risk of vertebral fracture.
Comment – I have had fracture cases without pain on fist percussion. Sometimes one has to consider just how sick they look into the equation. Some fractures cannot be diagnosed as fresh on Xray yet respond well to IV pamidronate – a technique described here:
Is Crushed Vertebrae a RSD? – New RX
Any comments? pandora brazalete pandora brazalete