It is not unusual to find asymptomatic compression fractures in the spine, while it has also been demonstrated that the same can cause disabling persistent pain. Now, with evidence of rapid pain response to IV Pamidronate, a drug found helpful in RSD, the question of Vertebral fracture RSD comes to mind.
Osteoporos Int. 2006 Aug 8; [Epub ahead of print] Intravenous pamidronate for pain relief in recent osteoporotic vertebral compression fracture: a randomized double-blind controlled study. Armingeat T, Brondino R, Pham T, Legre V, Lafforgue P.
They gave IV pamidronate 30mg daily for three days (total 90 mg). This is my graph of results: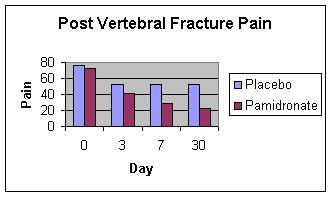 Well, another article came out saying IV palmidronate was no better than Intranasal Calcitonin:
Clin Rheumatol. 2006 Sep;25(5):683-6. Epub 2006 Jan 4. Comparison of the analgesic efficacy of pamidronate 1 gm/Kg IV and synthetic human calcitonin in osteoporotic vertebral fractures: a double-blind controlled study. Laroche M et al.
In this study, each was an initial single IV dose of either pamidronate 1mg/kg or Human Calcitonin human 1.5 mg.
I put their results here: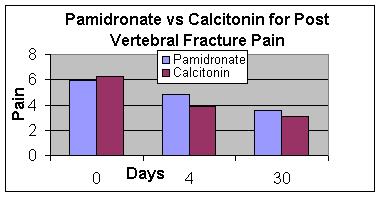 Now what I did is convert the two studies to similar pain values and put them together: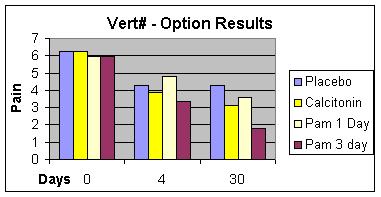 It has been suggested that only a VAS change of 2 is significant – if that is the case than neither Calcitonin nor 1 day Pamidronate do it. 3 Day Pamidronate drops VAS by 2.4 in 30 days from placebo and is the only one that looks significant. I have not done significance testing on these results but it looks like it to me.
It appears two things might effect Pamidronate
dose – a study in metastatic bone disease found they needed 60 mg(vs 30) every 2 weeks for effect:
abstract here

Duration:
IN:
Rheumatology (Oxford). 2001 Dec;40(12):1394-7. Treatment of reflex sympathetic dystrophy with pamidronate: 29 cases. Kubalek I, Fain O, Paries J, Kettaneh A, Thomas M. abstract here full here
They used Pamidronate 60 IV /day for three days in refractory RSD and got "complete pain disappearance was observed in 86.2% of patients" by 45 days. However, a single dose Pamidronate 60 IV study in CRPS / RSD got mediocre results:
Pain Med. 2004 Sep;5(3):276-80. Efficacy of pamidronate in complex regional pain syndrome type I. Robinson JN, Sandom J, Chapman PT
abstract here
This confirms the osteoporosis fracture pamidronate contention that 3 days therapy is necessary for results


Comment – What! – no one day silver bullet? My patients all seem disappointed when one shot does not put down a now multidimensional problem (muscles knotted up, central sensitization afoot, psyche bruised). Can't blame the one day Pamidronate trials, though. This compound can cost $400.00 a bottle. Looks like, if you are going to use it, then:
Pamidronate 60 mg in 500 mls saline over 5 hours daily for 3 days. Nursing seems to wonder if they can give it faster but patients actually do feel sick if pushed. (cramps, nausea, unwell). Too fast might elevate calcium levels as well. I read one author who talked about delayed onset muscle spasms (up to 1-2 weeks). This does not mean it is not working – it means they need to be warned and maybe given baclofen or some other muscle relaxer to use PRN.
All this seems a bit too much? – here is an article using Pamidronate 90 mg for cancer (that's even more):
Gan To Kagaku Ryoho. 2006 Sep;33(9):1247-51. [Retrospective evaluation of the safety of pamidronate administration at the dose of 90mg/day/month in Japanese breast cancer patients with bone metastasis.] [Article in Japanese] Aogi K abstract here
Note – if you do have someone seriously hurt by vertebral compression fractures, there is now a way to pump up the disk with plastic:
Can J Neurol Sci. 2005 Nov;32(4):487-95.
Vertebroplasty in osteoporotic spine fractures: a quality of life assessment.
Kumar K, Verma AK, Wilson J, LaFontaine A. H
This is a local study. It showed the pain Visual Analogue scale can go down from 8.2 to 2.9/10 following the procedure.
Dr. Verma, the assisting radiologist, feels the heat of the plastic hardening has something to do with deadening the nerves. Dr. K. Kumar, a renowned neurosurgeon, is the head of the team; this makes sense for if there is a major leak into the spine (rare), it could become a neurosurgical issue. Paper faxed referral takes time; I guess if it is an emergency then they kind of expect it will be in one…
If any of the above are unavailable, Calcitonin 200U intranasal either 1 OD for 28 days has been shown to help pain, although IM is probably better though unavailable:
Osteoporos Int. 2005 Oct;16(10):1281-90. Epub 2004 Dec 22. Calcitonin for treating acute pain of osteoporotic vertebral compression fractures: a systematic review of randomized, controlled trials. Knopp JA, Diner BM, Blitz M, Lyritis GP, Rowe BH. Family Medicine SF1, 22 WMC, University of Alberta Hospital, Edmonton, Alberta T6G 2B7, Canada
I would be interested an an experiences with any of the above issues.