There is a connection between osteoporosis and arthritis with arthritis settling in more in osteoporotic joints. Now an osteoporotic drug can not only help that but seems to have analgesic properties to back and knee pains if used regularly.
J Bone Miner Metab. 2010 Feb 16. [Epub ahead of print]
Analgesic effect of raloxifene on back and knee pain in postmenopausal women with
osteoporosis and/or osteoarthritis.
Fujita T, Fujii Y, Munezane H, Ohue M, Takagi Y. abstract here
"60 mg raloxifene and 1 lg alfacalcidol was orally administered in group RA (12 subjects) and 1 lg alfacalcidol alone in group A (12 subjects), each once daily." – 6 month study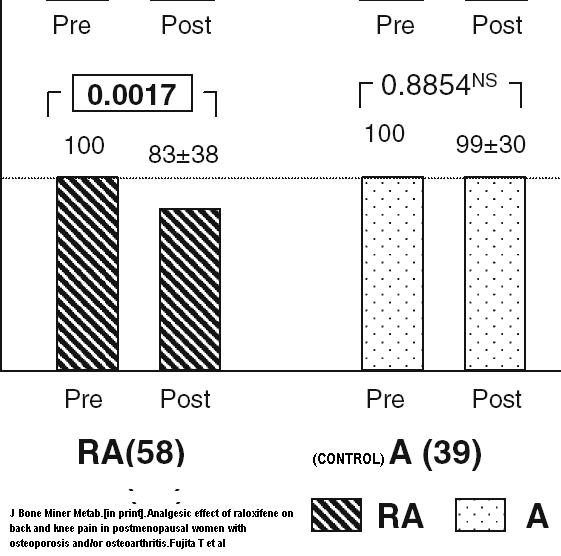 Another study found that pains in postmenopausal osteoporosis was reduced on evista
Quality of life in raloxifene-treated Japanese women with postmenopausal osteoporosis: a prospective, postmarketing observational study
Current Medical Research and Opinion
November 2012, Vol. 28, No. 11 , Pages 1757-1766
Kousei Yoh, Etsuro Hamaya, Hisashi Urushihara, Noriko Iikuni, Takanori Yamamoto, Masanori Taketsuna, Akimitsu Miyauchi, Hideaki Sowa, Kiyoshi Tanaka
http://informahealthcare.com/doi/abs/10.1185/03007995.2012.736860
"The percentage of participants with a ≥20 mm reduction in VAS-pain was 32.6% (120/368) and 39.5% (115/291) after 8 and 24 weeks, respectively. The frequency of pain reported by participants decreased after 8 and 24 weeks."
Comment – I like Evista;
it decreases death rates by its effect on hip fractures,
it cuts breast cancer rates by acting like tamoxifen,
FDA Approval for Raloxifene Hydrochloride Brand name(s): Evista® Approved for breast cancer risk reduction free article here
It may help slow down Dementia:
Menopause. 2009 Nov 14. [Epub ahead of print]
Raloxifene improves verbal memory in late postmenopausal women: a randomized,
double-blind, placebo-controlled trial.
Jacobsen DE, Samson MM, Emmelot-Vonk MH, Verhaar HJ.  abstract
and now it has some painkilling effect on back and knee pains. It can cause blood clots just like birth control pills but its benefits out-way risks in an average person. Causes flushes sometime too…
Any comments?