Waiting for a knee replacement and the quality of life is poor? Most often the inner knee cartilage wears out first. Measures to take the load off the inner knee are helpful.
Waits for knee replacement can take years and some elderly just don't feel up to it. There are two techniques to take the weight off the inner knee:
1) Lateral knee wedges:
Use of Laterally Wedged Custom Foot Orthoses to Reduce Pain Associated with Medial Knee Osteoarthritis A Preliminary Investigation Russel Rubin et al
Journal of the American Podiatric Medical Association Volume 95(4): 347-352, 2005 abstract
radiographically confirmed medial compartment knee osteoarthritis
"custom-molded foot orthoses with a 5° lateral heel wedge+ – in most shoes this would be 3- 4 mm high in a wedge laterally.
50% + better within 3- 6 weeks: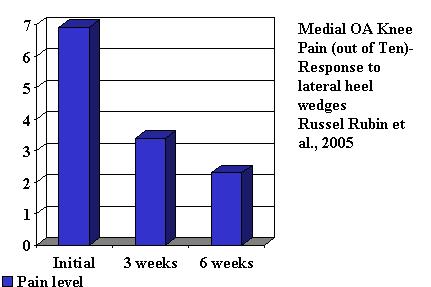 Note – not all studies showed significant benefits:
Osteoarthritis Cartilage. 2001 Nov;9(8):738-45.
Laterally elevated wedged insoles in the treatment of medial knee osteoarthritis: a prospective randomized controlled study.
Maillefert JF, Hudry C, Baron G, Kieffert P, Bourgeois P, Lechevalier D, Coutaux A, Dougados M.  abstract here
No improvement in pain but decreases arthritis pill use
in:
J Physiother. 2011;57(3):195. doi: 10.1016/S1836-9553(11)70043-1.
Lateral wedge insoles worn for 12 months provided no symptomatic or structural benefit for people with medial knee osteoarthritis.
Snyder-Mackler L.  abstract here
no benefit
in
BMJ. 2011 May 18;342:d2912.
Lateral wedge insoles for medial knee osteoarthritis: 12 month randomised controlled trial.
Bennell KL, Bowles KA, Payne C, Cicuttini F, Williamson E, Forbes A, Hanna F, Davies-Tuck M, Harris A, Hinman RS.  free article here
no structural or symptomatic benefits
In one evaluation:
Effects of Laterally Wedged Insoles on Knee and Subtalar Joint Moments
Wataru Kakihana, PhD, Masami Akai, MD, Kimitaka Nakazawa, PhD, Takamichi Takashima, PO, PhD,
Kenji Naito, MS, Suguru Torii, MD
Arch Phys Med Rehabil Vol 86, July 2005, 1465-1471 free article here
When using a 6 degree lateral wedge "There were diverse, sometimes reversed effects with the insole among the patients." – this could explain why some do not benefit.
One site for heel wedges is Alimed:
http://www.alimed.com/Alimed/product/HAPAD-Posting-Heel-Wedges,17615,259.htm
Best to use an insole (like have in some runners) and self adhesive it underneath so the big part of the wedge faces the outside ot the heel. I have used weather stripping (cut) as an option but they need to be replaced after 1-2 weeks.
In:
Clin Orthop Relat Res. 2010 Feb 23. [Epub ahead of print]
Medial Knee Osteoarthritis Treated by Insoles or Braces: A Randomized Trial.
van Raaij TM, Reijman M, Brouwer RW, Bierma-Zeinstra SM, Verhaar JA
They used 6 degree which ended up being a 10 mm lateral lift: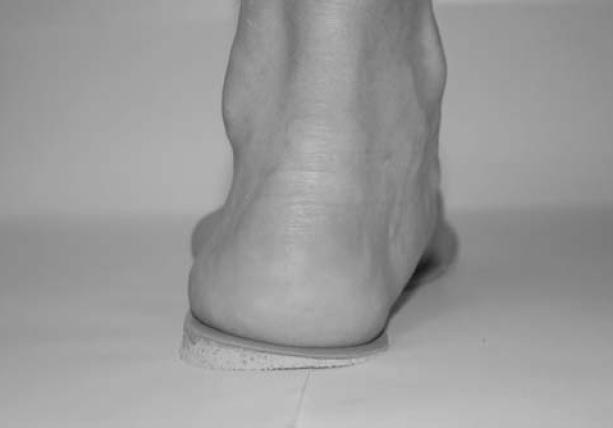 There results were: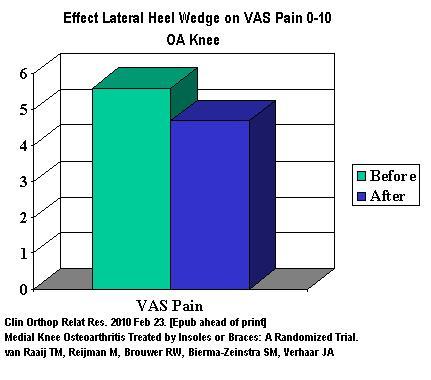 This is a far cry from the results achieved above but actually more believable.
2) Unloading knee braces – can be bulky and may need custom fitting (and hence more expensive)
The Effectiveness of Self-Adjustable Custom and Off-the-Shelf Bracing in the Treatment of Varus Gonarthrosis Louis Draganich
The Journal of Bone and Joint Surgery (American). 2006;88:2645-2652. abstract
For Canadian customers I cam across this example:
http://www.ossur.com/?PageID=3007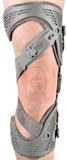 For US customers this:
http://www.ossur.com/unloaderadj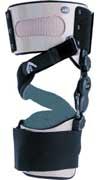 Interestingly, the article found [patients]"may benefit significantly with respect to pain relief and reduced stiffness from use of either brace. (custom or over the shelf).
The results of a above mentioned recent article found the following results:
Raaij's study concluded that lateral heel wedges were as effective as braces and I think certainly much easier to use.
What are some other measures?
1) for severe OA using radioactive Yttrium I have wrote elsewhere: here
2) Botox helps wrote here
3) Although it has been assumed there is steroid injection failure, repeated injections have not been shown to be harmful and may be helpful wrote here
4) Joint lubricants: – Hyaluronan
Originally derived from cock's combs, this agent as been injected in knees with some benefit. I prefer Durolane as it is one injection rather than the 3 of synvisc. Unfortunately, re WOMAC pain levels, there wasn't much difference from placebo:
Osteoarthritis Cartilage. 2004 Aug;12(8):642-9.
Efficacy and safety of a single intra-articular injection of non-animal stabilized hyaluronic acid (NASHA) in patients with osteoarthritis of the knee.
Altman RD, Akermark C, Beaulieu AD, Schnitzer T; Durolane International Study Group.
abstract here    "CONCLUSIONS: NASHA was not superior to placebo for the primary efficacy analysis"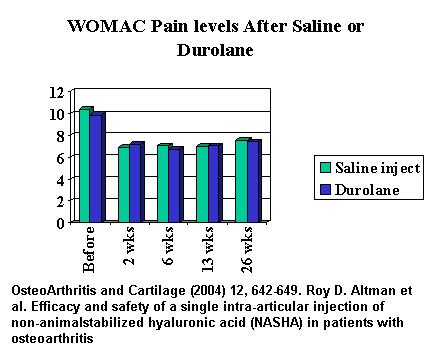 Having said that, I had one patient who complained bitterly that the shot did not help. I was angered by such and worked on his painful  medial and lateral knee retinaculum and painfully stretched it out. He can back in a week with no pain. It became clear nothing can be achieved by these shots unless one is prepared to deal with external knee pain sources. This is true after knee replacement where there is still considerable pain after unless one works out arsenine bursitis, retinaculum and lower quadraceps pains. This appears very true after Botox injections into knee where arsenine bursitis will persist because unlike steroids, Botox shots do not generalize to surrounding tissues. Durolane effects do not become apparent until surrounding tissues are neutralized…
5) I usually find at least half the knee pain is actually the structures around the kneecap and in the muscles – don't believe me? – talk to any one who has had a knee replacement and still in pain. I saw someone this week with pain mostly over the course of her saphenous nerve: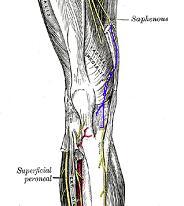 I plan on nerve blocking it with semi-neurolytic 5% lidocaine with some kenalog steroid added with hope it will knock it out for a while (patient needs to take antibiotics per injection and for the day to prevent possible infections)
5) A recent article was published on severe OA knee and pain in elderly:
When Knee Pain Becomes Severe: A Nested Case-Control Analysis in Community-Dwelling Older Adults George Peat and Elaine Thomas
The Journal of Pain, Vol 10, No 8 (August), 2009: pp 798-808
The found the following measures used:
Dieting to lose weight
Knee exercises
Painkillers and opioids
Oral arthritis pills – DANGEROUS in elderly re stomach bleeds and results may not be that great this article found little benefit from oral meds: writeup here
Topical meds – a topical arithitis med "Penssaid has been found as helpful as oral medication – I found it more potent if gabapentin added: discussed here
other med: – I have mentioned the use of ant-inflammatory antibiotics here and herbal SAMe here ; glucosamine and chondrointin have been already mentioned though the benefits seem the same as NSAIDS writeup here
Ice is a good standby
A certain amount of exercise as beneficial
Prolotherapy has been used in the knee but I have not had much experience there yet.
One recent article in
International Musculoskeletal Medicine 30(2) July, 2008 61 – 66
A Retrospective Audit of Patients with Osteoarthrtis Knees treated with Prolotherapy in a General Practice
A. Jacks, A Edgeworth
10 mls of 10% Dextrose and 0.5% lidocaine mix injected every 4-8 weeks by lateral midpatellar approach. Some had more than two shots.
Results after 3-6 months:

6. Evista, an osteoporosis drug, has been shown to help knee pains. See here
7. Tramadol in long acting format if at or over 300 mg has effect on knee and hip pain
Am J Ther. 2010 Mar 3. [Epub ahead of print]
Tramadol Hydrochloride Extended-Release Once-Daily in the Treatment of Osteoarthritis of the Knee and/or Hip: A Double-Blind, Randomized, Dose-Ranging Trial.
Delemos BP, Xiang J, Benson C, Gana TJ, Pascual ML, Rosanna R, Fleming B. abstract here
100 and 200 mg were not effective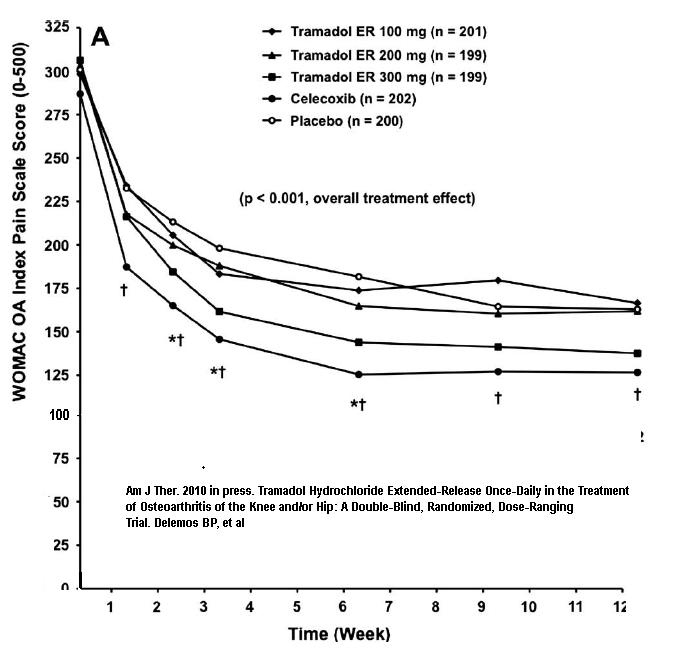 Antidepressants are good painkillers and a recent study tried Duoxetine (Cymbalta) 60 -120 mg for OA kne:
A Double-blind, Randomized, Placebo-controlled Study of the Efficacy and Safety of Duloxetine for the Treatment of Chronic Pain Due to Osteoarthritis of the Knee (p )
Amy S. Chappell, Durisala Desaiah, Hong Liu-Seifert, Shuyu Zhang, Vladimir Skljarevski, Yuri Belenkov, Jacques P. Brown
Pain Practice, in press 2010  abstract here
showed: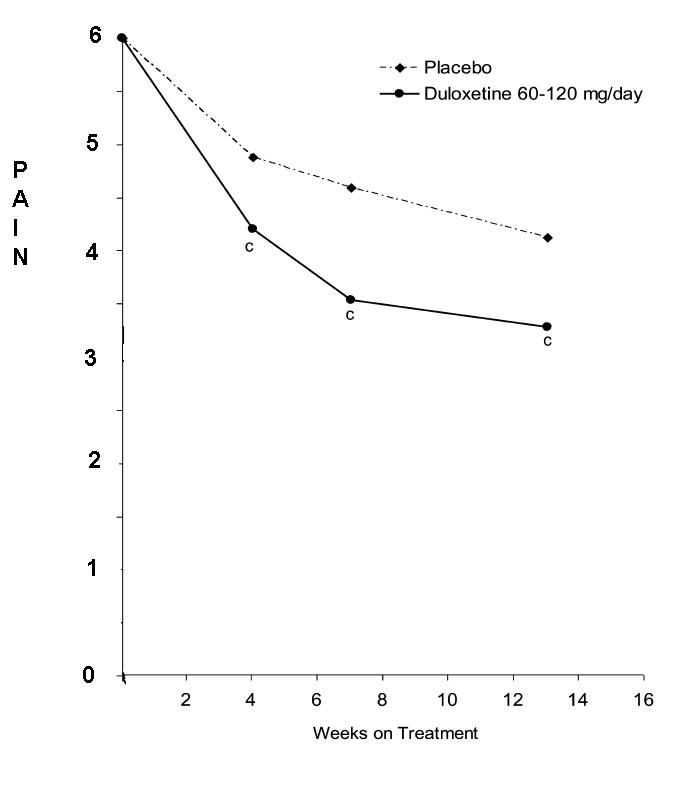 P=0.001
OK – a drop of ONE compared to placebo does not give a clinically apparent response –  but maybe it could be used as an addon with other agents…
addendum – a flexible insole that miniced barefot motion found in an uncontrolled trial to reduce knee pains 
Arthritis Rheum. 2013 Apr 10. doi: 10.1002/art.37896. [Epub ahead of print]
Improvement in knee loading after use of specialized footwear for knee osteoarthritis: Results of a 6-month pilot investigation.
Shakoor N, Lidtke RH, Wimmer MA, Mikolaitis RA, Foucher KC, Thorp LE, Fogg LF,  Block JA.abstract here
36% reduction in WOMAC pain scores at 24 weeks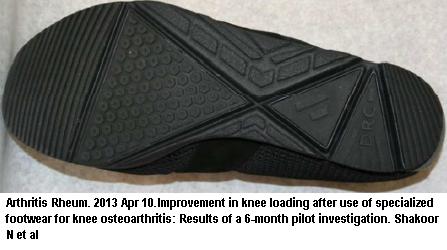 Any other suggestions? michaeltasche michaeltasche