Press release by A. Shah from Baylor College confirms that ketamine works well for depression. Press release makes a statling comment: "Prozac and other treatments each improve conditions for only about 30 to 40 percent of the patient population, barely outperforming placebos; meanwhile, a single infusion of ketamine washes away the symptoms of 80 to 90 percent of patients who try it, Shah said"
WARNING at end
Is Club Drug 'Special K' a Quick Fix for Depression?
(Not listed in pubmed so may not be actual study?)
Doctors -take note: article in rheumatology new states one doctor in the US commits suicide each day so this IS important just for our own…
Each Day, One Doctor Dies by Suicide in U.S.
re Ketamine – This is not new for me – I've written:
Depression is a Form of Pain and Ketamine May be a Cure if One Can Make It Last
and
No Need to Fear Suicidality – Rapid Relief of Suicide Intent With Ketamine
I have been using it and come to certain insights:
1) Titrating dose has eliminated dysphoria and hallucinogenic concerns:
Give 10 mg subcut first time
Give 10 mg IM deltoid every 15 min 2-3 X while monitoring effect – if not feel well – don't give next dose. Medication is rapidly absorbed and people feel effects within 5-10 minutes.
Have relative stay with (will probably need someone to drive unless willing to stay 1/2 hour + after last shot).
Have oximetry on subject if becomes drowsy (better make sure no nail polish or you will be putting it on a toe…)
work up gradually to 15 mg every 15 min IM deltoid if patient wishes.
2) One has to be committed to giving meds 2-3 time a week and no point in starting if no committment there.
Unfortunately, there is a serious (tongue in cheek) side effect of patients rapidly deciding to go back to work – in which case doctor has to be committed to giving shots after work hours – I have arranged for wednesday nights and saturday mornings though I must say,  I've got to be crazy doing it… it is hard.
3) A local psychiatrist, Dr. Messer, has expressed concerns about inducing psychotic symptoms in unstable patients. This has not been seen in pain and depression treatment literature and was mentioned in a case given general anesthetic doses – much higher –  where it was used in anesthetic induction. Nonetheless, I have not used it in anyone I would consider unstable (with schizoid tendencies for instance).
4) Ketamine can be abused and hence not great choice for people with drug dependencies (maybe check a urine?). Having said that, a Russian group has been using ketamine to treat alcoholism and claims to reduce recurrence from 65.8 to 24%:
Ketamine Psychedelic Therapy (KPT): A Review of the Results of Ten Years of Research
E. M. Krupitskya & A. Y. Grinenkoa
Journal of Psychoactive Drugs  Volume 29, Issue 2, 1997 pages 165-183  abstract here
5) The big question is how long one maintains the ketamine – lets face it, people are on anti-depressants for years.  It may be important to have a back up plan – one lady I did was waiting to have ECT and the shots just got her through to it. Having said that, there are cases that have never responded to antidepresssants. However, I am amazed how quickly some people could put their lives back to order and go back to work – that lifestyle improvement has got to have a beneficial effect.  I still do not have the answer there…
6) Chronic continuous use (mostly abused unclean drug) is associated with small bladder syndrome – having to pee frequently – so if a subject already has such issues don't go there. Still ,a warning for others maintained on it long, would be useful.
I was told to be quiet at a family practice meeting on depression when I brought this up; and was only annoyingly allowed to mention it, for treatment of suicidality, at a cognitive depression course.  I find physicians very intolerant to anything new and hope they can embrace this.
 Addendum – getting more credence with a Scientific American article on its use March 2010, 306(3), 66-71.  Lifting the Black Cloud;  R. Henig.  Discusses rapid growth of synapse connections starting as neuronal spines: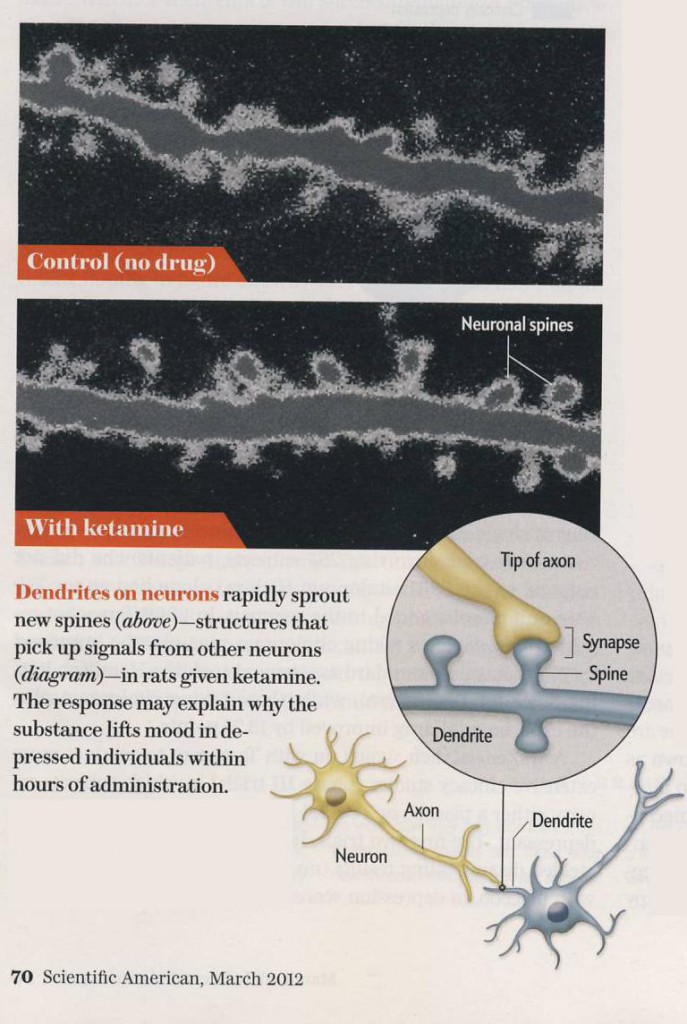 Great article with other interesting tidbits…
Still dealing with:
1) Needing to see patient 3 times a week initially and then twice weekly as improve. – There has to be commitment  of patient to come in or they will complain bitterly how YOU failed them….
2) Commitment on your part to see twice weekly after hours once they have returned to work (hard – but why should I be the only one to suffer?).
3) Having a women come solo –  creates an issue for me – during day I have female staff around but after hours I can't always have my wife coming… This unfortunately creates an issue for women who cannot bring a chaparone. This unfairly effects who I will accept but can't be helped.
4) This drug is not covered by any health plan and so I have been giving the drug out free to poorer patients (costs me $7.00 a visit). The pharmacy must think I'm a druggy… Have gotten other patients to buy their own at around $70.00 for a 50 mg/ml 10 ml bottle.
WARNING:
Recent studies have suggested urinary symptoms may be a problem (they asked users online if they EVER had a problem (what EVER that means))
BJU Int. 2012 Mar 14. doi: 10.1111/j.1464-410X.2012.11028.x. [Epub ahead ofprint]
The prevalence and natural history of urinary symptoms among recreational ketamine users.
Winstock AR, Mitcheson L, Gillatt DA, Cottrell AM.  abstract here
It has also been suggeested that there are cognitive concerns but I think the cognitive concerns of unremitting depression and pain are probably worse.
There are also concerns of liver damage so blood tests would have to be done:
Curr Opin Support Palliat Care. 2012 Mar 20. [Epub ahead of print]
Ketamine for chronic noncancer pain: concerns regarding toxicity.
Bell RF.   abstract here
To this end I have devised a simple urinary questionnaire that should be filled every 2 weeks – if there are any yeses (that weren't there before then maybe stop the drug
Name______________________________________      Date_____________
Do you have any discomfort in the lower abdomen?         N    Y   
Does it burn or sting to pass urine?                     N    Y   
Do you find you need to pass urine more frequently?      N    Y 
Do you go:      
< every 2 hours                               N    Y                                        
< every hour                                  N    Y
Do you have to get up at night to urinate?    N    Y    _______ Times
Have you had any leakage of urine?            N    Y 
Have you had any blood in urine               N    Y
I have gotten 4 of these on one word page and will get them to fill consequetively so can see the difference. Each sheet should have one liver function result on.