Use of MSM (methylsulfonylmethane) for knee arthritis barely reached significance and did not reach clinical usefulness by self – maybe better if combined with NSAID's? 
 
BMC Complement Altern Med. 2011 Jun 27;11:50.
Efficacy of methylsulfonylmethane supplementation on osteoarthritis of the knee: a randomized controlled study.
Debbi EM, Agar G, Fichman G, Ziv YB, Kardosh R, Halperin N, Elbaz A, Beer Y, Debi  free article here
MSM in doses of 1.125 grams 3 times daily for 12 weeks on patient identified pain levels: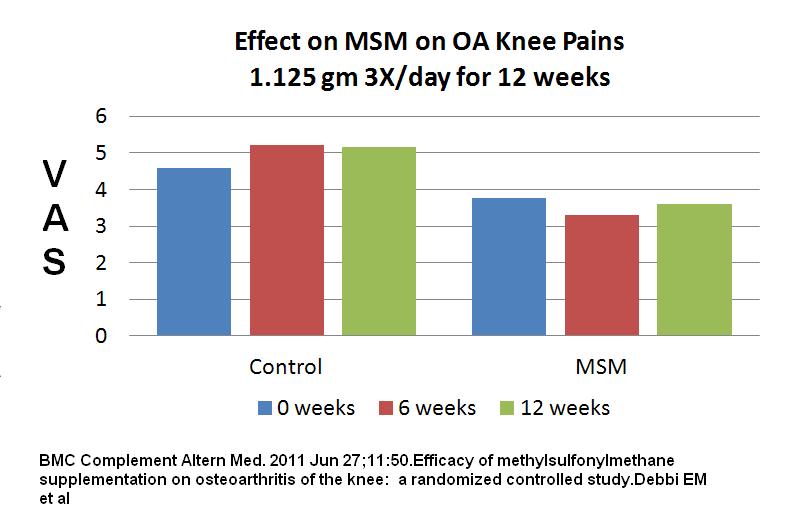 This was based on patient's view of pain relief. They did some fancy scales but I find a little bit here and there added up looking alot when it's still just a little. Hence I demand patient's Visual analog pain estimation scale show improvement.   As you can see, this was disappointing – perhaps it might work as an add-on with arthritis pills or other therapy.
There was a systemic review of MSM studies:
J Can Chiropr Assoc. 2011 Mar;55(1):47-55.
Efficacy of glucosamine, chondroitin, and methylsulfonylmethane for spinal degenerative joint disease and degenerative disc disease: a systematic review.
Stuber K, Sajko S, Kristmanson K.  free article here
They were only able to find two studies worth looking at, and even then, only one was of good quality. The good quality one used MSM with chrondroitin sulfate, and manganese ascorbate and found no benefit. Apparently chondrontoin is not a good enough add-on
Anyone with experience with MSM?